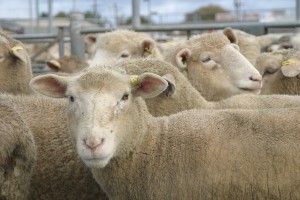 Lamb prices finished generally firm last week, with heavy and light slaughter lambs selling well in Victoria and NSW.
MLA's National Livestock Reporting Service said the Eastern States Trade Lamb Indicator finished the week on 480c/kg cwt, down one cent and the heavy lamb indicator was at 472c/kg cwt, up two cents. The ES mutton indicator closed at 322c/kg cwt, down three cents.
The national lamb indicators again highlighted the consistent inquiry for lambs through the weight ranges. They included restocker lambs at 490c/kg cwt, down one cent; Merinos 407c/kg, no change; light lambs 458c/kg, down five cents; trade lambs 480c/kg, no change; heavy lambs, 472c/kg, up three cents and mutton 320c/kg, down three cents.
OTH rates lift in SA and NSW
Over-the-hook rates increased in South Australia (av. 485c/kg) and NSW (av. 492c/kg), but were lower in Western Australia and Victoria (av. 498c/kg), with mutton rates generally unchanged, except for a slight decline in SA.
The average OTH rates for 2-4 score lambs in NSW were: 18-22kg, 492c/kg, +3c; 22-24kg, 491c/kg, +4; 24-26kg, 472c/kg, +10; 26kg+, 467c/kg, nc; Merinos 16-22kg, 383c/kg, -8. NSW sheep rates: 14-18kg, 262c/kg; 18-24kg, 293c/kg; 24kg+, 308c/kg.
SA's OTH lamb rates were: 18-24kg, 485c/kg, +15; 24-26kg, 460c/kg, +15; Merinos 16-22kg, 465c/kg, +15. Sheep: 14-18kg, 180c/kg; 18-24kg, 260kg+.
WA's OTH lamb rates were: 16-18kg, 440c/kg, -30; 18-22kg, 467c/kg, -63; 22-24kg, 465c/kg, -68; 26kg+, 453c/kg, -33; Merinos 16-22, 410c/kg, -7. Sheep: 14-18kg, 255c/kg; 18-24kg+, 277c/kg.
Tasmania's OTH lamb rates were: 0-16kg, 460c/kg; 16-24kg, 490c/kg; 24-26kg+, 340c/kg. Sheep: 0-14kg, 320c/kg; 14-18kg, 330c/kg; 18-24kg, 340c/kg.
AuctionsPlus sheep numbers drop 10,000
AuctionsPlus sheep and lamb numbers dropped by 10,000 to 40,163 head last week.
Merino ewe sales were confined to listings of young unjoined lines. Maiden ewes sold from $102 to a top of $168 for 510 March shorn 17-18 month-old ewes out of Mirrool in the Riverina. The two year olds made $56-$125. First cross maiden ewes sold from $123-$171.50, with the top price being for 62kg 13-month-olds out of central NSW.
In Victoria, aged Merino ewes with more than 150 percent first cross lambs on them sold for $166.50 and a small line of five-year-old first cross ewes with 180pc Poll Dorset lambs made $200.
Merino wether lamb prices have showed little movement in recent weeks, with new season lambs selling from $46.50-$67.50, while 2013 drop lambs made $50.50 to a top of $81 for a large run of 43kg, August shorn yearlings at Yass.
Processors showed interest in light Merino lambs, with lines estimated to dress 15kg-16kg selling for 423c/kg-455c/kg cwt, and in southern NSW old ewes at 26kg cwt with a full jacket made 390c/kg cwt or $103, including skin value.
Heavy new season lambs $2-$6 dearer at Cowra
In NSW on Friday at Cowra, agents yarded 9100 lambs, 50 fewer than last week, and 1500 sheep, 50 less.
The NLRS said quality was very good with plenty of well-finished heavy weight new season lambs penned. Fewer trade and lighter grades, and old lambs, were yarded. Competition was solid from the usual buyers in a dearer market.
Light new season lambs averaged $91.60, while restocking lambs sold from $52-$90. Medium and heavy trade weight new season lambs were firm to a couple of dollars dearer, or 481c/kg-491c/kg cwt. Most of the heavy trade weights sold from $110-$114. Heavyweights were $2 dearer for the 24kg end and $6 stronger for the extra heavyweight lambs averaging 470c/kg-497c/kg cwt. Several pens of extra heavyweight new season lambs sold from $136-$140 and topped at $150.
Old heavyweight lambs sold at firm rates and averaged from 417c/kg-432c/kg cwt. A few pens of extra heavy lambs sold from $118-$122.
Mutton numbers stayed steady and quality varied. Heavy first cross ewes were up to $6 dearer and averaged around 290c/kg cwt or $80-$88. Heavy wethers sold from $70-$80 or 304c/kg cwt.
Lamb number drops sharply at Griffith
At Griffith on Friday, agents yarded 8248 lambs, 9352 fewer than last week, and 2880 sheep, 5920 less.
The NLRS said the sharp decrease in numbers was due to rain in the supply area and seed contamination in lamb skins deterring vendors.
Just under 6000 new season lambs were offered and some were starting to lack some quality. Trade and heavy lambs were best supplied. All the usual buyers operated in a firm market.
Trade and heavy new season trade lambs sold from $83-$116. Heavy new season lambs $112-$136. Most averaged 470c/kg-490c/kg cwt.
Old trade lambs ranged from $84-$107. Heavy weights $103-$116 and the top price was for extra heavy lambs at $160. Old lambs averaged 450c/kg-460c/kg cwt.
Mutton quality was good with plenty of weight and condition. Prices averaged $2-$3 cheaper on average. Medium weight Merino ewes sold from $68-$85. Heavy crossbreds reached $104 and a big run of Merino wethers made $110.
Shepparton lambs sell to $140
In Victoria at Shepparton on Friday, agent yarded 4411 lambs, 514 more than last week, and 546 sheep, 136 more.
The NLRS said 4100 more new season lambs were yarded, however sheep numbers remained low. Lamb quality and weight was very good, although more young lambs are starting to show some signs of dryness in the skin.
Bidding was solid from the regular domestic and export buyers and prices for the good quality slaughter lambs averaged a few dollars dearer than last week.
Prices reached a top of $140 for a pen of new season lambs estimated to weight about 28kg with an $8 skin, the only sale at this price level. The next run of heavy young lambs over 24kg sold from $129-$135, averaging an estimated 485c/kg-490c/kg cwt. The bulk of the young lambs were in the trade weight category and sold from $106-$125 at an estimated average of 490c/kg cwt.
Pens of light weight lambs sold strongly from $82-$96 thanks to demand from one southern abattoir wanting them for slaughter. There was only limited sales of young lambs to restockers at $60-$86.
The 300 old lambs included an export weight pen that topped at $125. However, most of the old lambs were plainer types that sold below $100.
Sheep quality was very mixed. A local restocker paid to $97 for some young crossbred ewes, while processors paid from $70-$87 for a few pens of heavy ewes. Plainer conditioned sheep sold from $45-$65.
Source: MLA, NLRS