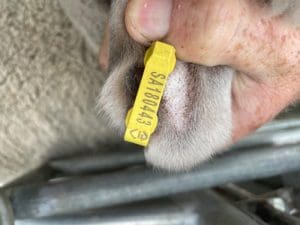 SOUTH Australia's electronic sheep tag rebate scheme is still being finalised by the Malinauskas Labor Government three weeks after it was announced, amid concerns there was potential for overpricing of tags and producers ordering several years' supplies.
Stage one of the SA Government's $9.3 million investment announced on 8 June involves a 50 percent per tag subsidy in 2023-24 and 2024-25 for newborn lambs and kids, to encourage early adoption that aligns with the national start date for mandatory EID tagging of farmed sheep and goats.
Essential infrastructure required for implementation of EID across the SA supply chain will be subsidised by 75pc, but no details on when this would apply have been released.
Livestock SA chief executive officer Travis Tobin said the 50pc tag rebate was agreed to because it notionally brings the cost to under $1 to producer.
Sheep Central has been told the rebate is based on a notional NLIS tag/device cost of $1.90 and the rebate will be paid retrospectively on presentation of a paid invoice for producers who have already bought their EID tags or devices.
However, Sheep Central has been told the SA scheme could potentially lead to overpricing of tags (above current advertised prices) to increase the rebated dollar amount and producers might order tags of any color outside the industry accepted colors for the next two years. The National Livestock Identification System colors are sky blue for 2023 and black for 2024.
A PIRSA spokesperson did not address whether the tag rebate scheme would be confined to tags of the NLIS colors for the next two years or whether there were measures in place to avoid potential overpricing of tags.
"The process and implementation for the tag rebate program is currently being finalised by the Department of Primary Industries and Regions (PIRSA) with details to be released to producers and industry in coming weeks.
"Under the tag rebate program, producers will gain a rebate for eligible tags purchased since 1 January 2023," the spokesperson said.
"In addition to the tag rebate program, a tag discount scheme will be rolled out for 2023-24 and 2024-25 to support early EID adoption to align with the national start date of 1 January 2025.
"The tag rebate and discount scheme, as well as the EID infrastructure grant program, will be managed by PIRSA."
The tag rebate has been designed for SA breeding stock that will be retained to avoid doubling handling post 1 January 2027. Terminal lambs and kids do not need an EID device for the next two years (only after 1 January 2025).
From 1 January 2025 in South Australia, every farmed sheep and goat leaving a property for sale or being transferred to another Property Identification Code will need to be electronically identified.