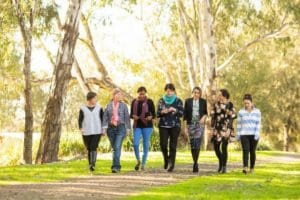 EMERGING female leaders who want to create impact, innovate and make a difference to rural and regional Australia are being encouraged to apply for the 2019 AgriFutures Rural Women's Award.
Applications are now open for the 2019 AgriFutures Rural Women's Award – Australia's leading award in acknowledging and supporting the essential role women play in rural and regional businesses, industries and communities.
The AgriFutures Rural Women's Award has involved about 300 exceptional women from rural communities and industries share their challenges, along with their solutions, to many problems faced in rural industries and communities.
Unbounded food waste, safety in rural settings, innovation and skill shortages in rural and remote communities, along with the impact of literacy levels in industrial settings, are all problems being challenged by the 2018 national finalists of the award.
The AgriFutures Rural Women's Award encourages innovation and problem solving, looking for projects and initiatives in various stages of development that offer solutions to rural industries and the communities they support. Projects or initiatives can be commercially focused, providing they still align with AgriFutures' strategic priorities of innovation, creativity, community sustainability, education, productivity, agribusiness, regional development and technology.
Location is also no barrier – applicants can live in rural and regional Australia, or in the city –their applications will be measured on the impact and benefits to rural and regional Australia. The award criteria outlines that applicants are not required to have a specific project to be considered eligible, applications can be submitted based on an idea, an identified problem or opportunity.
AgriFutures Australia managing director John Harvey said the award is important as it celebrates success and provides a beacon to an emerging generation of future leaders across the nation.
"As an organisation dedicated to the long-term prosperity of our rural industries, and based in Wagga Wagga, Riverina NSW, we see and feel the impact of the current devastating drought all around us.
"Now is the time to encourage the female leaders in our communities to apply for an award like this," he said.
"If you know someone who is actively contributing to rural industries and regional communities, tap them on the shoulder.
"We hear time and time again, that it is often the friendly encouragement from someone else, that gets applicants over the line to apply."
Each state and territory winner receives a $10,000 bursary provided by Platinum sponsor Westpac, to bring their idea or project to life, access to professional development opportunities and national alumni networks. Applications for the AgriFutures Rural Women's Award are open now and close on Wednesday, 31 October 2018 at 11pm AEDT. Apply now at www.agrifutures.com.au/rwa
Source: AgriFutures.