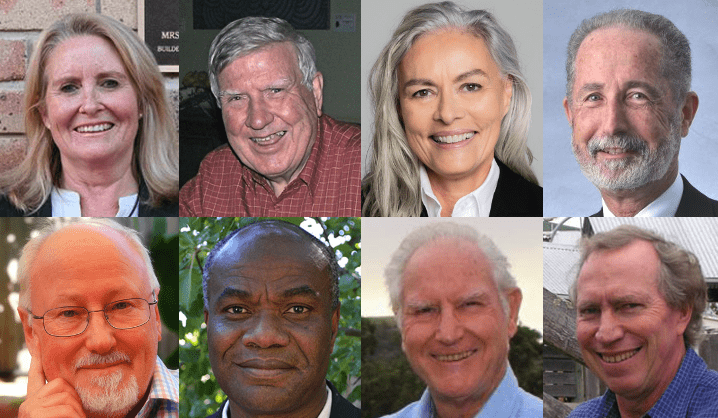 PROMINENT bush advocate and agribusiness lawyer. the late Bill Loughnan. and agricultural educator and founder of Resource Consulting Services, Terry McCosker, are among the rural achievers recognised in the 2021 Queen Honours List announced this morning.
Australians with connections to the nation's agricultural sector to have received recognition in this year's honours list include:
OFFICER (AO) IN THE GENERAL DIVISION
Everald Compton, a certified practicing accountant and marketer, author, Uniting Church Elder, charitable trust founder, founding director of National Seniors Australia, and pioneering promoter of the Inland Rail concept was named as an officer in the General Division (AO) for distinguished service to the aged welfare sector through advocacy and advisory roles, to the Uniting Church in Australia, and to the community.
Mr Compton was chair of the Australian Transport and Energy Corridor Ltd (ATEC) which actively lobbied for the creation of an inland rail Project linking Melbourne to Darwin via Parkes, Goondiwindi, Toowoomba, Gladstone, Emerald and Cloncurry in the mid-1990s-late 2000s. In more recent years he has been a vocal opponent the Australian Rail Track Corporation's handling of the project and its diversion to the Port of Brisbane which he has criticised as unnecessary and needlessly expensive.
Mr Compton founded the Everald Compton Charitable Trust Fund in 1978 and was a committee member of the Queensland branch of the Fundraising Institute Australia from 1973-2007. He served as an adjunct professor of the Queensland University of Technology from 2016-2019 and is an honorary senior fellow of the University of the Sunshine Coast.
He was awarded a Centenary Medal for service to the transport industry in 2003 and was named as Member of the Order of Australia in the Australia Day Honours List in 1992.
CSIRO chief research scientist, agriculture and food, Dr Evans Lagudah has also been named as an officer in the General Division (AO) for distinguished service to agriculture and food science as a researcher in the area of wheat genetics.
Dr Lagudah has started his career with the CSIRO as a research in 1988 and also currently serves as team leader, Molecular Genetics and Plant Disease Resistance.
He has served as a visiting professor with the West African Centre for Crop Improvement (WACCI), University of Ghana, since 2009, is a lecturer and Mentor, Alliance for Green Revolution in Africa (AGRA) PhD Program, and is a fellow of the Australian Academy of Science and a member of its selection committee for Plant Scientists.
MEMBER (AM) IN THE GENERAL DIVISION
Victorian cattle and sheep producer Loretta Carroll from Mudgegonga for significant service to the livestock industry, and to the community.
Loretta is the secretary of the Victorian Farmers Federation Ovens Valley Branch, was an implementation committee member of Cattle Producers Australia, was an inaugural board member of the Australian Meat Processor Corporation and has been a farmer, producer and breeder of Angus cattle and Australian white sheep since 1993.
She has also volunteered in local Landcare, Country Fire Authority and Country Women's Association groups, bushfire appeal funds and was a founding board member and chair of the Into Our Hands Community Foundation.
Awards and recognition include National Emergency Medal, 2009; Citizen of the Year, Alpine Shire, 2019; Local Achiever of the Year, Myrtleford and District, 2019; and Paul Harris Fellowship Award, Rotary International, 2013.
Science writer and former agricultural journalist Julian Cribb for significant service to science communication.
Julian was the co-founder of Western Farmer in 1973 and co-founder and editor of the National Farmer from 1976-1986.
He was science and rural affairs correspondent for the ABC from 1985 to 1996, science editor of The Australian from 1990 to 1996, founding editor of Science Alert from 2002-2015, was foundation president of the Australian Rural Press Club in 1977, served as a director of the Crawford Fund for International Agricultural Research from 1997-2001, as Director on the Secretariat for International Land Care, 1999-2014; and has been a board member of Soils for Life since 2016.
His career with CSIRO from 1996 spanned roles including director of National Awareness Program 1996-2002, director of CSIRO Publishing, 1996-2002, member of the Fisheries Advisory Committee (1991-1996) and Entomology Advisory Committee, (1989-2005) and Agriculture Sector Advisory Committee (1989-1995).
He has authored several publications including Food or War published by Cambridge University Press, 2019; Surviving the 21st Century, Springer, 2017; Poisoned Planet, Allen and Unwin, 2014 and The Coming Famine, CSIRO Publishing in 2010.
Former television presenter turned author and biodynamic farmer Dr Patrice Newell from Gundy NSW for significant service to the environment, and to sustainable farming practices.
Dr Newell has served as a president and secretary of the Pages River and Tributaries Water Users' Group from 1997-2014; president of the Upper Hunter Waterkeepers' Alliance, 2006-2010 and was a co-founder of the Climate Change Coalition in 2007.
She is a conjoint fellow of the University of Newcastle's School of Environment and Life Sciences, and her publications include 'Who's Minding the Farm?', 2019; 'Tree to Table – Cooking with Australian Olive Oil', 2008; 'Ten thousand Acres – A Love Story', 2006; 'The River', 2003 and 'The Olive Grove', 2000.
Winthrop Research Professor and Adjunct Professor at the Institute of Agriculture, University of Western Australia Dr Neil Turner for significant service to agricultural and environmental science, and to education.
Dr Turner's career began with the CSIRO as a crop physiologist in Canberra in 1974. He went on to serve as a research and program leader for the Dryland Crops and Soils Research Unit, as chair of the Laboratory for Rural Research in Perth, as chief research scientist and acting head and Adjunct Professor at the University of WA since 1998.
He has also served on and contributed to a wide range of organisations including the Australian Academy of Technological Sciences and Engineering (ATSE), Australian Centre for International Agricultural Research (ACIAR), Crawford Fund for International Agricultural Research, Indian Council of Agricultural Research. International Centre for Research in Agroforestry (now the World Agroforestry Centre), Nairobi, Kenya and the International Crop Science Society.
He has also served as a visiting professor, scientist, research fellow and honorary professor at a range of universities and research centres internationally including in China, Germany, The Philippines, India and the UK.
South Australian farmer and senior agribusiness figure John Crosby from West Lakes For significant service to agribusiness and to the farming sector.
Mr Crosby chaired numerous wheat and meat industry bodies over his career including senior roles with the National Farmers Federation and Agribusiness Association of Australia.
He is the Chair of Free Eyre Limited, Chair of the Agribusiness Advisory Board at The University of Adelaide and was until recently, General Manager of the Dairy Authority of SA.
During his time at National Farmers Federation he played a role in the floating of Elders which was a part of Fosters at the time. He later moved to South Australia to take up a position as General Manager, Asset Development with Elders after joining the board.
He retired from farming in 2019 when he sold his farm at Lucindale which he had developed into a highly intensive irrigation property.
Mr Crosby was a member of the National Livestock Identification System Implementation Committee from 2004 to 2008 and executive chairman of the NSW Meat Industry Authority from 1994 to 1997.
MEDAL (OAM) IN THE GENERAL DIVISION
WA stud Poll Dorset and Ultrawhite breeder, and inaugural chair of the Lambex national sheep meat industry expo, Dawson Bradford from Popanyinning for service to the livestock industry.
Mr Bradford has owned Hillcroft Farms since 1967. He was chair of the Western Australian Meat Marketing Co-operative, 2000-2016 and the Australian Poll Dorset Association from 1985 to 1987.
He was a founding member of Meat Elite Australia in 1988 and served as a member of the University of Western Australia Institute of Agriculture Advisory Board from 2015 -2021.
He was inducted into the Royal Agricultural Society of WA Hall of Fame in 2014 and was awarded an Honorary Doctorate of Science by Murdoch University in 2010.
Former Angus Australia president Elizabeth Creek from Fullarton, South Australia, for service to the beef cattle industry.
Libby has extensive experience within both the seedstock and commercial beef industry and has been a member of the South Australian Angus State Committee for 21 years.
Libby and her husband Bruce managed the well-known Angus stud, The Basin for 18 years. Following The Basin's dispersal, the Creeks took on the role of business managers for Hillcrest Pastoral Company, a commercial cattle operation running 2500 Angus and Angus cross females in the south east of South Australia.
Libby served as President of Angus Australia from 2016-2018, and chair of the Certified Angus Group Pty Ltd, 2017.
Former Harvey Water chair Ian Eckersley from Harvey, WA, for service to primary industry.
Mr Eckersley, the owner of the Yambellup Estate citrus orchard at Harvey, also served as president of the Harvey Agricultural Society from 1996-1997, president of the advisory board of the Western Australian College of Agriculture, Harvey and was chair of the Combined Agricultural Advisory Committee for the formation of Western Australian College of Agriculture.
The late William Rainsford Loughnan formerly of Paradise Point QLD 4216 for service to agriculture, and to the law.
A highly regarded and respected agribusiness lawyer, Bill's successful 40 plus year legal career was devoted to servicing the bush.
Raised on a family property near Mitchell, Bill studied law during the 1970s beef depression, and for 30 years balanced his legal career with running grazing properties in western Queensland.
He routinely visited rural Queensland to visit face to face with clients, becoming a well-known and trusted advisor to many country families, serving in some cases four generations of the same family.
Peter Kenny, who worked with Bill throughout their careers, firstly at Cannan and Peterson and then subsequently at Thynne & Macartney, described Bill as the pre-eminent lawyer in the agricultural sector in northern Australia for more than three decades.
Bill was at the forefront of representing landholder interests in many important legal developments in the history of Queensland agriculture, including vegetation management, mining and gas compensation arrangements for landowners, groundwater security, Native Title and the upgrading of Crown leasehold tenures.
For more than 20 years he served as the principal lawyer of the United Graziers Association (UGA) and was the lead lawyer in the amalgamations of the Cattleman's Union, the Grain Growers Association and the UGA which formed AgForce, giving the Queensland agricultural sector the ability to speak with a united voice.
In a December 2016 interview published on the Queensland Law Society website Bill reflected on his career, articulating his deep love for the bush and its people.
"It's the people that make it special. There are any number of families in the bush who were clients of our group before I became a lawyer and who, all going to plan, will continue to be clients when I am long since retired. People in the bush are the 'salt of the earth' – great clients to have. They become personal friends in many cases. Our group has numerous intergenerational clients. One family comes to mind where I've acted for four generations. The sense of personal satisfaction from such relationships surpasses any monetary rewards and makes this part of Australia, for me, the best place to live and work."
Read more about Bill's life and contribution to the rural sector in this article.
Rural educator and co-founder of Resource Consulting Services Terrence Hugh McCosker from Yeppoon, Qld, for service to primary industry.
Terry is an internationally acclaimed teacher and has worked in research, extension and property management in both government and private sectors for almost 55 years.
He has published over 40 research papers and made several world-first discoveries in the 1980s in the fields of bull fertility, ruminant nutrition and pasture ecology.
He co-founded RCS in 1985 which has set the benchmark for capacity building in rural and regional Australia, and introduced the GrazingforProfit™ School in Australia which now has over 8000 graduates and has changed grazing, livestock and business management nationally.
Terry was president of the Beef Australia management committee in 1997, has sat on numerous advisory committees and has been nominated for, and received, many awards, including being named an Honorary Doctor of Agribusiness by the Central Queensland University in 2015.
Terry worked for the Queensland Department of Primary Industries at its South Johnstone Research Station, 1972-1978 before moving onto Mount Bundey Station in the Northern Territory as resident Agrostologist from 1978-1981 and assistant general manager from 1981 to 1985.
He founded Carbon Link Ltd to support farmers to earn an income by improving their soil in 2007 and remains its chairman.
Long running CEO of the Cooperative Research Centre for Sheep Industry Innovation (Sheep CRC), Emeritus Professor James Baber Rowe of Armidale, NSW, for service to science as a researcher and educator.
Emeritus Professor Rowe served as CEO of the Sheep CRC from 2000 to 2019, and professor of animal science at the University of New England from 1994 to 2020.
Prior to that he worked with the Western Australian Department of Agriculture as a manager of Cattle Industry Research and Development and as a sheep and wool research officer, and previously served as a research scientist with ICI Pharmaceuticals in Cheshire in the United Kingdom.
Stud Merino classer John Suthern Williams from Cooma, NSW, for service to the Merino wool industry.
Mr Williams served as stud classer for the R.J Harding Glendonald Merino Stud from 1988-2016 and for the Tara Park Merino Stud from 1979-2015.
He was the owner-operator of the Manderley Merino Stud at Cooma from 1969-1979 where he founded a new breed called the Purple Manderley family in 1969.
He is a past member, Australian Association of Stud Merino Breeders and served as a judge on the NSW Stud Merino Breeders' Association Classers Panel in 2017.