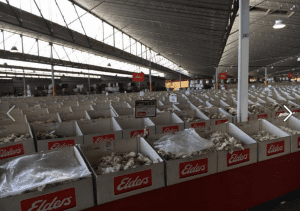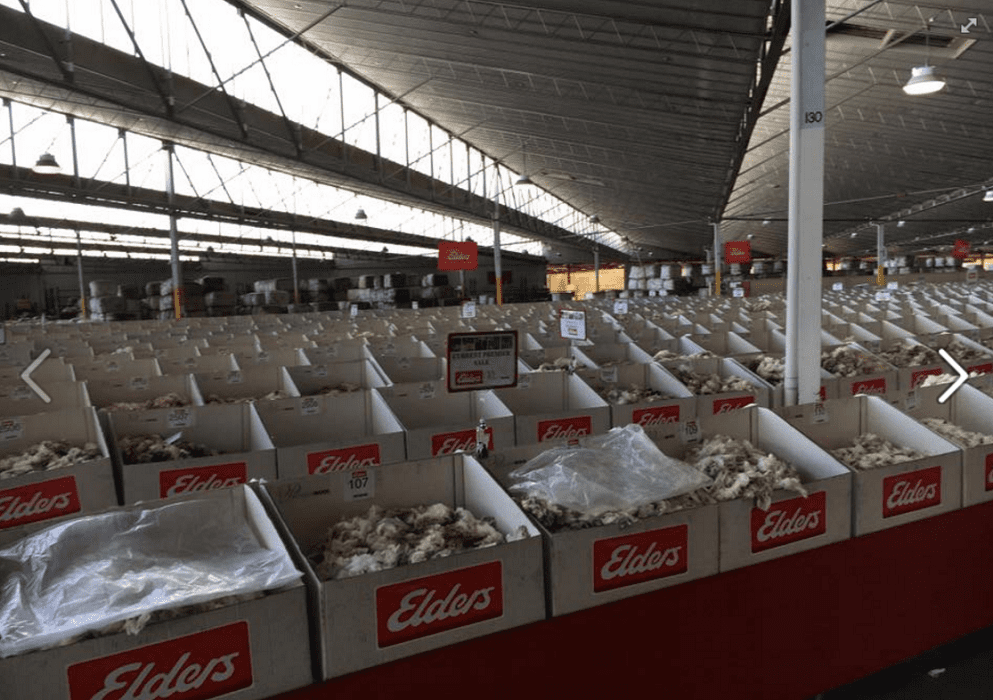 MERINO wool prices surged in Australian auction rooms this week, while most crossbred type rates fell.
Lower spec Merino wools performed particularly well, with reports of low tensile strength fine fleece lines averaging around $3300 a bale.
The Australian Wool Exchange said buyer sentiment remained positive this week and as soon as the market opened on Wednesday, prices began to track higher.
"The biggest movers of the day were the lower style and spec types, as buyers again tried hard to secure market share in the steadily rising market.
"Generally, prices increased by 20 to 40 cents, pushing the benchmark Eastern Market Indicator up 10 cents to 1560 cents.
"Only the falling crossbred sector prevented the EMI from recording a larger increase."
AWEX said more increases were realised on Thursday, although the most significant gains were experienced among 19 micron and finer lines, generally a further 15 to 20 cents. The 19.5 micron and coarser clips only managed small increases, but the EMI added a further 6 cents, closing at 1566 cents, an overall rise of 16 cents for the week. AWEX said the premium for wools with low mid breaks continues to rise, as buyers fight for these increasingly rare lots.
"Similar type wools can bring over 70 cents more in price if they contain favourable mid-break results."
AWEX said the skirting market closely tracked the fleece, with most types and descriptions posting increases of 20 to 40 cents for the week.
"Some finer, good style and spec, low vm wools were extreme as buyers attempted to find fleece substitutes in the rapidly rising market."
AWEX said all crossbred types and descriptions had general falls of 10 to 35 cents, with the poorly prepared lines suffering the greatest falls. Only 32 micron lines managed to maintain last week's levels.
The oddment market has maintained its gradual rise upward, AWEX said. A limited selection attracted excellent support, resulting in the three carding indicators rising by an average of 19 cents.
Merino wool price gains highest seen for years – AWI
Australian Wool Innovation's weekly market report said the foreign exchange currency markets played outside the considered norms this week, as the Chinese yuan and US dollar cross rates against the Australian dollar) behaved in a manner rarely seen.
"The CNY is generally understood to be unofficially pegged against the US$, but this week the CNY depreciated by 1.2 percent against the A$, while the US$ barely moved at 0.2pc lower.
"As such, the USEMI lifted by US10 cents to close at US1224c/kg clean kg and the CNY indicator acted conversely and fell albeit just slightly."
AWI said the demand for all Merino wools remains in some of the strongest territory seen for many a season, and gains of 40-60c/kg were achieved this week.
"The past few weeks has seen a large portion of interest focussing on the super fine (finer than 18.5 micron) fleece sector.
"Buyers were initially cautious earlier in the season as large volumes within this market segment started to appear registering typically hard to place weak SS (staple strength) readings combined with high PobM (position of break % in the middle)," AWI said.
"Remarkably, the past few sale weeks has seen these types perform the best and selling under the most intense competition of any types.
"Some staggering results have been posted this week as some growers selling tender super fine clips averaged $3300 per bale for their fleece lines, with some readings as low as 16nkt within the clip," AWI said.
"Almost all this interest is stemming from China.
"At the other end of the spectrum, the best super fine wools on offer, and typically the domain of the Italian weavers, look the best value."
AWI said while still selling at an average premium of around 100c/kg, and getting strong returns for growers, the price gap between best and lowest quality has narrowed considerably.
"With the vast difference in top yields achieved, this price variance would be completely eliminated, and price in top per kg of wool top would end up lower than the cheaper first cost wools."
Competition strong from all sectors
AWI said competition was strong from all buying sectors, but Chinese top makers were notably more active as reports filtered through of significant sales of Chinese wool tops into Europe.
"Forward sellers remained the main buying source, but indent and top making orders ably supported as did the Italian interest on better wools.
"Some Indian orders also were evident, but it is not clear whether they were indented or firm orders needing completion — widespread would be the term to best describe the interest."
Next week a larger offering of 46,500 bales has been listed. Sentiment remains good so prices should hopefully hold up, AWI said.
Click here for the latest AWEX Micron Price Guides.
Sources: AWI, AWEX.