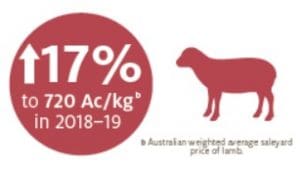 RISING lamb, wool and mutton prices are set to contribute to a stable $60 billion in Australian farm production this financial year, according to agricultural commodity forecaster ABARES.
In its latest outlook, ABARES economist Conrad Rees has forecast saleyard lamb prices to rise 17 percent to a weighted average sale yard price of 720c/kg in 2018-19, helped by strong export demand and tighter supply.
The September quarter report also forecast saleyard mutton prices to lift 4pc to 435c/kg cwt, as strong export demand offsets increased supply due to widespread dry conditions, lifting sheep slaughter by 17pc.
ABARES is expecting the Australian flock to drop 3pc to 69.1 million in 2018-19 as drought conditions increase turn-off, offset by high sheep meat prices justifying producers retain core breeding flocks and maintaining lamb production.
ABARES said Chinese income growth is expected to drive growing export demand for sheep meat, although US demand growth is expected to slow with increased competition from local supplies and New Zealand imports. Middle East sheep meat demand is also expected to slow as consumers eat more beef and chicken. However, ABARES said Australian population growth is expected to continue to underpin overall sheep meat demand.
ABARES said live sheep shipments to the Middle East over the northern summer remain uncertain and 2018-19 exports are forecast to fall. Click here to see ABARES' comparison of lamb slaughter and prices.
Wool prices forecast to rise 15pc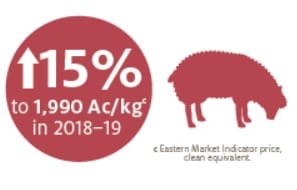 Australia's wool price benchmark – the AWEX Eastern Market Indicator — is forecast to rise 15pc in 2018-19 to 1990c/kg clean, as global demand for fine and superfine wool is sustained and poor seasonal conditions reduce shorn wool production, Mr Rees said.
The forecaster said continued dry conditions beyond the forecasted dry 2018 spring could cause further declines in the national flock and average fleece weights, placing further upward pressure on wool prices and constraining future wool production growth.
ABARES said although assumed income growth in the major textile-consuming markets of China, the United States and the European Union continued to underpin demand for fine and superfine wool, the value of exports is forecast to fall due to the volume decline.
The forecaster said ongoing China-US trade tensions remained a risk factor to global economic activity and the textile market outlook, with risks that the dispute could lead to lower consumer confidence and demand. ABARES said its EMI forecast is underpinned by an assumed fall in the Australian dollar to US74 cents. The A-US exchange rate today is sitting at US71.6 cents.
However, ABARES said wool was becoming less competitive than cotton and polyester fibre, with higher wool prices an incentive to substitute lower-cost fibres. But the forecaster said fine wool was niche product and more likely to be used in specialised applications with fewer substitutes. Click here to see a comparison between shorn wool production and the EMI.
Farm production value remains stable despite drought
ABARES said forecast for Australia's farm production to remain relatively unchanged at $60 billion in 2018-19, was well above the 10-year average of $55 billion.
ABARES executive director, Dr Steve Hatfield-Dodds, although dry conditions are affecting agricultural production in eastern Australia, expected strong production in Western Australia, and rising grain prices, high livestock prices and a lower Australian dollar are providing support to farm incomes."
"The value of crop production is forecast to decline by 3pc to $30 billion in 2018–19, reflecting a 12pc fall in the volume of winter crop production nationally, especially in drought-affected cropping regions in New South Wales and Queensland.
"Offsetting this lower volume we are expecting higher prices for canola, coarse grains, cotton and wheat, and a favourable exchange rate will result in a much smaller decline in the value of production, and help maintain returns to Australian exporters," he said.
"A warmer winter has supported the production of a range of fruits and vegetables, and sugar and wine grape production have not been significantly affected by the drought.
"We're expecting the value of livestock production to increase by 2pc to $30 billion in 2018–19, driven by increased supply of livestock as farmers destock in response to scarce pasture and rising feed costs," Dr Hatfield-Dodds said.
"Relatively high world prices for meat are providing some support for cattle prices in Australia, but we are expecting beef prices to fall by around 9pc from the historically high levels of recent years.
"Despite a higher value of production, total export earnings are forecast to decline by 5pc from $49 billion to $45 billion, largely due to lower exportable supplies of canola, coarse grains, and wheat, and an increased domestic demand for grain.
"However, these declines will be offset by a rise in export earnings for lamb, mutton, rice, cotton and cheese, due to strong global demand resulting from an increase in global economic growth.
The full Agricultural commodities report can be found here.
Source: ABARES.