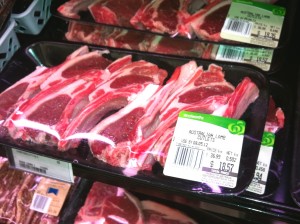 INDICATIVE retail beef and lamb prices increased by 12 percent year-on-year during the final quarter of 2015, Meat & Livestock Australia reported this week.
According ABS and ABARES data, to the indicative retail beef price finished at $18.51/kg retail weight and the lamb price closed at $14.24/kg rwt.
In contrast, indicative pork prices increased just 5pc year-on-year, to $11.93/kg rwt, while chicken actually declined 4pc, to $5.39/kg rwt, MLA said.
For beef, this latest lift represents the ninth consecutive quarter where retail prices have increased and, furthermore, the magnitude of the latest yearly rise has only been recorded on a handful of occasions. The last time when indicative beef prices lifted in excess of 10pc year-on-year was in 2001-02, following a 20-30pc lift in cattle prices, MLA said.
MLA said domestic beef consumption has come under pressure as a result of the rise in beef prices outstripping those of competitor proteins. In the recently released Australian cattle industry projections, beef consumption was estimated at 27.9kg/capita in 2015, back 2.8kg/capita year-on-year. Domestic consumption is forecast to stabilise around the 27kg/capita mark for the remainder of the decade, however it will continue to expand with population growth and it will remain the Australia's most valuable market.
MLA said retail lamb prices are yet to return to where they peaked in 2011, when saleyard prices surged. However, the latest rise does represent the seventh consecutive quarter of year-on-year increases.
MLA said it appeared retail beef and lamb prices had caught up some of the ground lost to livestock prices over the past twelve months. In the final three months of 2015, the national saleyard trade steer indicator eased 6pc from the previous quarter, while the trade lamb indicator was back 12pc over the same period.
Subsequently, the beef producer share of the retail dollar decreased from a high of 48pc in the third quarter of 2015 to finish the year at 43pc, while lamb eased from 60pc to 51pc, MLA said.
Historical retail price and producer share data can be accessed from MLA's statistic database –http://statistics.mla.com.au/ – and can be found by searching for Producer Share. The report generated also outlines how the indicators are calculated.
Source: MLA.