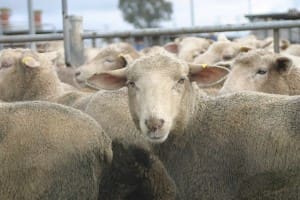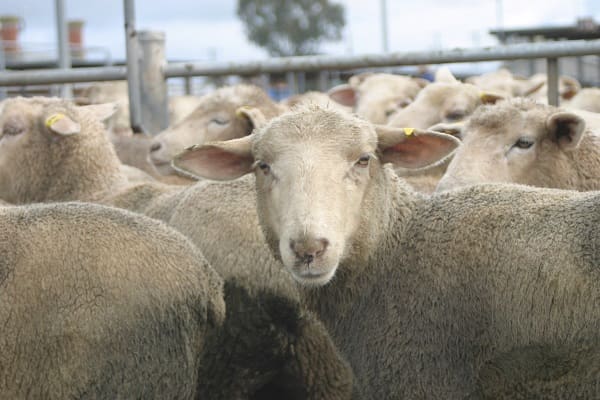 Lamb prices slipped slightly mid-week as saleyard numbers increased across NSW and Victoria.
However, keen restockers kept light and light trade lamb rates relatively firm for producers in drying areas being forced to turn-off drafts earlier than preferred.
Saleyard markets are coming under increasing supply pressure with the national lamb and sheep yardings generally rising on Wednesday and Thursday, following on from big increases in the week preceding.
On Tuesday, MLA's National Livestock Reporting Service said the national lamb supply rose 16 percent higher week-on-week, at 114,575 head, with all states except WA yarding larger numbers. Throughput lifted 11pc in NSW to 67,834 and rose 20pc in Victoria to 28,027. In SA, the lamb offering was up 41pc at 14,726 as the season as producers opted to sell while lambs were still sappy and pasture dried off. Consignments in WA declined 13pc to 3118 head, NLRS said.
The national sheep supply in the week to Tuesday increased 11pc to 46,899 head, with all states, apart from NSW, registering higher throughput.
After Thursday's sales the NLRS said the national restocker lamb indicator finished at 482c/kg, down two cents on the previous day, and the Merino lamb indicator was at 399c/kg, up six cents. The other national indicators all declined: light lambs to 448c/kg, down one cent; trade lambs 469c/kg, down five cents; heavy lambs 466c/kg, down five cents and mutton at 321c/kg, down two cents.
The Eastern States Trade and Heavy Lamb indicators before Friday's sales were at 472c/kg, down two cents, and the mutton indicator was at 324c/kg, down two cents.
New season lamb prices barely firm at Carcoar
In NSW at Carcoar on Wednesday, agents yarded 4250 lambs, 100 fewer than last week, and 3200 sheep, 1450 more.
The NLRS said lamb quality was reasonable, with some quality new season lines. The old heavy grades were also well-presented with a good selection of trade weights and more heavy old lambs. All the buyers operated to keep the market almost firm for new season lambs and cheaper for older grades.
Light new seasons were $1 cheaper and averaged $67.40. Trade weight new seasons were $2 cheaper and averaged 483c/kg cwt to sell from $107-$115. Trade weight old lambs were $7 cheaper and averaged $99.30, or 437c/kg cwt. Heavyweights were up to $10 cheaper and averaged 419c/kg-438c/kg cwt. A few pens of extra heavy weight old lambs made $120-$130.
Mutton numbers increased for a good quality yarding, with some good quality larger lines of sheep offered. Medium Merino ewes held firm and averaged from $62.90-$74.50, or 280c/kg-322c/kg cwt. Heavy first cross ewes averaged $85, down $3. Heavy wethers sold from $84-$93.
Buyers absent, most lambs $4-$5 cheaper at Goulburn
In Goulburn on Wednesday, agents yarded 800 lambs, no change on last week, and 800 sheep, 100 more.
The NLRS said the increased new season lamb penning showed good weight and finish. A mixed selection of mainly light and trade weight old lambs made up the balance.
With a few regular buyers absent, the market trend was mostly $4-$5 cheaper, although odd sales held firm. Light new season lambs, 16kg-18kg, made $84-$90, while trade weights ranged from $92-$106. One pen of well-finished heavy weights reached $119 and most new season lots averaged 475c/kg cwt.
A plain run of light old lambs up to 18kg cwt made $40-$80, while most trade weights made $68-$101, to average 390c/kg-430c/kg cwt.
The mutton market was firm for light weights but slipping by up to $5 for the medium and heavy sheep. Light 2 score Merino ewes made $42-$61 with medium and heavy weights from $54-$80 for most of the better covered ewes to average 280c/kg-315c/kg cwt. A handy run of Merino wethers made $66-$84, or around 330c/kg cwt.
Strong restocking demand underpins Wagga market
At Wagga on Thursday, agents yarded 36,400 lambs, 450 fewer than last week, and 13,550 sheep, no change.
The NLRS said new season trade lambs were well-supplied, but prices fluctuated considerably during the sale.
Wagga Selling Agents Association president Aaron Mackay quoted new season suckers generally $2-$3 cheaper, heavy old lamb prices fell up to $15-$20 and mutton of all grades sold a few dollars easier.
"The southern restockers, especially T.B White from Ballarat, were very strong."
This was helping producers turning lambs off earlier, he said.
"It does — they are happy to get their money for those lighter weight lambs and take their $80-$90, don't you worry."
The NLRS said light trade weight lamb prices were underpinned by stronger restocking competition and domestic buyers paid from $94-$111. Medium and heavy trade lambs were well-supplied and prices were generally $6-$7 cheaper, with the heavy trade lambs averaged 477c/kg cwt. Heavy and extra heavy young lambs attracted stronger competition as the market progressed, selling from $116-$140, with the extra heavy lambs averaging 436c/kg cwt. There was a very good selection of well-bred second cross lambs suitable to turn out and restockers were eager, paying from $80-$96.
Old lamb quality was quite mixed and the majority of well-finished medium and heavy old lambs sold from $75-$123, with heavy trade lambs averaging 454c/kg cwt. Trade weight Merino lambs were well-supplied and quality was mixed, with a large portion carrying very little skin value, while competition was stronger on the better-finished drafts with a reasonable skin. Merino lambs 20kg-24kg sold from $72-$110.
There was a mixed selection of heavy and extra heavy old lambs offered to a smaller group of buyers, with prices up to $13 lower. Well-finished extra heavy lambs made from $122-$150 to average 433c/kg cwt.
Mutton quality was mixed, with all weights and grades offered. Merino ewes suitable for the trade were well-supplied and sold firm to $2 cheaper, averaging 324c/kg cwt. Heavy sheep were in reasonable supply and sold $5-$9 cheaper, with only a few export companies purchasing heavy crossbred ewes. Heavy ewe mutton sold from $74-$105, while Merino wethers made from $81-$97, to average 312c/kg cwt.
Drying conditions push lambs into Horsham
In Victoria at Horsham on Wednesday, agents yarded 14,467 lambs, 9611 more than last week, and 6343 sheep, 1147 more.
The NLRS said lambs generally sold from firm to a few dollars easier on last week, with the continuing dry conditions seeing large numbers being yarded. There were 13,500 young lambs penned for the usual buying group plus some extra competition. Quality was overall average, but with many well-presented trade and heavy lamb lines.
Heavy lambs sold from $124-$145 at around 480c/kg cwt. Restockers from north-east and southern areas paid mostly $61-$98 for new season lambs and to $91 for a run of three-and-a-half year-old Merino ewes.
Light weight 1 and 2 score young lambs sold from $72-$89. Light trade 2 and 3 score lambs made $79-$113. Trade weight 3 and 4 score lambs sold from $92-$120 with the heavier weights selling for $112.50-$131 at around 500c/kg cwt average. Heavy 4 score lambs sold from $124-$145 to average around 480c/kg cwt. Young Merino lambs sold to $84 with the best of the heavy old lambs making $107-$127.
The sheep offering included runs of good quality heavy Merino and crossbred sheep, that sold firm to a few dollars better at around 300c/kg cwt. The lighter sheep sold a few dollars easier. Light weight 1 and 2 score sheep sold from $45-$65. Medium weight 2 and 3 score sheep sold from $50-$80 and ranged from 260c/kg-350c/kg to average around 310c/kg cwt. Heavy 3 to 5 score sheep sold from $70-$93. Heavy Merino wethers sold from $77-$90 and the medium weights sold $69-$77.
Demand steady at Hamilton
At Hamilton on Wednesday, agents yarded 1676 sheep, 277 more than last week, and 1854 sheep, 1117 more.
The NLRS said quality was mixed for the current small field of buyers and demand remained steady. Overall prices were unchanged for sheep and light weight old lambs, but trade weight old lambs were $2 to $3 easier. Heavier weight old lambs were mostly $5-$8 cheaper due to a lack of export inquiry.
Light weight 2 score lambs made from $55-$66, while light trade weight 2 and 3 scores were from $65-$81. The medium to heavy weight 3 score old lambs sold between $70-$100 to average 400c/kg cwt. Heavy old lambs sold from $84-$105, with one pen making $119, and all up the heavy lambs averaged 360c/kg cwt.
More wethers were penned in the sheep sale, with most being medium to heavy weight Merinos with skin values between zero and $8, the NLRS said. The light weight 1 and 2 score sheep sold from $45-$59, while medium weight 2 and 3 scores making $60-$75, with wethers to $82. The heavy to extra heavy 3 to 5 score sheep made $75-$87, with extra heavy ewes to $92. A run of 2 to 4 score ewes averaged 290c/kg cwt, while the wethers were at 320c/kg cwt. Most rams sold from $25-$33, with prime two-tooth rams at $72.
Big yarding increase at Katanning
In WA on Wednesday at Katanning, agents yarded 4000 lambs, 1500 more than last week, and 10,000 sheep, 4200 more.
The NLRS said only a small number of prime lambs and moderate supplies of light weight and store lambs were offered.
Ewe quality was reasonably good with solid supplies of heavy weights and large supplies of trade and processor mutton. The market moved significantly lower with one less lamb processor operating and limited purchases by one mutton processor.
New seasons lambs eased by $2-$5 with the lighter weight and air freight lambs making $45-$85. Trade lambs 18kg-22kg made $80-$105.
The old lambs offered were very plain, NLRS said. Light lambs made $55-$76, back $3-$7 with the trade old seasons drafts making $72-$98, similar to last week. Live export feeders purchased better store wether drafts at $50-$80. Light lambs to restockers made $30-$61 with the Merino drafts mostly $30-$53, mostly $5 easier.
Ewe supplies exceeded demand with heavy drafts affected the most. Heavy 3 and 4 score ewes fell $15, with most sales at $60-$84. Prime ewe mutton made $48-$78 to also fall, by more than $10, with the 2 score processor drafts making $44-$70, back $7. Restockers were active on better mature ewes with sales at $58-$61, up to $14 cheaper. Merino ewe hogget sales were $5 easier at $42-$79, but quality was not up to last week.
Wether sales eased slightly with heavy drafts to processors making $70-$86 and select drafts to live export $70-$90. Lighter and store wethers remained close to firm with most sales at $50-$80. Rams were mixed with better young drafts making $30-$78 to feeders and live export, and old drafts from $5 to $30. The best ram lambs sold to a top of $90 to processors.
Source: MLA, NLRS.