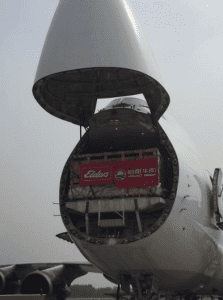 A DRAFT report on a review of the standards for the live export of livestock by air from Australia has been released by the Department of Agriculture.
The draft report of the review into the Australian Standards for the Export of Livestock by air is open for public consultation until 18 July.
The draft report said air transport is regarded as offering higher animal welfare outcomes and is a much faster method of travel than sea transport.
During the three years 2016-18, 2.8 percent of sheep, 0.86pc of cattle and 0.04pc of buffalo exported from Australia went by air. During this time, all goats, camels, deer and alpacas exported from Australia travelled by air, the report said.
Despite the comparatively low numbers of livestock exported by air, it retains a valuable place in the export industry as a method for exporting high value livestock, particularly breeding livestock, and smaller consignments. In 2016-18, 2.43pc of slaughter and feeder sheep were exported by air highlighting that for some markets, air transport is a viable and competitive option.
The department said the independent review committee released the draft air export ASEL report today following completion of the first stage of the review into livestock exports by sea.
Stakeholders can make an individual submission or contact their representative body on the ASEL review stakeholder reference group to contribute to their broader submissions.
The consultation process will run through the department's 'Have your say' platform until 18 July 2019. Submissions will be published on the department's website to allow for a transparent consultation process.
In developing the draft report, the committee drew on submissions it received during consultation of an issues paper in April 2019 and an independent literature review. The final report into the review of Australian Standards for the Export of Livestock by air is expected by September 2019.
To have your say on the draft report visit: https://haveyoursay.agriculture.gov.au/review-asel
Click here to read the draft report.