FAMILY-OWNED Woodward Foods Australia claimed the champion lamb of show title for the second year in a row during the Royal Queensland Food and Wine Show branded beef and lamb competition at the Brisbane Showgrounds this week.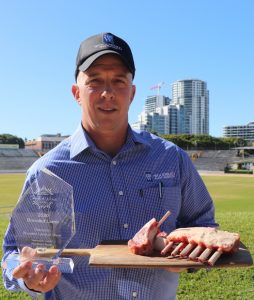 Woodward's winning entry this year was its Australian Lamb branded product produced at Swan Hill in Victoria.
It was the first time in three years that Tasmanian-produced lamb had been outshone, with Woodward Foods Australia's HRW Tasmanian Lamb winning the title in 2019 and 2017, and Melrose Wholesale Meats' Tasmanian Royal taking top honours in 2018.
The championship winning entry was the class winner from the lambs greater than 24kg restaurant trade class, scoring a gold medal winning 86.3 points. The lamb was fed at Woodward Foods Australia's Garrison Feedlot, Murray Downs, NSW.
Chief judge Elaine Millar said the Australian Lamb product had a long-lasting juiciness, due to its fine silky threads of marbling.
"It showcased beautifully balanced flavours of emulsified cashew, sweet biscuit and delicate earthy oyster mushrooms," she said.
Peter and Sally Strelitz, Milly Hill, Armidale, NSW claimed the lightweight class for lamb carcases 20kg or less with their Milly Hill entry, while South Australia's Thomas Foods International scored the gold medal for its Supreme brand in the 20-24kg section.
A total of 36 entries were received in the Brisbane's lamb and beef competition this year, judged over two days last week by a team of 13 food experts including some of Queensland's top chefs.
After being postponed in May because of the Coronavirus pandemic, the Branded Beef and Lamb Competition was rescheduled until July 7, with an awards ceremony earlier this week.
RQFWS award-winning beef and lamb products will be served from 7-16 August at a pop-up store in King Street at the Brisbane Showgrounds, as part of Ekka 2020 Online presented by RACQ to keep the spirit of the Royal Queensland Show alive.
Results:
Champion lamb of show – Woodward Foods Australia for its Australian Lamb
Class winners:
Branded Lamb – 20kg or less
Gold: Milly Hill Pty Ltd, Milly Hill Lamb
Silver: Woodward Foods Australia, HRW Tasmanian Lamb
Bronze: Woodward Foods Australia, Australian Lamb
Branded Lamb – More than 20kg
Gold: Thomas Foods International, Supreme
Silver: Milly Hill Pty Ltd, Milly Hill
Bronze: Thomas Foods International, Thomas Farms
Restaurant Trade Branded Lamb – More than 24kg
Gold: Woodward Foods Australia, Australian Lamb
Silver: Woodward Foods Australia, HRW Tasmanian Lamb