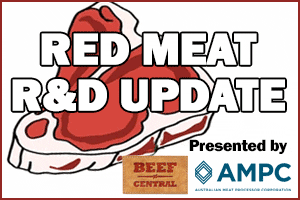 WELCOME to the fortnightly series of articles focusing on red meat R&D, presented by Beef Central, Sheep Central and the Australian Meat Processor Corporation. These items will highlight a range of projects designed to enhance the efficiency, productivity, product quality and safety of Australian red meat sold into the domestic market and around the world.
All have the ability to help underpin Australia's unrivalled reputation as the world's premier export of quality beef, lamb and offal. Links to previous articles in the series appear at the bottom of this page.
RED meat processors have reduced water intensity by nine percent in their operations since 2009, mostly through water efficiency actions. The next big challenge is advanced water recycling, using reverse osmosis principles.
A pilot project due to begin later in the year, led by the Australian Meat Processor Corporation, will provide a containerised MF-UF Reverse Osmosis unit that has multiple filtration choices.
The units will be trialled at different locations. The objective is low-cost Class A recycled water for use in plant heating and cooling systems.
The pilot will establish the first step towards advanced water recycling by providing three containerised portable units for water recycling to several AMPC member processing facilities.
The research will first identify the most efficient and economic water treatment with the objective of achieving low-cost Class A recycled water for re-use in heating and cooling assets such as boiler make-up water, condensers and cooling towers.
AMPC chief executive officer Chris Taylor said the pilot would establish and help progress a sustainable pathway to advanced water recycling in the processing sector.
The containerised units will use suitable sub-process water streams such as from the slaughter floor and viscera table, filtered for re-use in non-food production areas such as for heating and cooling.
The results of the pilot study will include preliminary design, feasibility and business cases that outline the best uses for such recycled water within processing plants.
The red meat processing industry will be provided with a Class A water recycling handbook that will include tools such as a decision-making matrix to help operators determine when and where to use recycled water within their plants, including how much energy and water savings are likely to be provided.
Completing this pilot will help future projects look into next steps on the pathway to potable water recycling.
Previous articles in this Red Meat R&D series: