Latest listings on Jobs Central
Marketing Associate – Allflex
Administration Officer, Toowoomba – Mort & Co
Production Planner / Coordinator – Bindaree Food Group
MSA Beef Grader – Bindaree Food Group
Rendering Manager – Bindaree Food Group
Boiler Attendant – Bindaree Food Group
Feedlot Hand, Goonoo Feedlot – AA Co
Maintenance Hand, Goonoo Feedlot – AA Co
Farm Operations Manager, Hakea WA – Lawson Grains
Feedlot Operations Managers (2) Prime City & Riverina – JBS
Livestock Manager – via Red Dog Recruitment
Click here to access these and other exciting meat and livestock supply chain jobs currently listed on Jobs Central.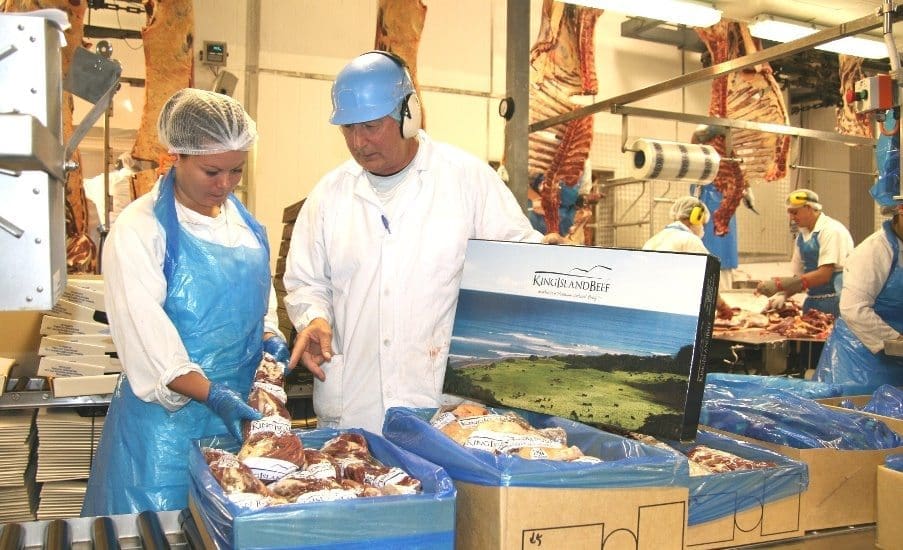 THE contribution of women in agriculture has been historically ignored in Australia, even when at least 49 percent of real farm income in the country is produced by females.
Now, even with growing recognition of women in the agricultural sector, the industry is having trouble keeping women engaged and employed. Women already make up more than 53pc of agricultural graduates in Australia and, upon graduation, tend to work in animal health, nutrition and livestock areas.
Male graduates, on the other hand, are more likely to be involved in the finance and trading sectors, or back on the farm. Roughly 10pc of all graduates leave the industry altogether, and a report by Pratley and Crawley* suggests that this 10pc is split evenly between the genders.
Based on these percentages, we may assume that men and women more or less occupy an equal share of agricultural roles in the country. This assumption, however, is incorrect.
Relationships matter in women's careers
Women's share of agricultural roles or professions appears to change once they form relationships and have children – something that's closely tied to their traditional role as primary carers.
Women seem to "disappear" early in their careers, as indicated in the low number of applications received from women for agricultural employment opportunities. Instead of accumulating the experience needed to build a solid agricultural career, many female graduates are found raising families in the cities and working outside the field of agriculture, depleting the number of applicants for roles in rural areas.
These women are part of the "lost" agricultural talent pool that opts to work in other areas – both in the professional and the geographical sense – with more flexible arrangements that accommodate their lifestyle choices.
The need for equitable and flexible employment
Women who study agriculture often come from a farming background and bring not only a passion for the industry, but also years of on-the-ground training. Yet, by not providing women equitable and flexible employment conditions, we are allowing other industries and areas of employment to harness this enthusiasm and benefit from this talent pool.
It would appear that the structure and flexibility of the agricultural workforce restricts women's participation and, therefore, the industry is missing out on the full range of skilled agricultural workers.
If so, what can be done about it? How can agriculture attract and retain its female graduates, and not just males?
Let's start with graduate student salaries
When female graduates leave the university, they can look forward to an average starting annual salary of $55,000, compared to male graduates who attract $62,600 for a similar post or role. This income differential encourages talented women to look elsewhere. Addressing equitable pay and work conditions would be a good first step to attracting and accommodating the expectations of female graduates.
Next, let's look at location.
Many agricultural jobs require people to move to perhaps isolated areas, and to be available and on the road for long periods of time. For both women and men, this is a significant problem that eats into their family time, and is often not compatible with the role of primary carer for young children.
What's missing from agricultural industry-based employment options are creative and flexible work practices. These practices support both women and men as they achieve the satisfying jobs they spent years in education and training for.
Two issues are evident – the need for women to feel comfortable returning to the workforce after going through a carer's break, and the need for the workforce to be flexible enough to attract women back.
In fact, the federal government does recognise the issues facing rural women who are keen on returning to a career in the industry, and has developed the Career Revive Initiative for Rural Women. This assists women in their return to the workforce and is designed to help them build a career in this field.
The second need is perhaps more difficult to address: the industry needs to be receptive to skilled, agriculturally trained female graduates, particularly those with family responsibilities.
The need to tap into flexible work setups
Agricultural producers have proven to be excellent early adopters of advanced technologies across a range of areas, and thinking outside the box is not difficult for truly innovative companies.
Incorporating technological solutions such as Zoom video conferencing into agricultural employment options is a good first step towards supporting remote, flexible work, and is critical in building a satisfied workforce. Modern video conferencing technology has revolutionised meeting spaces in other industries and reduced the amount of attendance time needed to achieve positive results at work.
In many cases, this remote approach to work can be extended beyond the meeting forum. Women have taken to working remotely in a number of industries because of the flexibility it offers. It allows employees to satisfy work requirements, while seamlessly performing caring responsibilities.
Such flexible work practices facilitate the strengthening of loyalty and responsibility, as the worker is empowered to manage their tasks independently (to a certain degree), and to practice efficient time management.
The dynamic role of women agriculturists
The farm-based workforce is changing. Women farmers are more visible than ever, and more active in agricultural industries. They also expect the agricultural professionals they work with to be similarly diverse.
Accommodating diversity and flexibility in the industry will be well received in the agricultural community, as it comes with serious advantages. Diversity and flexibility breed creativity and innovation.
The availability, recognition and acceptance of differing perspectives allows for insightful learning and the enrichment of organisational knowledge creation. So, to attract skilled professional women to apply for agricultural roles, employers need to assess, adapt and adopt.
Be willing to make an investment in women, and be rewarded as a result. It's a win-win all the way.
* References: Pratley, Jim ; Crawley, Nigel 2018 Graduate Destinations in Agriculture. Agricultural Science, Vol.29/30(2/1), p.6-15 Career Revive Initiative for Rural Women (https://www.employment.gov.au/career-revive)
Source: Agricultural Appointments. For further information on Future Skill Hot Spots in Agriculture and Other Major Future Challenges in the Industry, download a free copy of Agricultural Appointments' "Agribusiness Trends and Salary Report 2020".