Latest listings on Jobs Central:
Feedlot Management Trainee (Rangers Valley feedlot)
Abattoir Site Manager (Hillside Meat Processors)
Operations Manager, Charlton Feedlot (Teys Australia)
Feedlot & Farm Manager – The Mount feedlot (Kenny's Creek Angus)
Smalls Boning Room Supervisor – Deniliquin (AMG)
Farm Hand – Wylarah, Surat (AA Co)
Meat Sales Professionals (Uniwell Premium Quality meats)
Abattoir Workers – Deniliquin (AMG)
Click here to access these and other exciting meat and livestock supply chain jobs currently listed on Jobs Central.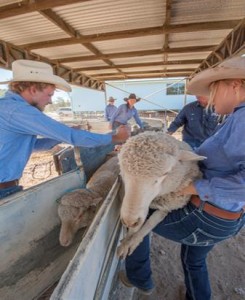 REGARDLESS of whether a candidate is successful in securing the job, the manner in which recruiters or managers treat candidates throughout the hiring process can have a big impact on future recruitment opportunities for the business.
Whether you're employing a farmhand or a branded lamb meat sales manager, your hiring process should be consistent, professional and respectful.
A recent study conducted by employment website CareerBuilder.com found that 23 percent of those who had had a bad experience during their recruitment process posted about it online. Almost 40pc said they were less likely to engage with that company in future.
Negative feedback can directly impact the reputation of a business, so recruiters should treat every candidate like they would a customer. One bad experience can transpire into unwelcome negative press by a tweet, Facebook post or simply just by word of mouth.
What's more, you can potentially dissuade that candidate from ever reapplying for future positions or stop them from doing business from you in future.
This is lost revenue that can be easily avoided by a few simple measures.
The hiring process:
The first step for any employer to attract the right talent is to create a job ad that is fitting for the position.
Make sure to be honest about the duties and responsibilities while also giving potential employees an outline of your business and its principals.
Always give the chosen candidates sufficient notice for interviews and make sure to contact candidates if times or dates change.
Remember that candidates get the first idea of your business during the hiring process and will be deciding whether they want to work for your company or not during these initial stages.
Selling your business
Not only could candidates be the talent you desperately need in your workforce, but they can also be a mouthpiece for you and your brand.
A business owner or manager should treat every candidate with respect and sell the position like they would a product or service.
A good first impression is imperative – bad feedback not only risks losing potential customers but can also hurt the brand in future.
Remember that whatever experience the candidates have, whether good or bad, successful or unsuccessful, chances are likely that they will relay that on to friends and colleagues or even on social media.
Treating those who don't ultimately get the position well means you have the opportunity to turn them into brand ambassadors for your business.
The importance of following-up
One of the biggest reasons candidates turn-down job offers is because of a negative experience during the interview process.
Don't wait too long to get back to the successful applicant, and stick to any promises you might have made.
If you said you would call them by a certain day with the result of their interview, always follow through.
If this isn't possible, make sure to contact the candidate and let them know the process is taking longer than expected.
Unsuccessful candidates should always be notified that they didn't get the job – if they have made the effort to apply and prepare for an interview, they deserve to know they were unsuccessful in getting the role.
While there will always be disappointment from applicants who are turned down, making the process as professional and streamlined as possible will help maintain a positive image for your company.
Source: Meat Processors Pty Ltd