Latest listings on our recruitment page, Jobs Central
AgriBusiness Analyst – Greenleaf
Business Development Manager, Cross Sector Programs, Agrifutures Australia – via Rimfire Resources
Farm Manager – Hazeldean Adelong
Regional Sales Manager, MENA/SEA – via Rimfire Resources
Account Manager, Retail SE Qld – via Rimfire Resources
Property Assistant, Mixed Farming/Cattle – Burenda Angus
Animal Health Area Manager, Central Qld – Elanco
Area Sales Managers (2), North + South Qld – via Agricultural Appointments
Branch Manager, Charters Towers – Elders
Territory Sales Manager, Northern NSW – via Rimfire Resources
Station Aesthetics Manager (Gardener) – Packhorse
Pen Rider – Rangers Valley
Feedlot Machinery Operator – Ranger Valley
Irrigation Manager + Farm Manager (2)  Citrus – via Rimfire
Senior Manager Merchandise Div. Kununurra – via Rimfire
Grains Coordinator – via Rimfire Resources
Payroll Officer, Biloela – Teys
Occupational Health Nurse, Biloela – Teys
Electrician, Tamworth – Teys
Mechanical Fitter, Tamworth – Teys
Occupational Health Nurse, Naracoorte – Teys
To access Jobs Central page, including full listings and job descriptions, click here
THERE has been a sharp surge in new jobs listings across Australian business and industry in the past couple of months – and agriculture is one of the leaders of the charge.
Results from a NAB survey released this week suggest new job ads increased 10.3pc on March, to be 24.3pc above the pre-pandemic February 2020 levels, and reaching their highest point seen since 2008. Ads in some states, including South Australia, Tasmania and the Northern Territory were at an all-time high last month.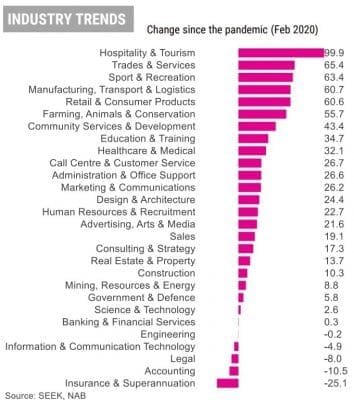 Growth in new job ads was led by WA (+17pc on the previous month) and VIC (+12.4pc), where some catch-up in job advertising following their recent five-day lockdowns likely occurred. Growth was also very strong in NSW (+9.2pc), QLD (+9.1pc), (SA +8.3pc), TAS (+4.8pc) and NT (+4.6pc).
Agriculture (Listed in the report as Farming, Animals and Conservation) was one of the sectors showing the biggest change, being 55.7pc higher in new job listings than the February 2020 pre-COVID period.
"The strong growth in job ads continues to indicate an ongoing lift in labour demand, reflective of the better-than-expected economic recovery, but also reflects some dislocation in labour supply as a result of interstate and international border closures," NAB's report said.
"Overall the data suggests a further tightening of the labour market in the coming months even with the end of the JobKeeper wage subsidy last month."
While some uncertainty remained about how those displaced by JobKeeper will fare, strong labour demand suggested there should be employment opportunities in the most vulnerable industries, as well as vulnerable regions, NAB's report said.
Agriculture leads trend
Specialist agriculture recruiter Mick Hay, from Rimfire Resources, said the broader Australian employment trend was definitely also being seen in agriculture.
Rimfire has tracked agriculture jobs listings for the past 15 years, and noted that the past couple of months had seen a sharp rise in new ag-related job listings on all social and online media.
"At the moment, each month is almost a new record for listings," Mr Hay said.
While business confidence across Australia had recovered well this year, agricultural employment, specifically, was being driven by a powerful combination of historically high commodity prices, and a return to much better seasonal conditions after drought.
"There are still exceptions – like the red meat processing sector and the wine industry – which are still doing it very tough, but most commodities and sectors of the food supply chain are in very good shape – and its being reflected in employment and jobs trends," Mr Hay said.
"When COVID first hit, everyone was trying to do more with less. But ag in general is now very strong, across the board. Any time commodity prices are high and seasonal conditions are favourable is a powerful mix for agricultural employment."
He said there had been a tendency during the early stages of COVID towards 'head-down, bum-up', in terms of approaches to job movement.
But right now, job numbers in agriculture were pretty much at an all-time high.
Mr Hay said agricultural employers were now "really recognising" that top talent was critical to their business, and were prepared to pay for it.
"The whole job cycle across the broader business community has massively turned upwards, but agriculture actually led that trend. During COVID, when broader job listings plummeted, ag had a bit of a downturn, but quite modest. But it has since picked up much quicker, and a lot harder than the general business community."
"It's being driven by expansion and post-drought recovery in farm-sector businesses; and greater corporatisation, which is opening up more specialist positions in areas like agtech and environmental management roles, and other new skill-sets."
Recent reports had suggested that even those farm commodities that had been hit hard by China's trade sanctions on Australian farm products had found alternate markets for their products, minimising impact.
"I can't see any major headwinds that are going to change the current favourable environment for ag in the foreseeable future," Mr Hay said. "Confidence is a big factor in the labour market."
Beef Central will in coming weeks publish a report being prepared by Rimfire Resources on the state of the agricultural employment market.
While working in a specialised field, Beef, Sheep and Grain Central's own Jobs Central recruitment platform has witnessed a sharp spike in new listings this year, and in particular over the past four weeks, in line with the comments above.