WOOL pipeline stocks might be low and a post-pandemic global commodity price supercycle is mooted, but a clothing retail recovery is needed to boost wool prices, according to industry analyst Chris Wilcox.
In his latest newsletter for the National Council of Wool Selling Brokers of Australia, the NCWSBA executive director said 2021 could be a much better year for Australian wool producers, if a new commodity price supercycle has started.
Mr Wilcox said prices for cotton and acrylic fibre have followed a similar pattern to other commodities, rising strongly from the low in April.
"Polyester staple fibre prices took longer to bottom out and are still not quite back to the levels of January 2020.
"The trends for wool prices are lagged compared with other fibres, not hitting a low until September 2020," he said.
But he said while there has been a strong lift in wool prices in recent months, wool prices overall remain below the January 2020 levels.
Mr Wilcox said an article in a recent edition of The Economist noted that many commodity prices are well above the levels at the start of 2020, before the impact of the Covid pandemic was being felt, asking if a new supercycle is beginning. The Economist quoted Goldman Sachs' global head of commodities research Jeff Currie as saying: "The pandemic itself is a structural catalyst for a commodity supercycle."
Mr Wilcox said wool — notably Merino wool — has already had its own supercycle, which began in 2016, peaked in the second half of 2018, and then waned through 2019 and 2020, with prices reaching a low in mid-2020.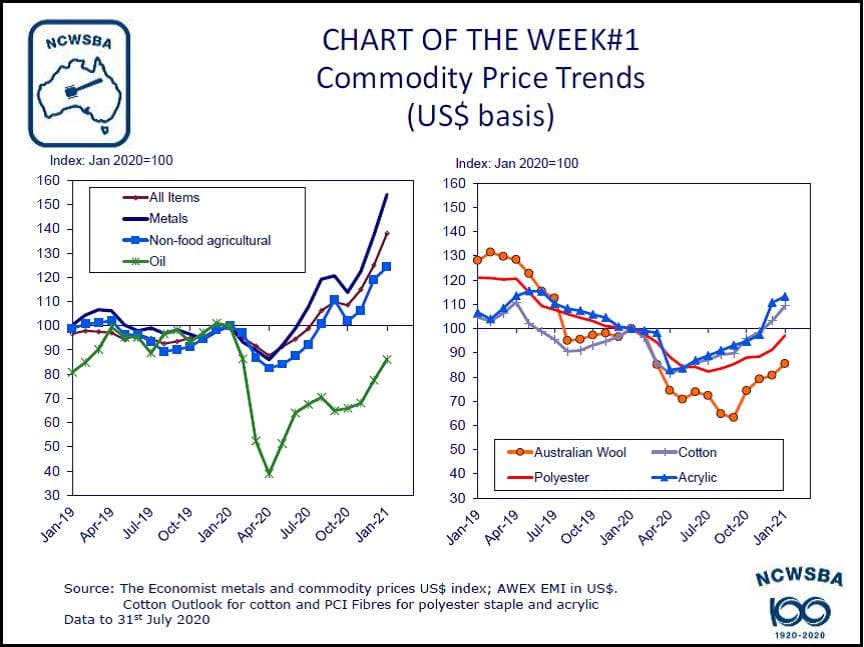 Retail sales need to recover
Mr Wilcox said The Economist also argued that the roll-out of vaccines across the world will help the world economy recover and pent-up demand will boost commodity prices.
"As well, the spending proposals by the new Democratic American government and loose monetary policy will provide a further boost."
He said if there is a general commodity price supercycle, wool will benefit and prices will continue to rise, though probably more so for Merino wool than for broad wool which has been in the doldrums for the past four years.
"If we are to see a boost to wool prices, clothing retail sales will need to recover from the depths plumbed during the pandemic."
Mr Wilcox said retail sales in many of the major wool-consuming countries have fallen sharply over the past 9-12 months.
"There are tentative signs of recovery in some countries, such as Japan and China. The US may be starting to see a bottoming-out.
"However, retail remains very difficult in the UK, Italy and France," he said.
"There was some respite around September to the downward trend in Italy and France, but that has dissipated with the resurgence of COVID-19 infections in those countries."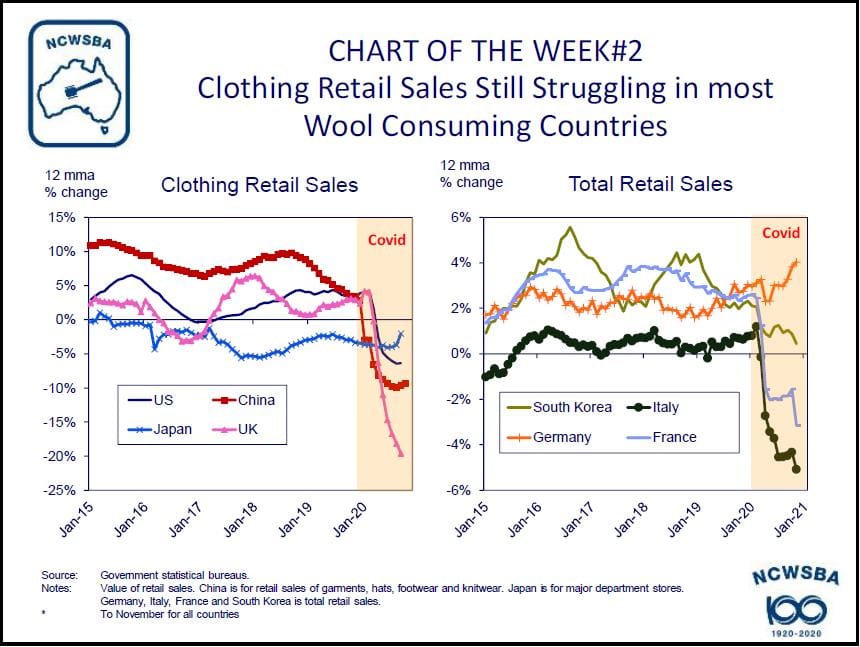 Consumer confidence is rising in China
Mr Wilcox said consumer confidence remained very fragile and volatile.
"Only in China are we seeing a sustained improvement since the lows in April.
"While the recent resurgence of COVID-19 infections in many countries will dampen a recovery in consumer confidence, the roll-out of vaccinations across the world through 2021 will help consumer confidence to recover on a firmer footing and be less volatile," he said.
"This will provide support for improved retail sales.
"As well, the change in government in the United States and greater political stability that is likely to bring will provide a further boost to consumer confidence in the US, and may also bring greater stability, certainty and coordination in the international arena," Mr Wilcox said.
"Anecdotal reports suggest that stocks of raw wool and wool product are low through the wool textile pipeline.
"Therefore, any improvement in retail sales, even from the current low base, will flow through quickly to the auction market and demand for wool," he said.
Mr Wilcox said given the lags between the purchase of wool at auction and the purchase of wool products at retail, the recent improvement in wool prices is possibly due to increased demand from early stage processors and spinners anticipating an improvement at retail as 2021 progresses, resulting in good retail demand in the Northern Hemisphere 2021 Autumn/Winter season later this year.
"If we are seeing the start of a commodity price supercycle, then 2021 could be a much better year for Australian wool producers and the industry."
Processors are buying a bit more
Wool exporter Josh Lamb agreed that increased demand from early stage processors and spinners anticipating an improvement at retail had contributed to the recent improvement in greasy wool prices.
"I think that is definitely a big part of it, but there is also new business being done on a spot basis," he said.
"What we are finding with early stage processors is that they are selling certain quantities within a week, then replacing that quantity plus a bit more as they go along.
"They are anticipating prices will improve over the next 18 months."
He said early stage processors are now starting to pad out their wool stocks more.
"China, for example, has run pretty low on greasy and top stock, as a general rule, for the past 4-5 years."
He said Merino greasy wool, top and yarn stocks in China are "very very low", "and in some microns almost non-existent," but the market for broader micron wool – 28 microns and coarser – is still chocked up with stocks from various origins the world.
"That recovery on the coarse edge is much more long-term, but certainly on the merino side of it, I think the recovery will be pretty good."