AUSTRALIAN sheepmeat exports remain on track to achieve their largest export year since 2014, with lamb set to record its biggest year ever for international trade.
For the calendar year to December 14, chilled and frozen lamb exports have reached just over 240,000 tonnes, with mutton exports topping 139,000t.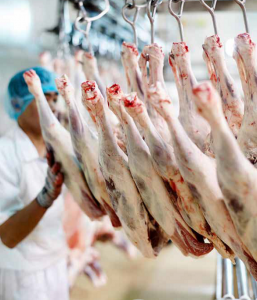 In 2017, mutton will reverse two years of decline and record growth on the back of a significant increase in domestic supplies, especially in the second half of 2017.
The two key markets for growth have been China and the US, with Korea also seeing some large increases. Despite the growth in pricing across lamb and sheep in 2017, international demand has remained robust, MLA says.
Looking ahead to next year, while current supplies of lamb remain tight – placing pressure on price for overseas customers – the long-term fundamentals remain positive for the Australian sheepmeat industry, especially in some key export markets.
New Zealand is Australia's major competitor in global markets and its lamb production has been relatively flat over the last couple of years, with mutton production continuing to fall in line with the flock. Over the 12 months to October, New Zealand sheepmeat exports eased 1.1pc.
With flat exports out of New Zealand, and a modest increase from Australia, overall supply isn't enough to satisfy the growth in global demand, hence ongoing strong prices in Australia and NZ are predicted by MLA.
Key factors include:
The US is Australia's largest lamb market and demand is expected to remain strong throughout 2018. While sheepmeat is a minor protein in the US, strong demand at foodservice continues to underpin the demand fundamentals from Australian product.
China demand has been strong over the past 18 months due to short supply from local sheep. While current demand is predominantly for breast and flap destined for the hotpot and skewer markets, there is a longer-term opportunity to increase demand for additional cuts into the retail sector as it matures and Chinese consumers become more familiar with consuming sheepmeat at home.
The Middle East is a significant market for Australian sheepmeat and the factors that are expected to help drive the underlying growth and demand for imported products in the region include:
Urbanisation
Westernisation and growth in a number of wealthy households
A young population
A large expat professional population
Forecast low inflation, and
A developing tourism sector.
Next year will see ongoing demand for high quality chilled carcase lamb and mutton to underpin the demand from the Middle East region, MLA says.
MLA will host its 2017 Sheepmeat Global Market Forum in Melbourne on 3 May, 2018.