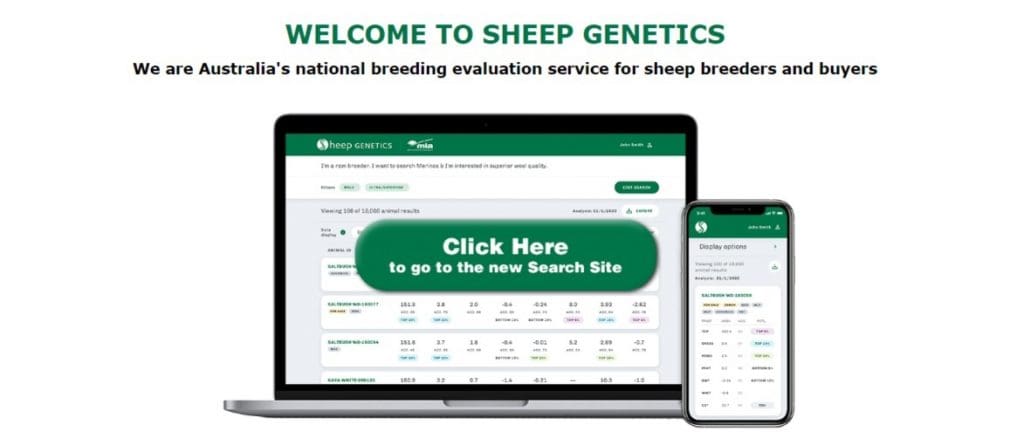 MORE Merino, maternal and terminal sheep breeders have joined Australia's genetic evaluation systems, generating record parentage and genotype assessments in 2021-2022, with a focus on reproduction, eating quality traits and breech wrinkle selection.
Meat  Livestock Australia's (MLA) Sheep Genetics program included a record 190,000 parentage and higher density genotypes were processed between July 2021 and June 2022, according to the Sheep Genetics 2021–22 Annual Outcomes Report released by MLA.
And in the same period, LAMBPLAN membership increased by 9.8 percent and MERINOSELECT membership had an increase of 6pc.
LAMBPLAN is Australia's genetic evaluation system for terminal, maternal and dual-purpose sheep breeders and MERINSELECT is its counterpart for Merino and Dohne breeders.
MLA said selection indexes are an important tool to drive genetic improvement in breeding programs, particularly where there are a range of traits of economic or functional importance.
In 2021–2022, all reported indexes increased across all major analyses. There was also notable improvement in the genetic trend for key trait groups including:
improved reproduction trend, with the introduction of Weaning Rate in Merinos and maternals
improved intramuscular fat and shear force while continuing to improve lean meat yield in terminals
further reduction in early breech wrinkle in Merinos
improved growth across all analyses.
Manager of Sheep Genetics for MLA, Peta Bradley, said borders reopening after COVID-included restrictions meant that more events could be held and attended by producers around the country.
"We have achieved a lot this year in delivering our service to clients.
"In particular, MLA has been focused on improving our genetic evaluation as well as working with producers to drive genetic progress within the sheep industry," she said.
"Throughout FY22 we engaged with over 1000 seedstock and commercial producers at events hosted or supported by Sheep Genetics.
"The efforts of our clients have contributed to doubling the rate of genetic gain across all the standard indexes for all analyses," Ms Bradley said.
During 2021–22, Sheep Genetics experienced growth in both number of new clients as well as additional flocks with existing clients. There are now currently 1187 member flocks in Sheep Genetics.
With the huge growth in membership over the last few years, Sheep Genetics also developed a New Member workshop. These online workshops are run regularly and are targeted at helping new members get started with genetic evaluations, including what information is needed to calculate Australian Sheep Breeding Values (ASBVs) and how results are accessed.
As part of this year's analysis enhancements implemented in May 2022, MLA launched the redeveloped Sheep Genetics database. The database contains valuable information on pedigree, on-farm and research data that is used to generate ASBVs from the LAMBPLAN, MERINOSELECT, KIDPLAN and Dohne evaluations.
The implementation of the database redevelopment as well as the other analysis enhancements for 2022 were done as part of an MLA project with the Animal Genetics and Breeding Unit (AGBU). Sheep Genetics works closely alongside AGBU in the delivery of the national genetic evaluation.
Ms Bradley commended the Sheep Genetics team and producers for all their hard work this year.
"Thank you to everyone who contributed to the Sheep Genetics program over the past year. We look forward to working with you over the next 12 months," she said.
For more information, please see the full Sheep Genetics 2021–22 Annual Outcomes Report