RAM buyers now have a web-based tool to help them use Australian Sheep Breeding Values to match their purchases with their breeding objectives.
The new web-based app at www.RamSelect.com.au was launched today and is set to change the way sheep producers select the genetics they need to bolster production and profit.
It will allow commercial sheep producers to purchase rams using Australian Sheep Breeding Values (ASBVs) without the need for a detailed understanding of the data.
From today RamSelect.com.au will be accessible on a computer, tablet or mobile phone.  It will search the Sheep Genetics databases – MERINOSELECT, LAMBPLAN and DOHNE – to quickly identify and rank rams for a defined breeding objective.
South Australian Merino breeder Jamie Heinrich said the app would make ram selection simpler for producers who were not familiar with ASBVs.
"It will just simplify it and make it easier for people to work their individual breeding objectives.
"They can finetune their breeding objectives rather than follow the indexes provided by Sheep Genetics."
Slider bar technology makes RamSelect app simple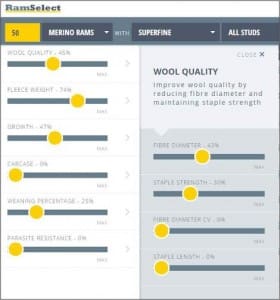 Mr Heinrich said the app's slider bar-based display where ram buyers could move a button to change their focus on individual traits to rank rams in a sale catalogue would also help introduce ASBVs to producers.
"For the people who don't understand the trait numbers completely it will be a lot more simple and easier to use."
Mr Heinrich said RamSelect.com.au ensures ram buyers can quickly check the status of our offering and rank rams against their breeding objective prior to sale day.
"On sale day the buyer only needs to check the visual traits before making their purchase decisions."
New app takes the hard work out of ram buying
Sheep CRC chief executive James Rowe said it would also be an important marketing tool for breeders assisting clients to select ram teams.
"For buyers RamSelect.com.au takes the hard work out of using ASBVs to identify the right genetics that align with an individual flock's breeding objectives," Prof. Rowe said.
"We have known for a long time that ASBVs level the playing field and allow comparison of animals based on genetic merit, without the effect of environment.
RamSelect dramatically simplifies the process of using the data to rank and purchase rams using ASBVs from the MERINOSELECT, LAMBPLAN and DOHNE databases."
RamSelect.com.au has been developed by the Cooperative Research Centre for Sheep Industry Innovation (Sheep CRC) in conjunction with Telstra, Australia's leading telecommunications provider, and Pivotal Labs in San Francisco, one of the leading software development companies in the world. It is accessible on computer, tablet and phone.
The NSW Department of Primary Industries has also had extensive involvement through the development of the app, providing expertise from the initial concept to the final product.
Ram buyers simply follow prompts and move slider bars
Ram buyers using RamSelect.com.au just have to follow a few simple prompts and slider bars to define:
The breed and type of rams required
The number of rams to be placed in the ranked list
The region and/or stud to search
The type of sale you want to attend – auction and/or private treaty
The relative emphasis on traits that drive profit in different production systems
Professor Rowe said the technology that underpins the system is incredibly smart and allows users of ASBVs to go beyond the fixed indexes they have been using up until now.
"The app undertakes complex calculations in real time as users alter the settings for their specific breeding objectives.
"The user is then provided with a list of rams ranked for their merit against these criteria, which can be saved on a tablet or smart phone, or printed for sale day," he said.
"After the sale day, the user is reminded to return to RamSelect.com.au to save the list of rams purchased.
"In future years this information will be used to benchmark the flock and inform future ram purchases."
The success of RamSelect.com.au relies on breeders keeping data and sale information up to date on the Sheep Genetics site.
App received tick from sheep breeders
In final test runs before launch, about 20 sheep breeders, commercial producers and advisers previewed the system which they say will dramatically simplify the ranking and purchase of rams, based on Australian Sheep Breeding Values (ASBVs).

Leading farm adviser Craig Wilson, of Craig Wilson & Associates, NSW, said RamSelect.com.au would take the hard work out of using ASBVs when searching for the right genetics to improve flock productivity.
"RamSelect.com.au will be a game changer," Mr Wilson said.
"We have known for a long time that ASBVs allow us to compare animals on genetic merit, without the effect of feeding or environment.
"The RamSelect app makes it quick and easy to rank animals against individual breeding objectives," he said.
"For a lot of commercial producers sifting through long lists of objective data was time consuming and difficult work – they can now find the genetics they need in a matter of seconds and know that the recommendations are supported by objective data from Sheep Genetics."
Source: Sheep CRC