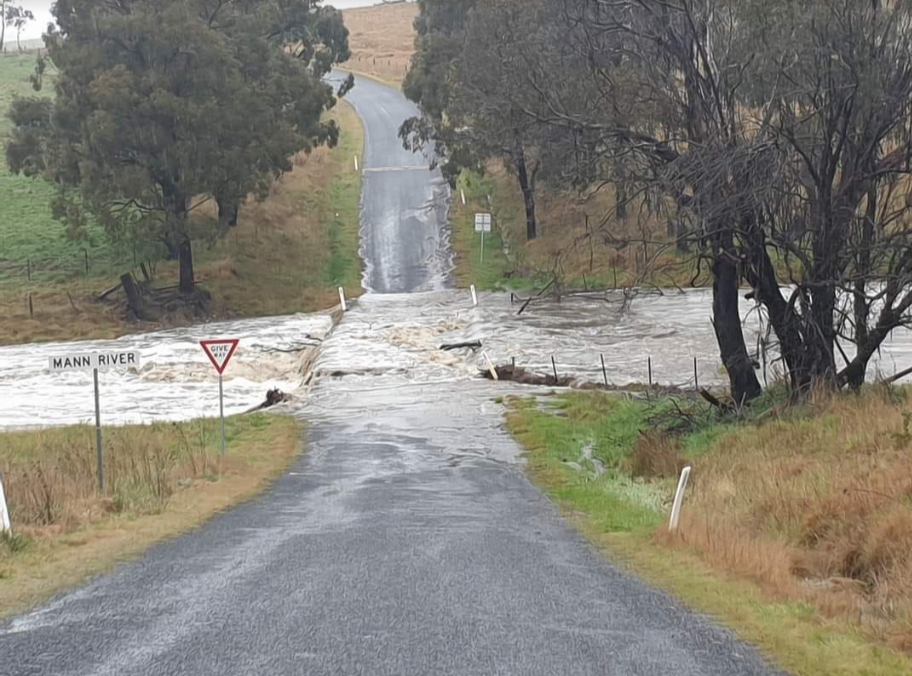 A TIGHTENING of lamb and sheep supplies to processors on Australia's east coast is expected if forecast rainfall this week worsens the condition of roads across central west New South Wales.
New South Wales saleyard lamb supplies were cut this week by the public holiday on Monday and processors have been shoring up supplies in early sales this week, and moving lambs and sheep closer to plants.
Severe weather warnings have been issued for western, southern, central and northern New South Wales due to the weather systems expected this week, with rainfalls of 50-100mm-plus forecast for some areas already affected by recent floods.
Recent rainfall and flooding has already damaged many country roads and made moving livestock more time-consuming, and other farmers are finding it difficult to get wool to brokers and storage for marketing.
Dubbo sheep and lamb processor Roger Fletcher believed there might be some tightening in lamb supply as a result of the forecast rain, but it would cost the cotton industry "a fortune" by disrupting planting.
He was moving some stock to land closer to his processing plant, but the region's roads were "an utter mess", although better than they were years ago.
At the weekly Forbes sheep and lamb sale today, stock agent Scott Reid said prices improved despite the sheep numbers lifting 6200 to 8650 and the lamb yarding rising 5950 to 34,550.
He said processors seemed keener to secure numbers and the National Livestock Reporting Service said prices for the 7850 new season lambs penned lifted $3-$4/head and old lambs were $4-$5 dearer. The number of lambs was unexpected and possibly due to producers reacting to media coverage of the impending weather pattern, Mr Reid said.
"It (the market) has held up better than I thought and I think with this rain event coming there is a bit of a scramble to have a few numbers about them … today they definitely are.
"I think they are probably a bit worried about supplies from when it does start raining so they want to get a few around their abattoirs so they can keep going," he said.
"The new season lamb job is probably firm to a little bit dearer than last week, but your old lamb job is definitely dearer, especially for weighty lambs."
Mr Reid said a lot of roads west of Forbes had already been shut for the past 10 days due to flood damage around the Lachlan and Macquarie Rivers. Carriers had to take circuitous routes to get stock to the Forbes saleyards today and last week, he said.
He noted some lambs had already come out of the Dubbo area to the Forbes yards to avoid any future disruption ahead of the rain fall expected later this week.
Switched-on producers will have stock close to yards
Elders Dubbo district wool manager Greg Sawyer said switched-on producers supplying contracts would know that they needed to have livestock close to yards and ready to load in the current conditions.
"I can't see it being an overly big problem.
"It might pull a few blokes back a bit, but those who have contracts and have locked in prices have to move their stock anyway."
He said central western NSW was a month into its Spring lamb turn-off in a good season.
"We know some people have had to use self feeders as well because the ground is so wet and the grass is a bit like lettuce.
"In the central west, lambs are looking fresh, they're looking bright and ready to go."
Mr Sawyer said a potential problem if conditions turned dry quickly could be grass seed in wool and sheep, with resultant penalties from processors.
Rain could make livestock transport difficult
However, Dubbo agent Andrew Peadon said although producers started repairing roads on their properties prior to harvest last year, the coming rain could make it very difficult to get lambs to markets on central-west shire and main roads.
"They're talking in the vicinity of up to 100mm and some models are saying more than that.
"And of the forecasts we've had have delivered on what they forecasted and some have even been more," he said.
"So unless something dramatically changes it looks like we are going to get the rain and it doesn't matter where you are, in the north or further south, I think everyone will be in the same boat.
"So it will have an impact on lamb supply, I think, for the next few weeks."
Mr Peadon said after the tragedy at Tullamore in the central west in which a five year-old boy died after getting trapped in a flooded vehicle, "nervous" councils will more readily close flood-affected roads.
Wet period has its challenges and benefits
Merino stud breeder Matthew Coddington at Roseville Park 28 kilometres south of Dubbo said floods in the region hit Nyngan in 1990, Dubbo in 2010 and 2016 was also a really wet year.
His land had creeks on two boundaries and all the roads in the area, dirt and bitumen, were "chopped to bits" after recent flooding in the Dubbo council area, he said.
After his recent ram sale he sent rams to 16 different farms in Victoria this morning ahead of the coming rain and would try to do a run through the south-west slopes region to ensure most rams are delivered before the event.
"I'm sick of waiting on the council to do anything so we are hiring a mini excavator to clean out the culverts on our main road that have been blocked up with reeds."
Although the area's roads clear of water within 12 hours of rainfall, he said the underground water coming up through road surfaces increased the damage caused by heavy trucks.
"So there are massive big potholes and all the council does is put another sign up 'Reduce speed' … they are going to run out of signs soon."
Mr Coddington said the area is coming into its third consecutive wet Spring-Summer period and no-one can get shearers who are being held up by the wet weather.
"You can't get sheep crutched, there are bad Barbers' Pole worm issues up here, so drenches are breaking and fly protection has broken down.
"But in giving my big whinge, give me these three years any day than the three years we had prior to it," he said.
"I still sleep well at night knowing that I've got plenty of grass.
"We're running five times the amount of stock we were running in 2017-18 and 2019 and it has sorted resilience and constitution in the sheep and the owners," Mr Coddington said.
Roseville Park has also extended its cattle trading component, calving down 1200 breeders for later resale which has helped match stocking rate to feed on offer.
Mr Coddington said demand for plainer-bodied sheep also helped the 2022 Roseville Park sale ram result with rams averaging $4926 and topping at $28,000, and buyers paying the most for the higher muscle, higher fat, low micron bare-breech rams.
Mr Coddington said due to recent rainfall he has only been able to sow half the land planned for cropping and half of the paddocks sown have been grazed out because they could not be sprayed. It is also looking like it will be difficult to get headers into the remaining crop paddocks, he said.
"They are talking 26mm tomorrow, 7mm Thursday, 50mm Friday, 50mm Saturday and 6mm Sunday.
"We are a 650mm rainfall area when it is evenly distributed, but we've had 800mm this year."
Wool transport has already been held up
Jemalong Wool managing director Rowan Woods said the condition of the roads in central western New South Wales is holding up wool deliveries.
"We've got wool on farms that we just can't get trucks to, even if we could get a truck.
"The trucks are having trouble getting on farms," he said.
"I don't think we can understate how wet things are.
"Everything is at such a point of saturation, you get 5mm of rain and you would swear you've had 50mm, because everything is so wet," Mr Woods said.
"It's not only a lack of shearers and crutchers that can't get the job done because of the wet, we can't wool off farm in a lot of cases.
"Some guys are waiting 2-3 weeks to get wool off farms, only to find that right when they are about to get it picked up, it rains again," Mr Woods said.
"We've already seen it in the auction sales, they're not very big offerings down to about 30,000 bales and it's just as well because the market is soft and the small offerings are screening that a bit."
He said the road damage from recent rainfall and flooding from Forbes to Orange mid-week is already as bad as he has ever seen it.
"No matter which road you go on in the central west, the road damage is profound.
"The Newell Highway south of West Wyalong is so badly cut up and it still has water across it in a couple of places, and we haven't even had the flood yet … in every direction the road damage is terrible."
Heavy rain developing over western NSW
The Bureau of Meteorology this afternoon issued a severe weather warning for heavy rainfall for New South Wale's Riverina, lower western, upper western and parts of central west slopes and plains forecast districts.
The bureau said a trough over central Australia is pulling large amounts of tropical moisture ahead of it as it moves into western NSW this evening, leading to a rain band and areas of thunderstorms, with associated heavy rainfall.
The bureau said the heavy rainfall may lead to flash flooding that is forecast to develop over far western NSW late on Tuesday evening, and then extend to western parts of the Riverina and central west slopes and plains districts early on Wednesday morning.
The heavy rainfall risk will mainly be with clusters or bands of thunderstorms embedded in the rain band, but is expected to ease from the far west during Wednesday afternoon, then ease throughout the warning area on Wednesday night.
The bureau said six-hourly rainfall totals of 30-40mm are likely, with localised falls up to 60mm possible. It said 24 hour rainfall totals of 50-70mm are likely, with localised falls up to 100mm possible.
Several Flood Warnings and Watches are current for catchments across NSW. See http://www.bom.gov.au/nsw/warnings for more information. Locations which may be affected include Deniliquin, Griffith, Hay, Tibooburra, Cobar, Bourke, Broken Hill, Wentworth and Brewarrina, the bureau said.
The State Emergency Service has advised that people should:
* Not drive, ride or walk through flood water.
* Keep clear of creeks and storm drains.
* If trapped by flash flooding, seek refuge in the highest available place and ring 000 if you need rescue.
* Be aware that run-off from rainfall in fire affected areas may behave differently and be more rapid. It may also contain debris such as ash, soil, trees and rocks.
* For emergency help in floods and storms, ring your local SES Unit on 132 500.