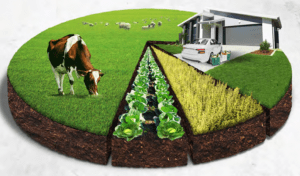 YOUNGER Australians feel that farming is important, but are also ill-informed, and those who know the least about how food is produced waste the most, a Rabobank survey has found.
The major rural lender's savings arm RaboDirect has released a survey report — the RaboDirect Food and Farming Report — which indicated many Australians are ill-informed about the process of food production, with city-dwellers proving to be the most oblivious.
The RaboDirect Food and Farming Report was launched as part of the RaboDirect Financial Health Barometer, investigating food and farming in Australia, to raise awareness about the value of agriculture to the country and help Australians better understand the processes involved in getting food from farms to plates.
Rabobank said the report found those who believe there will always be an abundance of natural resources are more likely to waste food. The survey found while the vast majority of those surveyed (73-90 percent) believe farming and food production to be highly important for Australia, only a small percentage feel they understand the farming process.
RaboDirect surveyed 2300 Australians, aged between 18 and 65, about their attitudes towards food and waste, savings and debt, as well as farming and resources. It has extrapolated that Australians collectively waste more than $10 billion in food annually, based on survey results indicating 14 percent of the weekly household spend is wasted each week. For an average grocery spend of $152, this equated to $21 per week, or $1100 annually.
Australians challenged to wipe out food waste
By highlighting the link between knowledge and food wastage, Rabobank's savings arm is challenging Australians to wipe out waste, consistent with its vision to support food and agriculture sectors to meet the world's increasing demand for food sustainably. The bank has proposed that households aim to reduce waste by a third by keeping a budget and planning the weekly food spend, sticking to the  shopping list and getting creative with leftovers.
Head of Market Research for Rabobank Australia and New Zealand Glenn Wealands said by making a few changes to everyday life, such as using leftovers for lunchesand checking the fridge before shopping, Australians can reduce food waste and save money.
"When we reduce the amount of food that gets wasted, or reaches landfill, there are significant environmental, economic and social benefits that can be realised, that goes beyond the obvious benefit to the hip pocket," he said.
"If every household reduced weekly waste by just one third, almost $4 billion would be saved collectively per year benefiting your back pocket and also contributing to a long-term abundance of food and water for future generations."
ACT and NSW residents surveyed know least about food production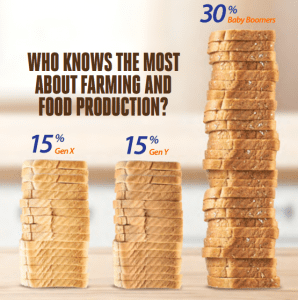 The RaboDirect Financial Health Barometer results indicate Australians living in the Australian Capital Territory and New South Wales know the least about food production and consider it to be least important among all states.
Almost three quarters of those surveyed in the ACT and NSW felt they know 'hardly anything' or 'a little bit' about farming and food production. Only 15 per cent of Gen X and Gen Y surveyed believed they know quite a bit about farming and food production, while 30pc of Baby Boomers said they understood what's involved with the process, the report said.
Where food wastage is concerned, Gen Y is throwing away the most food each week, with more than one in four stating they wasted more than 20pc of what they spend. However, Australians who feel informed about the value of food production and take steps to reduce wastage feel considerably less financially stressed than those who don't, the survey found.
They survey indicated people who waste more than half their food each week are more likely to indicate they 'always feel like they're in the red' or 'need to scrimp and save to make ends meet' compared to those who waste less food. While 72 per cent of males and 83 per cent of females surveyed felt unhappy when food is wasted, throwing out food continued to be an issue for all Australians, Rabobank said.
Aussies have claimed to spend over $720 billion on groceries annually, with families spending almost $30 per week just on groceries for each individual child. Across the states, New South Wales (NSW) spends most on groceries, at an average of $159 per week with Tasmanian residents spending the least, $136 on groceries per week.
Click here to read the full RaboDirect Financial Health Barometer Food & Farming Report including more statistics and segmented data.
Source: Rabobank.