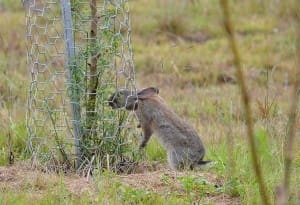 ALL of the ways to rid us of rabbits will be hunted down at the Victorian Rabbit Management Conference in Melbourne this month.
Rabbits are Australia's most destructive pest, according to Victoria's National Rabbit Management facilitator Michael Reid, who said the August 14 conference would be a unique opportunity to identify where gains are being made in rabbit management.
The Department of Economic Development, Jobs, transport and Resources (DEDJTR) NRM facilitator said rabbits have a direct impact on 156 threatened species nationally and cost Victorians about $31 million annually in lost agricultural production.
"The Victorian Rabbit Management Conference is an opportunity to share and identify which control methods are currently working the best, with a view to boost the effectiveness of long-term management."
Community leaders, industry representatives and government specialists will meet and share their knowledge of rabbit control at the conference.
It will include plenary presentations focused on local know-how in rabbit management and community engagement, an interactive expo showcasing current rabbit control methods and a mix of technical posters on the latest research with invasive animal control experts from New Zealand, South Australia, New South Wales and Victoria.
Chair of the Victorian Rabbit Action Network, north western Victorian farmer Gerald Leach will launch the networks Small Grants program to support community innovation at the conference.
"This is a great opportunity to hear from the local experts in community programs and rabbit management in Victoria," Mr Leach said.
"To effectively control rabbits we need to work together. I encourage all interested groups to join this network where we can learn and share our knowledge and ideas to help strengthen the effectiveness of community action on rabbits in Victoria."
The conference is an initiative of the Victorian Rabbit Action Network, a joint project between the Invasive Animals Cooperative Research Centre and the Department of Economic Development, Jobs, Transport and Resources. It is open to anyone with an interest in rabbit management in Victoria. Places are limited, for more information and to register please visit www.rabbitaction.com
The conference starts at 9.15am in the Mercure, Treasury Gardens, 13 Spring St. Melbourne. Cost is $22 per person. Trade stand $54 per company or organisation.
Source: Department of Economic Development, Jobs, Transport and Resources