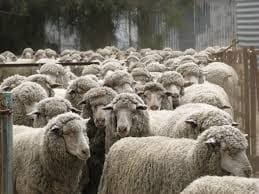 QUEENSLAND police are investigating the shooting of Merino ewes on a property near St George in the state's south west.
On the myPolice Major and Organised Crime Squad (Rural) website Detective Sergeant Scott Jackson at Roma yesterday said police are investigating the unlawful killing of four Merino ewes.
The dead ewes were found Monday morning October 8, on a property about 30km south of Saint George. They had all been shot in their paddock, police said.
"It appears that the offenders carried only one animal back to a vehicle and left the others in the paddock.
"Two of the ewes were heavy in lamb, and the other had lambs on them," Detective Sergeant Jackson said.
"This is tragic for the complainant, after struggling to keep their sheep alive with hand-feeding through the drought, to have the animals senselessly slaughtered by thieves."
Police said forensic samples have been taken, with a view to identifying those responsible.  Police are seeking any information which will lead to the identification of the offenders.
If anyone has information for police, they are urged to contact Policelink on 131 444 or provide information using the 24-hour online form .
Information about crimes can be reported anonymously to Crime Stoppers, a registered charity and community volunteer organisation, by calling 1800 333 000 or via crimestoppersqld.com.au 24 hours a day. Quote this reference number: QP1801870599