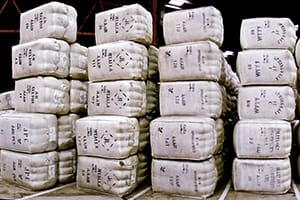 BETTER quality superfine fleece, crossbred and carding wools survived a big drop in Australian auction prices this week, as most other fleece categories lost 60-70 cents clean.
The better fleece lines finer than 18.5 micron types were firm and unchanged all week, and sold to much better competition than the other sectors, according to Australian Wool Innovation trade consultant Scott Carmody.
AWEX senior market analyst Lionel Plunkett said some relative market strength was noted in the finer microns on the final day as buyers sought out the more stylish higher tensile strength 40-50 Newtons/kilotex types.
But he said Merino Fleece types were the main driver behind a steep dive in the wool market this week, putting a dampener on the large post-recess gains made over the previous fortnight.
AWEX-EMI falls 41 cents to 1263 cents clean
The benchmark AWEX Eastern Market Indicator (AWEX-EMI) finished 41 cents lower at 1263 cents, though still 43 cents ahead of its pre-recess level. The EMI in US dollars closed at 929 cents clean, 35 cents lower, with the $A-$US exchange rate at US73.53 cents, down 0.39 cents.
A modest 31,975 bales was offered in the two-day series in Sydney and Melbourne, as Fremantle paused for a one week break in their selling program, Mr Plunkett said.
"The opening hour on Wednesday signalled a somewhat weaker market, however prices continued to deteriorate and closed the day 30 to 40 cents cheaper.
"The margins were similar on Thursday and the week-on-week price levels were generally 60 to 70 cents lower for the fleece sector," he said.
A consequence of the gloomy market was a higher pass-in rate (17.2 percent on Thursday), a sign that growers were beginning to reject the lower price levels, Mr Plunkett said.
"The mood in the secondary auction room (Room 2) was more encouraging with prices only slightly lower.
"Merino skirtings lost the most ground in this auction room, falling 20 to 30 cents, but the result was well ahead of corresponding fleece types."
Mr Plunkett said crossbreds generally only lost a few cents, and even had signs where odd pockets firmed slightly. Merino cardings also showed resilience and were on par with last sale.
Buying urgency comes to a halt
In AWI's Weekly Wool Market Review, Mr Carmody said the urgency in purchasing by the local trading houses seen over the past two weeks of auctions came to an abrupt halt this week.
"The buyers who led the market seemed to have short-covered enough of their exposure risk to allow the market to find levels whereby further new business could be found.
"As such, the lacklustre selling week was anticipated by most prior to the commencement, hence the market regressed in a seemingly orderly manner, rather than a freefall situation."
Mr Carmody said the same wait-and-look approach also appeared to be coming from overseas, as the intent for looking new contracts dried up almost completely after the flurry of activity last week.
"In particular, this tone was emanating from China.
"Chinese users saw a combined price rise of nearly 8pc last week when expressed in their local currency, the RMB (renminbi)," he said.
"This was made up by the 4pc devaluation of the Chinese currency and the almost 4pc market rise in Australia."
Having also recently covered some of their production requirements, most mills could also afford to sit out the week and allow the price pressure to ease, Mr Carmody said.
"The current dynamics of short stock positions held in front of wool processing machinery and impending delivery deadlines for retail garment supply for the Northern Hemisphere winter remain in play."
Mr Carmody said Merino fleece of all microns stepped down each day by 30c/kg clean to be a general 60ac/clean kg lower by the close of selling. Skirtings were not as affected and levels concluded at 20ac/clean kg less.
"Cardings of all types and descriptions were again well sought and managed to add 5 to 10ac/clean kg to their value.
"All crossbred types were very firm for most of the week, with some minor variations, both plus and minus, being recorded between the selling centres," he said.
"Demand for types suitable for open top production remains erratic, with some slight easing of price becoming evident as orders fill."
Mr Carmody said quantities available for sale are building globally with the peak of the season in most growing nations.
"The 41,000 bales up for sale at all three selling centres next week will test the strength of demand and a firm, at best, market is generally thought of as being a good result."
Sources: AWEX, AWI.