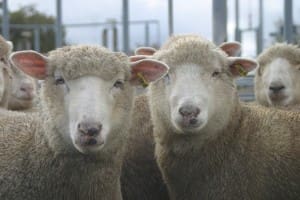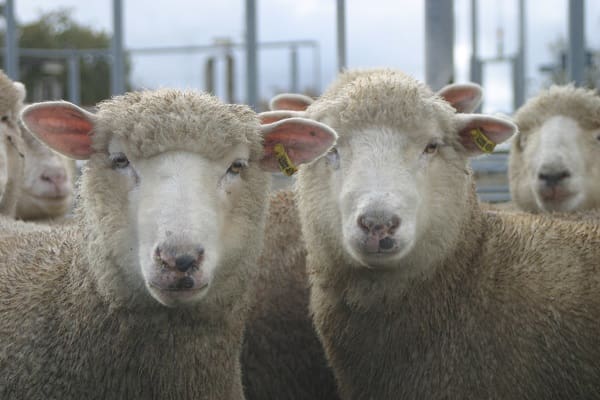 Trade lamb prices lifted in the eastern states last week as new season draft quality and numbers on offer improved.
Heavy lamb prices also held firm on quality with more shorn lambs coming forward and fewer plain long-fleeced lines yarded.
New South Wales continued to be the main source of new season lambs with only limited numbers making it into Victorian saleyards, though Shepparton agents are planning a feature yarding next week.
Mutton prices also lifted in saleyards across New South Wales and Victoria with processors paying more for quality among the small numbers offered.
Meat and Livestock Australia's National Livestock Reporting Service said the Eastern States Trade Lamb Indicator finished the week on 485 cents, up four cents on Thursday; the heavy lamb indicator was up one cent to 481 cents and the mutton indicator closed on 348 cents, up three cents.
Store sheep make top prices on AuctionsPlus
AuctionsPlus top prices this week for store sheep – 12-13 month-old unjoined Merino ewes at Kapunda in South Australia carrying five centimetre fleeces made $137-$147 and young ewes scanned to Merino rams sold from $107-$115.50. Scanned mixed age Merino lines made $63 to $93.50, while at Bourke five and six-year-old ewes joined to Dohne rams made $90.50-$106.
The first cross ewes offered included new season lambs out of South Australia that made $163.50-$186, grown lambs at $130 and 11-12 month-old ewes scanned in lamb to the Poll Dorset selling for $171.
Some scanned-in-lamb mixed age White Dorper ewes out of northern New South Wales made
$120.50, and ewes with lambs sold for $121.50-$$128.50.
This week there was little price differential between 2013 and 2014 drop Merino wether lambs.
New season lambs made $60 to $63, and older lambs sold from $60 to $69. Grown store
wether prices were relatively unchanged at $57-$75, AuctionsPlus said.
In slaughter sales, Merino wethers at Bourke estimated at 25kg cwt with a June skin
made 328c/kg. Woolly second cross lambs, 16.6-17 kg cwt, with four centimetre skins, made $85.50-$93.50 and February-shorn aged ewes out of southern Queensland, estimated at 20kg cwt made 322c/k.
New season lamb numbers increase across New South Wales
New season lamb yarding increased at most saleyards, including in New South Wales at Wagga where agents yarded 36,500 lambs, 6500 more than last week, and 9550 sheep, up 1550.
NLRS said the quality of the 15,400 new season lamb yarded was excellent with more lots above 26kg cwt. Old lamb quality improved with fewer longer-wool lambs in plainer condition.
All the usual domestic and export buyers operated, though there was limited restocker competition on lambs and they only operated across new season lamb categories, paying $78.60-$88, NLRS said.
Light and medium new season trade lambs sold unchanged to a few dollars dearer, from $97-$128, or around 515c/kg cwt. Major domestic buyers lifted heavy trade weight lamb prices by $4, to around 507c/kg cwt. Heavy and extra heavy lambs were keenly sought, selling from $128-$147, with extra heavy lamb prices lifting $6 to around 462c/kg cwt.
NLRS said the majority of well-finished medium and heavy old lambs made from $88-$129, with heavy trade lambs averaging 478c/kg cwt. Trade weight Merino lambs sold to increased competition to be up to $10 higher. A pen of heavy Merino lambs with a four centimetre skin and estimated at 25kg cwt, sold for $120.
The very good selection of heavy and extra heavy old lambs made up to $6 more to a larger group of buyers. Well-finished extra heavy lambs made $133-$157, averaging 445c/kg cwt.
The excellent quality sheep yarding was mostly heavy sheep, with more shorn medium and heavy ewes with little skin value. The heavy wethers were keenly sought by several processors who pushed prices up to $10. Heavy wethers weighing 35kg cwt sold for $118, while others made $82-$106. The limited numbers of trade sheep averaged 367c/kg cwt, up $11/head.
Lamb quality improves at Cowra
At Cowra on Thursday, agents yarded an improved quality offering of 10,530 lambs, 4530 more and including 5900 new season lambs. There were 980 sheep yarded, 530 more.
NLRS said the good condition new season lambs were showing plenty of finish and the mainly old heavy and trade weight grades were also well presented. All buyers operated and competition was solid.
Medium and heavy trade weight new season lambs sold firm to $1 cheaper, from 509c/kg-527c/kg cwt. Most of the better heavy trade weight new seasons sold from $115-$120. Heavyweights were firm and averaged from 470c/kg-484c/kg cwt. A few pens of extra heavyweights sold for around $130 and topped at $140.50/head for a pen estimated at 28kg cwt.
NLRS said trade weight old lambs were slightly cheaper mainly due to quality and averaged $98. Heavyweights were firm at 430c/kg-458c/kg cwt. The few pens of extra heavy lambs made $130-$150.
The mixed quality sheep yarding was mainly ewes. Heavy first cross ewes sold dearer, averaging $83.70 or 260c/kg-292c/kg cwt. Heavy wethers averaged $82.60.
Old lamb prices lift $3 at Griffith
At Griffith on Thursday, agents yarded 20,000 lambs, 7900 more, and 3750 sheep, 150 more. The 11,300 new season lambs included plenty of well-finished lines. The usual buyers were present and competing in a fairly steady market.
NLRS said light new season lambs sold from $95-$103, while trade weights were steady, trending slightly easier on better-finished lines, ranging from $105-$124. Heavy lambs sold from $117-$140. Carcase prices averaged 503c/kg cwt.
Old lambs were firm to $3 dearer, with trade weights from $89 to $113, heavies from $110-$126 and extra heavy weights made $124-$155.
Prices lifted for the offering of mainly Merino sheep. Merino ewes made $78-$115 and crossbreds sold from $74-$115.
Sheep prices lift $3-$8 at Hamilton
In Victoria, at Hamilton on Wednesday, agents yarded 1685 lambs, 144 fewer, and 826 sheep, 597 more.
NLRS said lamb prices were mainly unchanged whereas sheep sold $3-$8 dearer. The light weight 2 score lambs made $59-$77 and the light trade weight 2 and 3 scores sold for $75-$87.
The medium to heavy weight 3 score trade lambs made $83-$102, averaging 445c/kg cwt. Heavy 4 score export lambs made $90-$112, or around 420c/kg cwt.
More pens of wethers were yarded and the 2 to 4 scores averaged 300c/kg cwt. Light weight 1 and 2 score sheep made $35-$53, medium weight 2 and 3 scores sold from $69-$82 and the heavy to extra heavy 3 to 5 scores made $75-$90.
Horsham lambs sell to $117.50, best sheep lift $5
At Horsham on Wednesday, agents yarded 2179 average quality lambs, 82 more, and 2356 sheep, 856 fewer.
NLRS said most of the regular buying group attended, plus some extra competition. Lambs generally sold firm, with the few pens of new season lambs making $100-$117.50/head, or around 520c/kg cwt. Restockers paid from $28.50-$55 for young Merino wethers and from $65-$89 for Merino ewes.
Light weight 1 and 2 score lambs sold from $55-$78 and light trade 2 and 3 scores made $74-$102. Trade weight 3 and 4 score lambs sold mostly from $90-$116, with odd sales to $127, ranging from 420c/kg-510c/kg to average around 460c/kg cwt. Heavy 3 and 4 score lambs sold from $118-$134, or around 470c/kg cwt.
Sheep sold mostly firm and with some better presented lots making up to $5. Light weight 1 and 2 score sheep made $40-$73.
Medium weight 2 and 3 score sheep sold from $60-$89.50 or 290c/kg-370c/kg, or around 320c/kg cwt. Heavy 3 to 5 score sheep made $80-$100, with heavy Merino wethers selling from $84-$102 and medium weights from $68-$75/head, or around 320c/kg cwt.
Heavy old lambs sell to $132 at Shepparton
At Shepparton on Thursday, agents yarded just 617 lambs, 67 more, and 387 sheep, 249 more.
NLRS said the limited numbers and plain quality meant no clear demand or price trends could be calculated. Two of the regular lamb buyers attended and prices reached a top of $132/head for a pen of export weight old lambs. The 14 new season lambs offered were estimated at 21kg cwt and made $108.
NLRS said most of the lambs were plainer bred and lighter weight old season types. Most lambs sold from $60-$96, with some over $100, ranging from 380c/kg-460c/kg cwt. Several pens of hoggets made $61-$90. Sheep sold from $60 to a top of $90 for a pen of extra heavy crossbred ewes, with most mutton averaging about 300c/kg cwt.
Source: MLA, NLRS.