ONE of Australia's oldest farms, the historic Brindley Park located in the Hunter Valley, has come on the market – and its already being described as one of southern Australia's most spectacular, landmark rural properties.
Covering more than 5100ha of productive farmland on the Merriwa River on the edge of the Hunter in Central NSW, Brindley Park runs a renowned Merino stud flock and features an historic woolshed with 110 shearing stands which has been lovingly preserved.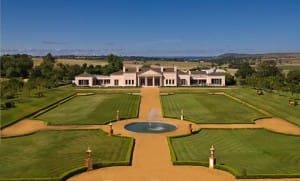 The property is currently run as a mixed sheep and lucerne-growing operation, with considerable future potential for increased production.  Irrigation infrastructure includes a 2204 megalitre water allocation and a 5km double frontage to the Merriwa River, and seven large centre-pivot irrigators covering 1025 ha, supplemented with travelling irrigators.
The property features a grand 19th century main homestead and outbuildings including a library, six-bedroom guest lodge, tennis court and summer house with pool and carefully manicured gardens.
The property is clearly being targeted at wealthy 'lifestyle-type' buyers, including potential foreign investors. The marketing promotion includes videos prepared in Mandarin, as well as English.
Marketing agent Richard Royle from Colliers International described Brindley Park as is one of the finest rural properties he had ever seen.
"Brindley Park would make an exceptional boutique guest accommodation, wedding venue, executive retreat or conference hideaway with seclusion and luxury," Colliers promotional material released this morning says.
"The guest lodge is impeccably renovated to mirror the facilities and lifestyle of a luxurious six-star hotel, and would be suitable for a conference, wedding or luxury retreat venue," Mr Royle said.
Brindley Park is located three hours from Sydney on the edge of the famous Hunter Valley, offering easy access to renowned wineries, restaurants and golf courses.
Agents expect Brindley Park to fetch in the vicinity of $30 million, with the owners willing to consider splitting the accommodation and the farm. Expectations suggest the farm component is worth $14.5 million, with the homestead and outbuildings portion estimated to make $15 million.
Click the gallery below to view a series of images of the property.