NON-MULESED Merino wool promotion linking supply with provenance would be a powerful market differentiation tool for Australia's industry, according to NewMerino owner Peter Vandeleur.
He has launched the interactive NewMerino website and supply network to identify and quantify the current and future sources of non-mulesed wool, ensuring producers meet and record the quality assurance criteria required by retailers and brands.
He works with major outdoor and sporting wear brands, and is still fielding enquiries for non-mulesed wool despite the global retail impact of the COVID-19 pandemic. Any grower who has ceased mulesing can join the NewMerino network.
Currently there is enough non-mulesed wool to meet demand, "but when things get back to normal, no," Mr Vandeleur said.
Despite Australia being known by retailers as a 'mulesing country', Mr Vandeleur believes growers who have ceased mulesing have a unique opportunity to promote themselves to retail brands who sell high quality Merino garments.
"Non-mulesed wool is identifiable, it provides a distinct point of difference and it is in limited supply.
"Growers who have ceased mulesing occupy a special position in the market as they are differentiated from 85 percent of Australian farmers."
Mr Vandeleur believes Australian Wool innovation should be promoting and working to increase the nation's non-mulesed wool production, and was unaware of any levy money being spent marketing the fibre type in a garment.
"In 10 years' time, it is probably going to be the only one (wool type) that is acceptable.
"Our competitors, New Zealand and South America, they don't mules – we will be left high and dry."
Australian non-mulesed growers losing out
Mr Vandeleur believes that AWI has not promoted non-mulesed wool production because it does not want to offend growers who mules. But he would support levy monies being spent on specific non-mulesed garment promotions, "because otherwise it is not fair to those who have taken the initiative to breed sheep that do not require mulesing."
"It's not fair that Australian wool growers are missing out on some of these orders.
"A lot of the business that would normally flow to Australia has gone to New Zealand or South Africa, Uruguay or Argentina" he said.
"And New Zealand is buying Australian non-mulesed Merino wool and branding it ZQ Merino."
Mr Vandeleur said specific non-mulesed Merino wool types are not easy to obtain through the commodity marketing system, prompting the development of a business model that makes it easier for retail brands to connect with growers who can supply.
"The business model facilitates supply on behalf of these brands without the need for farmers to disrupt their existing relationships with brokers.
"There is no cost to growers as NewMerino is paid by the brand."
Mr Vandeleur's business aims to overcome the critical supply issues of brands and retailers moving to non-mulesed wool use who have been hampered by inadequate supplies of specific wool types on a timeframe that fits their manufacturing lead-times.
"What we are interested in is a forecast – what wool you are growing and when it will be shorn."
Mr Vandeleur said coupling non-mulesed wool supply details with knowledge about grower farm practices generates the provenance story required by many customers.
Promote a product, not a commodity
In a comment on Sheep Central recently, Mr Vandeleur said he was horrified at the suggestion of spending $200 million on more generic marketing for wool.
"In response I ask this question: How do you market a commodity?
"Answer: Turn it into a product, and I do not mean manufacture a garment," he wrote.
"Growers who have ceased mulesing, are prepared to be identified and promoted, have their Merino farming enterprise verified to a standard and to supply through a transparent supply chain are in effect selling a product with identifiable attributes.
"After 20 years of generic marketing, surely there very few retail brands who are not fully aware of Merino and its technical attributes — let's try a new approach."
Mr Vandeleur said non-mulesed wool is now a specifically different product.
"If you couple that with a willingness to acknowledge who you are, where you are and how you operate, you've got a product.
"Just think of it as brand; toothpaste manufacturers don't advertise generic toothpaste, they advertise it as Colgate or Oral B and then they make all their claims around it – they give it a story," he said.
"We are not giving it any attributes if you just flog it as wool."
The National Wool Declaration is important to confirm the status of the wool for testing and selling purposes but it is "too late" in the supply cycle to be used for supply planning purposes.
"Brands have to plan these things 18 months ahead or more," he said.
"If I have to just wait and see whether it is there one or two days before it is offered at auction – I can't give a brand a guarantee that I can set it all up for them if I don't know what, where and when the right wool will be available.
"They need surety of supply if they are going to go out with a story about how wonderful their farmers are in Australia and that it is non-mulesed wool they are supplying, they are making a decision at least 18 months ahead of when the garment is going to hit the shelves."
Customers need reassurance
Mr Vandeleur said Australian growers need to be able to reassure customers that they could supply non-mulesed wool, especially in this declining market of the lowest wool prices for eight years and lowest wool production for 30 years. Many brands and retailers were not informed about Australia's non-mulsed wool production capacity, he said.
"They want to be reassured.
"So, I think being willing to forecast your production of non-mulesed wool is critical, because it is no longer just "commodity wool", it is now a "differentiated product," he said.
"If you just want to be selling wool, it doesn't matter; put it on the market when you've got it, when it suits you and you will get paid accordingly.
"If it's a peak market, you will do really really well and if it's tomorrow you will do really really badly."
Mr Vandeleur said his business model facilitates supply on behalf of brands without the need for farmers to disrupt their existing relationships with brokers.
Mr Vandeleur said in the current COVID-19 market situation, some major global brands and retailers were filing for bankruptcy, retail sales were moving online and companies were simplifying their business models, ranges and collections. He said there was an ever-increasing awareness of the waste in the textile industry, greater consumer awareness of sustainability and animal welfare, and a growing requirement from retailers for traceability.
Retailers selling wool would also need a "stronger" provenance story that "ticked all the boxes" to maintain online sales than was necessary for traditional 'bricks and mortar' retail marketing.
He believed the industry, including growers, needed to move from the current traditional structure to a value chain model, as outlined 20 years ago in a paper written in 2001 by Scott Champion and AP Fearne and funded by Australian Wool Innovation – Supply chain management: a first principles consideration of its application to wool marketing.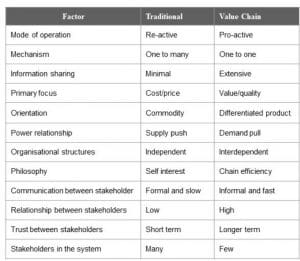 However, Mr Vandeleur said "nothing has changed in 20 years."
The Champion/Fearne paper examined the differential characteristics of commodities and products and their respective marketing systems, proposing that "in today's dynamic consumer markets where intangible factors are increasingly important purchase drivers, consumer value may be lost through the use of inappropriate marketing."
"Given wool's position as a natural fibre, its high price relative to its competitors and its potential vulnerability to fashion, their appears to be a case for further development of the intangible product characteristics of the wool fibre in an effort to better meet consumer demand.
"Marketing systems are required which effectively transmit both 'hard' and 'soft' product attributes and do so with the aim of meeting the needs of the consumer," the paper concluded.