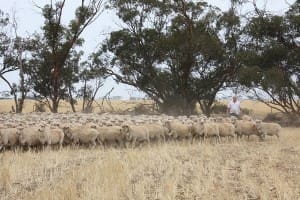 SHEEP producers with cropping operations in New South Wales and Tasmania are being sought to participate in a project to help define the unique profit drivers in mixed farming systems.
The national project is being funded by Meat & Livestock Australia and coordinated by agribusiness consultants, Rural Directions.
It is one of 18 new on-farm research, development and adoption projects to receive MLA investment instigated through MLA's regional consultation and annual call process, giving producers a direct say in the direction of RD&A funding most relevant to them.
Producers with mixed farming businesses have already fully booked the project in the other participating states of Victoria, South Australia and southern Western Australia.
MLA's General Manager – Producer Consultation & Adoption, Michael Crowley, said the project aimed to identify what it takes to successfully and profitably integrate cropping and livestock enterprises in southern Australia.
"The integration of cropping and livestock plays an important role across many farm businesses in southern Australia," Mr Crowley said.
"However, the complexity of managing multiple enterprises within one farm business requires careful management to optimise the overall business performance. Multiple enterprises must be integrated in a way so that they are complementary rather than competitive."
Mr Crowley said there is an opportunity for 20 mixed farming businesses involving sheep and cropping in Central and Southern NSW and 20 in Tasmania to participate in the project.
Participating producers will be asked to contribute enterprise management and financial data which will be analysed to identify the key profit drivers in mixed farming enterprises in their region.
The project will also explore the influence of enterprise mix on the risk profile of businesses and utilise a qualitative survey process to identify the management traits that are common within successful mixed farming systems. All data contributed will be treated as confidential.
In return, participants will receive:
On-farm visit from the project team in each state to help them collate the following financial and enterprise information for the past three financial years:
Profit and loss statement (income and expenses)
Balance sheet (statement of financial position)
Livestock trading account details (opening and closing numbers and sales and purchases)
Detailed benchmarking report on financial performance, pasture harvest (pasture utilised in kilograms of dry matter per hectare and kg DM/ha/100mm), cropping versus livestock gross margins, and operating margins, comparison of individual business performance against the average of regional performance.
The benchmarking reports will be explained in detail at a group workshop, where producers will have an opportunity to explore some of the profit drivers and insights.
The time commitment from participating producers will be a day for data collection during April and May 2017, followed by attendance at the benchmarking group workshop later in the year. Dates will be scheduled in consultation with participating producers.
The project is being delivered in NSW by Rural Directions Pty Ltd and in Tasmania by Macquarie Franklin.
For information or to register your interest in NSW, contact Natasha Searle at Rural Directions Pty Ltd, Dubbo, by 7 March 2017 on (08) 8841 4500, 0419 822 302 or email: [email protected]
For information or to register your interest in Tasmania, contact Penny Hooper at Macquarie Franklin by 31 March 2017 on 0408 948 308 or email: [email protected]
Source: MLA