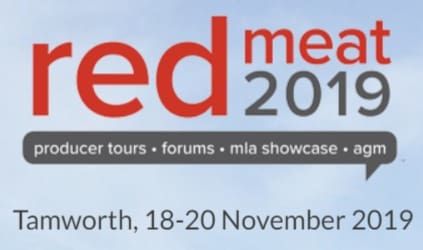 BUILDING enterprise profitability will be a focus of Meat & Livestock Australia's Red Meat 2019 event in Tamworth this year.
Australian red meat producers are invited to attend the industry flagship event, which will be hosted by MLA in Tamworth, New South Wales, from 18 to 20 November.
Registrations are open for the event, which includes a program of activities showcasing the best of Australia's red meat industry and MLA's investments and programs, plus the MLA annual general meeting.
The program covers three days of activities, on-farm tours, details on the latest research, innovation and marketing insights, a red meat showcase and forum, industry breakfast, social function and networking opportunities.
MLA managing director Jason Strong said Red Meat 2019 is the leading event for red meat producers in Australia.
"The event comprises a packed program of activities that will give producers ideas on how they can build the profitability of their business – today, tomorrow and in the future," Mr Strong said.
The event will open with two on-farm producer tours, allowing participants to join local New England red meat producers who open their farm gate and share insights on how they run their farm business, with a focus on breeding, feeding, finishing, animal husbandry and new digital innovations.
The second and third day of the event will include insightful forums, with a packed program of leading speakers from MLA and the wider red meat and livestock industry who will share insights on research adoption, global trade, market information, red meat promotion and digital advancement.
Meanwhile, the MLA Red Meat showcase will run across the entire event, enabling producers to meet leading MLA researchers, leaders and the board to gain detailed insights into everything from emerging technology and research and development; to meeting consumer demand at home and around the world.
Producers must join MLA before 18 September to vote
Red Meat 2019 will conclude with MLA's 2019 annual general meeting.
Levy-paying producers of cattle, sheep, lambs and/or goats who are not currently an MLA member are encouraged to sign up for free membership. Paying levies does not automatically make producers a member, they have to sign up via MLA's website.
In order to vote at MLA's AGM, new members must complete a membership application form by 18 September.
Red Meat 2019 is open to all members of the red meat and livestock industry. The event is free but registration is essential to assist with planning and catering requirements.
For more information on the program and to register, please visit https://redmeat.mla.com.au/.
To become an MLA member, please visit https://www.mla.com.au/about-mla/who-we-serve/mla-membership/.
Source: MLA.