FOR more than a century Patterson's Curse turned paddocks purple from fence to fence, but since the release of biological control agents over the past decade, the weed has all but disappeared from view on Peter Wallis's cattle and sheep properties north and south of Albury-Wodonga.
Now he is hoping newly announced Federal Government funding for national weed control can be directed at breaking the spell of a similar weed curse that has taken hold of paddocks in Southern Australia – Heliotrope.
Accidentally introduced to South Australia during the 19th century, Heliotrope is now recorded in all states except the Northern Territory and Tasmania.
It is of considerable economic importance as a summer fallow weed, and in grazing situations because of its toxicity to stock.
"Where we have it, it germinates all summer long," Mr Wallis said.
"One spray will kill what is there, at a big expense, but a bit more will germinate a couple of weeks later.
"It just keeps coming at us."
Mr Wallis said he first saw heliotrope on his property near Albury after a couple of wet years in 2011 and 2012 and he now regrets not having addressed it immediately.
"I drove past a couple of plants, I could have gone back that afternoon, but I was doing a job so drove past it, and that is how it got away on the property.
"They say a stitch in time saves nine, well that it is pretty bloody true.
"Heliotrope just keeps spreading and spreading and spreading."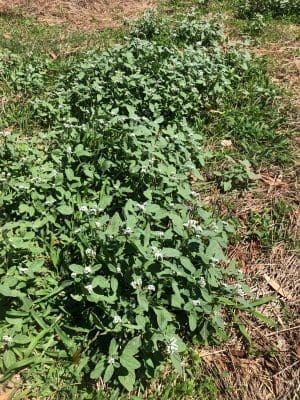 Mr Wallis said biological control agents have been successful at controlling Patterson's Curse in the region and he is hopeful the latest round of funding will provide a similar focus on Heliotrope, now a weed of significant concern to large parts of Southern Australia.
"There were big Patterson's Curse eradication programs, there was a lot of publicity about it, well know you just don't even see it, it has slipped away from a lot of people's minds," Mr Wallis said.
"It has been here for a 100 years or more, but it has backed off.
"We hope there will be action taken by State and Federal governments now to control Heliotrope."
The annual broadleaf plant can grow prolifically in grazing and cropping areas to a height of 40 cm. It has small white flowers in late spring, and can contain and accumulate elevated copper levels, which at high levels is toxic to stock.
It can be transported in hay or grain and will germinate in the following winter or summer. It is often seen growing over summer on previous crop paddocks or where hay has been fed to previous season.
More information is available on the NSW DPI website here and Agriculture Victoria website here.