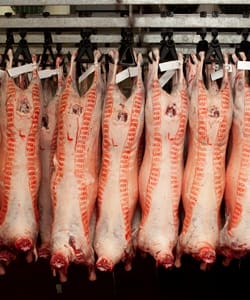 HISTORICALLY high carcase weights, a genetically superior lamb drop and an increase in processing underpins Australia's record lamb slaughter last year, according to Meat & Livestock Australia.
MLA's markets team said the release of the Australian Bureau of Statistics' official livestock and production figures for the final quarter of 2022 last week has delivered a picture of how the red meat and livestock performed in 2022.
Lamb slaughter reached a record high in 2022 of 21.45 million lambs processed, the highest volume since the drought-induced liquidation of 2019. This was a rise of 2.9 percent, or 595,400 head.
Sheep slaughter in 2022 exceeded MLA's July release of Sheep Projections by 7.7pc, or 512,500 head, to register 6.63 million sheep processed. This volume was a 15pc, or 864,700 head, lift on 2021 rates.
MLA said lamb carcase weights in 2022 were the second highest on record at 24.92kg/head, only lower than 2021 rates. This weight was 9.1pc or 2kg/head higher than the 10-year average.
Sheep carcase weights reached records in 2022 at 25.9kg/head. This is 7pc, or 1.7kg, higher than the previous record set in 2019 at 24.6kg/head, MLA said.
A new production record was reached in 2022 with lamb production increasing by 5.2pc, or 26,400 tonnes, year-on-year to hit 534,500 tonnes in 2022.
MLA said sheep meat production for 2022 increased 12.1pc, or 18,700 tonnes, compared with 2021 volumes. This is an increase of 12.1pc, or 18,700 tonnes, and can be attributed to favourable seasonal conditions as well as improved genetics. The 2022 mutton production was the highest since 2020.

Source – MLA, ABS.