PRICES improved for Merino ewe lambs, scanned in-lamb first cross ewes and some unjoined composite ewes on AuctionsPlus last week.
Prices in all other categories either fell or numbers were too small to quote accurately in the overall offering of 57,714 sheep and lambs, 19 percent lower than the previous week.
AuctionsPlus said listings slipped below 2021 levels, but remain above the same week in 2022.
The average value paid over reserve prices lifted $3 to $12 and the overall clearance rate lifted one percent to 49pc, up from 36pc at the end of auctions on Tuesday.
AuctionsPlus sold 38pc of the 10,542 crossbred lambs offered for an average of $100/head – down $8. Prices ranged from 163-344c/kg live and averaged 287c/kg lwt. At Bombala in New South Wales, 787 September 2022 drop Poll Dorset cross mixed sex store lambs weighing 38kg sold for $121, or 319c/kg lwt.
Just over half (56pc) of the 10,739 Merino wether lambs offered were sold, with the slightly higher supply putting further pressure on prices. The category averaged $57/head, down $17. The final clearance rate increased from the 25pc initially sold in the Tuesday sale. Prices ranged from 128-241c/kg live and averaged 164c/kg lwt. At Appila in South Australia, 380 July-September 2022 drop Merino store wether lambs weighing 44kg made $106/head, or 241c/kg lwt.
AuctionsPlus said downward adjustments to reserves were evident for the scanned in-lamb Merino ewes and prices fell while the clearance rate improved significantly. AuctionsPlus sold 61pc of the 7820 head offered for $56-$240 to average $142/head, down $6. At Willaura, in Victoria, 550 21-22 month-old Merino ewes scanned in-lamb to Poll Dorset rams and weighing 52kg sold in for $204/head.
The average price for scanned in-lamb first cross ewes lifted $47 to $216, but only 31pc of the 6638 head offering sold. At Traralgon East in Victoria, three even lines of 190 21-22 monthy-old first cross ewes SIL to Poll Dorset rams and weighing 55kg sold for $240.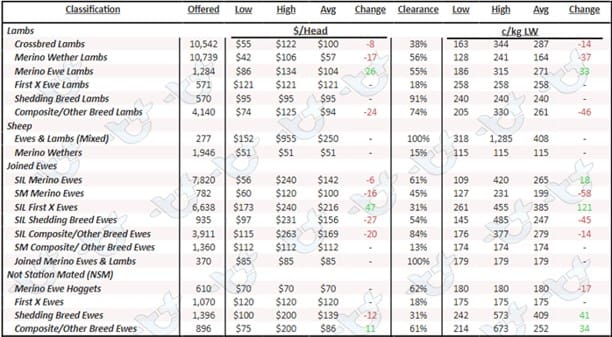 Note: Prices as at 5pm Thursday, 18th May 2023
Source – AuctionsPlus.