PRICES improved for some joined ewe and lamb categories on AuctionsPlus last week, as online marketplace's overall offering fell 26 percent to 65,289 head.
The reduced offering resulted in clearances increasing again, by 4pc to close out the week at 54pc.
Merinos were the flavour of the week with most categories enjoying higher prices, AuctionsPlus said.
The highest price rises were for joined Merino ewes, with the average price rising $113 to $196 for the 56pc sold in 3849-head offering.
Merino ewe lambs also had a strong week, with the average price increasing $39 to $112, and a clearance rate of 75pc for the 2180 head. The smaller overall offering was driven by reduced numbers of unjoined ewes, down 55pc to 9313 head, while the number of lambs offered dropped 10pc to 30,761 head, AuctionsPlus said.
The crossbred lamb offering decreased to 9864 head and 67pc were sold by late Thursday for an average price of $106. At Larras Lee in New South Wales, two lines of 285 mixed sex August-September 2022 drop White Suffolk cross lambs weighing 41kg lwt sold for $130.
The 1193 Merino wethers offered were all sold for an average price of $77, up $11. At Walcha in NSW, 328 18-19 month-old wethers weighing 46kg lwt made $93.
The number of scanned in-lamb Merino ewes offered decreased 25pc to 10,148 and 41pc were sold. Prices ranged from $90-$201, and the average price for the category increased by $15 compared to the previous week to $133. At Clare in South Australia, 200, 20-21 month-old scanned in Merino ewes weighing 54kg lwt returned the top price of $201/head.
The 5206 Merino ewe hoggets offered online last week sold from $80-$138 and averaged $120, up $16 on the previous week. At Dirranbandi in Queensland, 380 19-20 month-old Merino ewe hoggets weighing 52kg sold for $119 to a buyer in southern Queensland.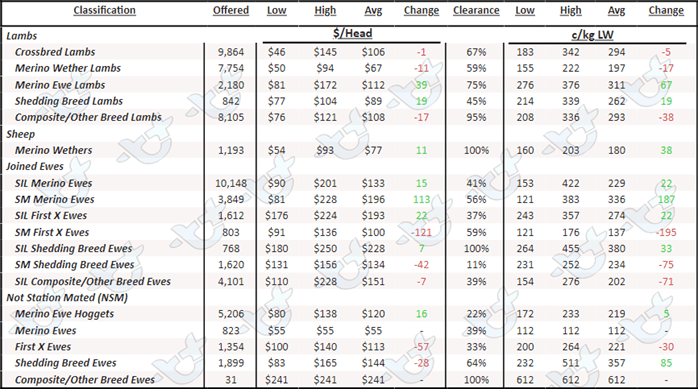 Source – AuctionsPlus.