AUCTIONSPLUS commercial sheep and lamb listings increased six percent to 35,813 head last week, with improved clearances and average prices for some lamb categories.
Clearance lifted to 58pc, driven by strong demand for new season lambs which made up the largest portion of offerings, AuctionsPlus said.
Value over reserve was flat at $11 above set reserves.
Lamb listings made up 71pc of the total offering as new season lambs accounted for 20,337 head. The new season lamb offering was met with strong demand resulting in an 82pc clearance and averaged $6 over reserve.
New season lambs for August totaled 60,289 head, the lowest throughput AuctionsPlus has recorded since 2016. It was 11,000 head behind last year and 120,000 head behind the record year of 2021.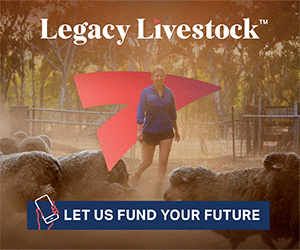 Crossbred lamb listings dropped 37pc to 6130 head. Prices ranged from $45 – $91 and averaged $59, falling $2, while demand was extremely strong and all lots found a buyer, AuctionsPlus said. From Skipton, VIC a line of 300 White Suffolk/Merino Mar/May '23 mixed sex lambs weighing 34kg returned $70/head, or 209c/kg.
Merino wether lamb listings surged this week by 116% with 12,284 head, as demand kept up with the large supply seeing a 74% clearance and prices increasing by $3 to average $41. From Hay, NSW a line of 400 Apr/May '23 Merino wether lambs weighing 36kg lwt returned $48/head, or 133c/kg and will travel to a buyer in Swan Hill, VIC.
Selective buying was present throughout the sheep market, with Merino ewe hoggets seeing a 33% clearance and increasing in price by $97 to average $183/head. From Woodchester, SA a line of 285 Poll Merino ewes aged 17 to 18 months and weighing 63kg returned $232/head.
Note: Prices as at 5pm Thursday, 31st August 2023

Source – AuctionsPlus.