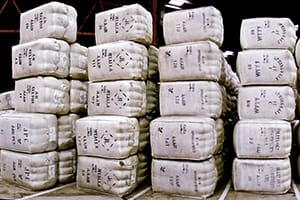 PREMIUMS for non-mulesed wool and for sounder wools generally were the positive points in a flatter wool market this week.
Wool prices fell further this week, despite fewer bales being offered than forecast, with the AWEX Eastern Market Indicator falling 26 cents to 1169c/kg clean. The market is in a traditionally slow manufacturing period with the completion of Northern Hemisphere apparel orders, while retail demand is assessed before new season buying.
AWEX said 40,762 bales were offered in Sydney, Melbourne and Fremantle, with 9.8 percent passed in. The EMI in US dollars was firm at US859 cents, while the Australian-US dollar exchange rate lifted 1.58 cents to US73.51 cents.
Premiums for 18.5-20/.5 micron non-mulesed fleece
Orders for non-mulesed wool in the 18.5-20.5 micron bracket (average 19.5 micron) pushed premiums for these types to 20-30 cents.
AWEX senior market analyst Lionel Plunkett said non-mulesed types were selectively sought this week, especially in Sydney where odd lots recorded solid premiums.
He said despite the falls in all the major indicators, better types were well-received this week.
"The trend was similar to previous weeks, where most of the attention was focused on the better spec types.
"Best style, good length, 40nkt and low mid-break types still lost ground but the losses were smaller."
Differentials opening up for very sound wools
Mr Plunkett said recent buying patterns have opened up large price differentials where, in the finer microns, the very sound types (>40nkt) can receive prices bonuses of 100 cents.
"Volumes of 40nkt types have been diminishing and represented less than 21 percent of adult Merino fleece this week — a nineteen month low," he said.
Mr Plunkett said sales this week were initially expected to have more than 46,000 bales, however that figure was whittled down to 40,331 bales.
"The official withdrawn rate was 6.5pc, the highest since February.
"Most of the change this week came on the opening day when fleece prices fell 20 cents clean in a reasonably consistent result."
Mr Plunkett said the drop was followed up on Thursday by a supplementary dip of 5 to 10 cents.
"Fremantle provided the exception when it firmed late in the day for the 18 to 19 micron range.
"In other sectors there were similar losses; Merino skirtings and Merino cardings both fell 20 to 30 cents.
"Crossbreds also lost around 20 to 30 cents for the volume microns, but were as much as 60 cents cheaper in the finer ranges (25/26)."