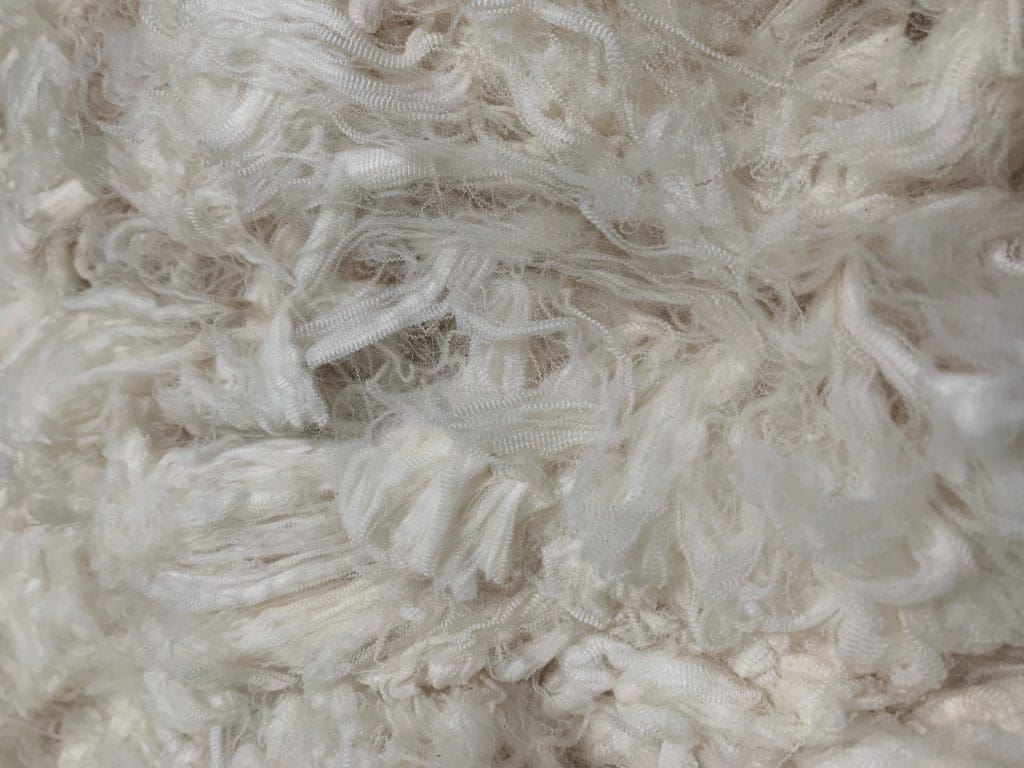 AUSTRALIA'S wool market appears to have found a new level after the rate of price decline slowed this week and trading continued after auctions finished yesterday.
AWEX senior market analyst Lionel Plunkett said the Australian wool market this week showed signs of recovery after a month of severe losses, with the benchmark Eastern Market Indicator settling 10 cents lower at 1365c/kg clean.
"Exporters reported that they were making sales close to the current market, finally giving the market a solid level.
"Sellers have been reluctant to put their wool on the market, pushing the national quantity down to 21,694 bales," he said.
Elders National Wool Selling Centre manager Simon Hogan said there was noticeably more competition in the sale rooms this week, with a few traders and exporters chasing wool.
"At this stage, we are reasonably confident short-term it has found that level.
"And I'm saying that on the back of how it finished yesterday and we've had some wool trade activity this morning, so a bit more has flowed on," he said.
"Right now we feel confident that next week should be a little bit better again as long as nothing unexpected happens, particularly economically with China and the United States, over the weekend."
First-day last-hour Fremantle jump signalled change
Mr Plunkett said on the first day of selling this week, there were further losses, dropping the AWEX Eastern Market Indicator by 32 cents.
"However, in the Fremantle region during the last hour of selling, there was a noticeable change in the room, as fierce competition started to push prices back in a positive direction.
"This positive buyer sentiment carried on into the Eastern centres on the second selling day, so much so that prices finally started to increase," he said.
The individual Micron Price Guides (MPGs) generally rose by 30 to 40 cents, pushing the EMI up by 22 cents. This meant the EMI lost only 10 cents for the series, closing at 1365 cents, Mr Plunkett said.
"Worth noting, when viewed in US$ terms, the EMI recorded an increase of US9 cents for the week.
"The carding market showed growth for the series, a limited supply came under strong buyer demand, pushing prices up by 10 to 30 cents, this was reflected in the three carding indicators which rose by an average of 15 cents."
Mr Plunkett said crossbred wools generally recorded positive movement, with the 26-28 micron wools rising 5 to 10 cents.
Expectations of a gradual re-offering of bales
Mr Hogan said although the stocks of wool on hold have grown quickly, he did not expect the re-offering of bales onto the market would increase quickly.
"I don't think it will; I think growers will be selective when they re-offer some of that wool because different growers have different expectations; I don't think it will be all rushed back at once.
"The other thing that is going to help the supply side is the August test figures, which were 20pc back," he said.
"So there is not a heap of wool coming into the store and we are hearing of growers not rushing wool down given what has happened in the market."
WA growers opt to wait
Mr Plunkett said the grower reluctance to risk wool in the market was highlighted at the Fremantle auctions this week, where 29pc of the offering was withdrawn prior to sale, reducing it to 3036 bales. This made it the smallest Fremantle sale since AWEX records began in 1995.
Wool consultant Andrew Woods reported that in US dollar terms the Merino combing market is back to the lows of 2015, whereas the lower Australian dollar has softened the fall locally. Merino cardings have suffered an even greater fall, dropping back to levels last seen in 2012, while crossbred prices have steadied around their base US dollar level of the past eight years.
"The lower price has started to spark some interest, but there will be a period of reckoning as old expensive stock in the supply chain is dealt with one way or another," he said in the Elders weekly market outlook.
"This factor is likely to cause a few hiccups in the market in the coming months," he said.
"In the short term prices look likely to regain some (but not all) of the falls suffered in August."
Price decline might have 'overshot' supply and demand
In his weekly newsletter, National Council of Wool Seeling Brokers of Australia executive director Chris Wilcox said because prices for wool (and all other commodities as well as equities) reflect a mix of emotion, ingrained biases of buyers and sellers and their response to available (often imperfect) information, prices can, and frequently do, overshoot the underlying fundamentals of supply and demand.
"This overshooting happens on both the upside and downside.
"The problem of overshooting is amplified for a product like wool, which has a long processing chain which takes time to buy, ship and deliver raw wool for processing, then convert it to the end product for consumers who are often in a different location to the manufacturers of the end product," he said.
"This overshooting means that prices can recover quite quickly to better reflect the supply and demand fundamentals.
"I would not be at all surprised if we are seeing such a situation now for Merino wool."
Mr Wilcox said the decline in Merino wool prices over the past month comes amid the backdrop of the US Government introducing a 15pc additional duty on imports of wool clothing from China, effective from 1st September 2019. This is higher than the original additional 10pc duty previously advised, he said.
"The higher level was announced by the Office of the US Trade Representative on 30 August after China had itself announced new additional duties on a range of products imported from the US. "These additional duties on wool clothing imports by the US from China are included in a list of a range of products imported from China."
Mr Wilcox said because the additional duties are applied as of 1 September, it directly affects the US imports of wool clothing imported in time for the crucial Autumn/Winter season in the US.
"Around 45pc of the annual total of US imports of wool clothing from China is imported in the September-December period. And, over half of the US imports of wool clothing each year is supplied by China.
'A second batch of products imported from China will have the additional 15pc duty imposed on 15h December, although this list appears to contain little or no wool products," he said.
AWEX said next week's national offering is still relatively small, as sellers are still waiting for the market to recover. Currently, there are 27,923 bales rostered for sale in Sydney, Melbourne and Fremantle.
Click here for the latest AWEX Micron Price Guides.