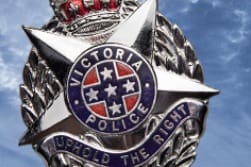 VICTORIAN police have arrested a man following an investigation into a series of alleged wool thefts in Melbourne earlier this year.
Victoria Police said a 47-year-old man from Bacchus Marsh was arrested in Spotswood Tuesday morning and was taken to a nearby police station for interview.
He has been released and is expected to be charged on summons for theft and deception-related offences.
A search warrant was executed in Laverton North where wool samples and documents were seized, police said.
Detective Inspector Jamie Templeton said police are committed to reducing incidents of livestock, farm and produce theft affecting Victoria.
"We know that these kinds of incidents can have serious ramifications for the farming community with impacts on productivity, income and livelihoods," Det. Insp. Templeton said.
"Police take these reports very seriously and we want to reassure the farming community that all incidents are being investigated to the full extent.
"We have an Agricultural Liaison Officer program which is a collection of members across the state who have expert skills in investigating these types of crimes," he said.
"We will keep the community updated on these issues and the continued efforts of police to combat criminal activity in the farming and agricultural industry."
Source: Victoria Police.