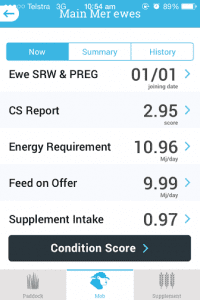 Sheep producers can now calculate their ewe flock's feed requirements on their phones with the Lifetime Ewe Management (LTEM) iPhone app.
Australian Wool Innovation this week said the Lifetime Ewe Management Application is now free and available at the App store. An android version of application will be available in coming months.
AWI said the development gives producers a mobile decision making tool to optimise the energy requirements of their flock.
Whilst not a replacement for the on farm course, the app is a digital extension of it and requires the essential skills of the course such as condition scoring of animals and accurate Feed-On-Offer (FOO) assessments, AWI said.
LTEM course taken by more than 2000 growers
LTEM assists sheep producers to proactively manage the nutrition of their ewe flock through the reproduction cycle. So far it has directly involved more than 2000 woolgrowers, more than 8 million ewes and has influenced over more than 20 percent of the national flock.
LTEM is a farm-based course developed and delivered nationally through Rural Industries Skill Training or RIST. It involves woolgrowers learning to best match the energy requirements of animals with pasture production and supplementary feeding to maximise production and animal welfare.
The course was developed by RIST from the Australian Wool Innovation (AWI) Lifetime Wool research project and as the major funder of the research and extension; AWI has contributed more than $10 million to LTEM and Lifetime Ewe over the past 12 years.
AWI said the average LTEM participant manages just more than 3500 ewes and has increased whole farm lamb marking by 10pc, reduced ewe mortality by 33pc and increased stocking rate by 12pc.
App was road-tested in the paddock
This LTEM app was largely created in house at AWI with assistance from RIST together with many who helped road-test the app in paddocks and sheepyards across the country. Within the app there are various tutorials taking users through the various functions it contains.
AWI acknowledged the contribution of the following parties to LTEM, including the CSIRO, the Victorian Department of Environment and Primary Industries, Primary Industries and Regions SA, the NSW Department of Primary Industries, Tasmanian Government and the Department of Agriculture and Food WA.
Source: AWI