DR PETER Barnard displays a modest, yet proud sense of satisfaction as he looks back over his quarter-century-long career working in pivotal roles for the red meat industry, which draws to a close this week.
Peter officially retired on Wednesday from Meat & Livestock Australia, having long been one of the industry service delivery company's key personnel, driving the organisation's market intelligence, forecasting and market access efforts with considerable energy and gusto.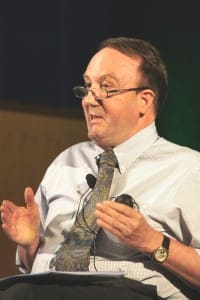 Anybody who has witnessed one of his countless global market outlook presentations made at producer gatherings across the far-flung corners of the continent would agree that he had a commanding presence on the stage.
At times he delivered his message with all the awesome power and passion of an old-fashioned Baptist preacher.
Nobody ever came away from a Peter Barnard presentation underwhelmed, and his approach to public speaking broadly reflects the way he tackled his broader commitment to serving the industry.
It is almost 25 years since he joined the then Australian Meat and Livestock Corporation (at the time a quasi-government controlled industry body, but in effect the predecessor to today's MLA) in early 1991.
Peter completed his PhD in economics at the University of Adelaide, with the chosen subject of his doctorate being transport, rather than agriculture. That led to his first job in his chosen field working for the Australian Road Research Board.
He then took leave without pay in the late 1980s to work on economic modelling for the Very Fast Train project (still being talked about today, but yet to come to fruition).
While he was carrying out that research at a university in Sydney, he was called, out of the blue, by the National Farmers Federation. The person on the other end of the line was one Andrew Robb, then NFF chief executive, and later to become today's Federal Trade Minister.
NFF was looking for somebody with appropriate expertise to look after the Federation's micro-economics portfolio. Peter took the job around 1987, which in turn provided some early exposure to the red meat industry.
In 1990 AMLC advertised for an economics-based position as head of its market information operations. Peter applied and was successful, joining the producer-owned company in early 1991. Bruce Standen was AMLC managing director at the time.
Along with a couple of others including Alistair Lugsdin, Peter ranks among the longest serving of all current MLA staff.
While Bruce Standen, himself an economist, looked after the body's economics portfolio prior to becoming deputy managing director, Peter's appointment effectively represented the first 'dedicated' economist appointment to the organisation.
It was a critically important time in industry's development, with the Japanese market just recently liberalised for much freer trade, and Korea soon to follow.
Peter's arrival at AMLC led to a comprehensive revamp of the industry's markets information collection and delivery process.
"One of the first things we did was gather together a group of producers of the era to critically appraise AMLC's market information service and publications at the time," he recalled, during an interview with Beef Central.
There was a general feeling that they had fallen behind the industry's requirements, particularly given the rapidly changing market circumstances, and the recent arrival of programs like Chiller Assessment and the Ausmeat language.
"It's fair to say that the quality of the analysis was not as good as what was required," he said. "There were a number of areas for improvement."
Another area that occupied a tremendous amount of time in his early years was in managing and administrating the Australian export industry's quota allocations to the US, under AMLC's statutory authority role. Export quota management has since passed to Government departmental administration.
I suspect the Government rues the day it took over quota management
"I suspect the Government rues the day it took over quota management, because it is a taxing task, and it essentially is a zero-sum game – there are always going to be winners and losers, no matter how the quota is allocated," Peter said.
There were big issues in quota allocation at the time – northern processors in places like Broome and Katherine were heavily dependent on the US market, but their seasonal kills made it difficult to operate under the quota allocation process.
Another key role Peter played – perhaps less conspicuous than many of his industry-level engagements – was in trade access.
He spent lengthy periods overseas as part of major trade access turning points like the Uruguay round of GATT in Geneva, feeding information and red meat industry perspectives to Australia's lead trade negotiators, in order to get the best possible outcome for the industry.
"At the time of the Uruguay round, Australia's quota to the US was just a fraction over 300,000 tonnes, which, given our reliance on the US in that era, we filled most years," he said.
"It was a real problem, and caused real heartache and headache right across the industry. But the quota expansion that happened after GATT to 378,000t did a great deal to remove that."
Quintessential Australian industry
Looking back on his past 25 years, Peter told Beef Central that he felt privileged to have worked for the red meat industry over the greater part of his working life.
"It's a fantastic industry in so many ways," he said.
"It's one of the quintessential Australian industries, that traces back to the nation's earliest establishment, and it continues to be a sector on which the nation relies heavily."
"Our export performance last year was worth $14.5 billion dollars, including hides, skins and other related items. That ranks the industry right up there among the nation's biggest export earners – behind only iron ore, coal and gold, and roughly equal to education."
"It's a tremendously important industry to Australia socially, and at a regional scale, as well as economically."
Beef Central asked Peter whether the fact that the industry was so heavily reliant on family-scale enterprises as opposed to corporates like mining, was a challenge, from an economists perspective.
They've always told me when and where they think we're going wrong. But I've respected that, and admired the passion
"It obviously has its challenging aspects, for that reason, but equally it is one of the truly appealing aspects of the industry – the fact that individuals and families have a direct stake in the industry, rather than simply holding shares in a mining business like BHP. That makes them (grassroots stakeholders) pretty direct, and they've always told me when and where they think we're going wrong. But I've respected that, and admired the passion."
"But family based ownership, equally, is one of the industry's core strengths, with family-scale operations playing a very significant part in the industry's fabric."
But could that not also be considered a flaw, in opening opportunity for division, not only along sectoral lines, but within sectors?
"If it's there, I don't think it has held the industry back," Peter said.
"I actually think in those really important matters, the industry coalesces pretty well. You can always do better, of course, but the industry has managed to get through a number of very difficult periods pretty well – through concerted and co-ordinated industry action," he said.
"When the chips are down (Beef Central offered the Organochlorine residue crisis of the 1990s as a possible example, to which Peter had no objection) the industry has managed to find the right solutions."
"There's an old saying that's floated around the industry for years: 'Never waste a good crisis,' and it's perhaps during these times that the industry performs at its best, coming up with really innovative solutions to issues that confronted it from time to time."
Market access big game changer
Australia's progress in the area of market access was the activity from which Peter said he had extracted greatest satisfaction during his career.
"Granted, a lot has happened in trade access over the past five years, but the work extends back a lot earlier than that," he said.
"I go back to 1996 with the Uruguay Round, and that increase in US quota from 300,000t to 378,000t. That figure was further expanded with the FTA with the US earlier this century, to a point today where Australia has tariff-free access for 418,00t of beef."
Then over the past few years, the FTAs with Korea and Japan, and now China, had greatly improved Australian red meat's international access and competitiveness.
"The industry has invested a lot of time and effort on those projects, much of it behind the scenes," Peter said.
"We started discussions with Korea way back in 2004 or 2005, well before the US signed it agreement with Korea. For many, many years, there was no real return for the cost and effort that MLA and the industry generally put in. But the fact is that, as history has shown, they were worth pursuing, and the industry is now reaping the benefit."
So were the various FTA agreements achieved for beef as good as the industry could have hoped for, given the complex and delicate circumstances under which such negotiations are held?
"I think they are all good agreements for red meat," Peter said.
"Eighteen years for the US agreement to fully enact might seem a very long time to phase-out tariffs, but another way of looking at it is that 18 years can go pretty quick."
Peter said he had also extracted considerable satisfaction from his engagement over the live export sector's problems since 2011 – working with government and other stakeholders over countless meetings – often lasting late into the night or on weekends – in come up with solutions leading to the development of the Exporter Supply Chain Assurance System.
"You can perhaps always improve on these things over time, but ESCAS has held the industry in relatively good stead since 2011," he said.
Building relationships with big customers for Australian beef and lamb (McDonald's is a good example) and building Australia's now booming trade in lamb into the US also rank as personally satisfying developments during his 25-year watch.
"I was only part of a broader team working on those issues, but I look back with a degree of pleasure and fondness, in having achieved what we did in those spaces."
Among the countless other roles that Peter Barnard has filled over the years, that Beef Central chose to highlight during our interview, was in representing the producer company in annual Senate Estimates hearings before government in Canberra.
"I think it's important that an organisation like MLA is transparent and accountable to all stakeholders, so we always welcomed the scrutiny it receives – both from levy-paying stakeholders and government," he said.
Opportunities, challenges ahead
Looking to the future, Peter says there are both enormous opportunities and significant challenges ahead for Australian red meat.
"The opportunities are in further increases in demand – particularly in areas of the world that are on our doorstep. But having said that, the Australian red meat industry has always been focussed on Asia – long before the more recent proclamation of the 'Asian Century.'
We are only now just scratching the surface in that area. There is a lot yet to be unearthed, with enormous gains still to be had in better organising beef supply chains
"But there's challenges as well – the droughts experienced over the past few years, and the predictions of greater climate variability. Productivity under those circumstances – both on-farm and off-farm – is another challenge."
He sees supply chain integration as a critical area which can help in the industry-wide productivity challenge. "We are only now just scratching the surface in that area. There is a lot yet to be unearthed, with enormous gains still to be had in better organising the beef and lamb supply chains."
"Paying on the true value of each individual animal is a part of that. It would require some degree of cultural change, but I'm hopeful it will emerge. You can see specks of it out there even now."
"Look at the variations in lean meat yield and quality between animals of similar carcase weight. If we are able to implement a true value-based payment system, and deliver information to producers that is assimilatable and actionable, it could deliver considerable productivity change."
Competition won't go away
Competition among global beef exporters was 'pretty fierce', and would only become more so, Peter said.
"We compete head to head with the US in many beef markets, with Brazil and others also gaining greater market access. At the low-end, India has emerged as a very large beef exporter.
"Often, in markets where Australia does compete, we get a premium for our product – and that premium is because of our world-class integrity systems, plus our disease free status and reputation as a dedicated exporter."
"But we need to protect that reputation, whether it be for superior phytosanitary performance, health status, traceability or other integrity issues. It's absolutely critical."
"Australia will never be the least cost supplier, so these niche areas for which consumers are prepared to pay more will be of increasing importance to the Australian industry."
The South Americans, particularly, were putting a lot of effort into eradicating Foot & Mouth Disease, and over time, if they continued that effort, they could well succeed in eliminating the disease from at least parts of their countries. That in turn could change beef trade flows and competition for Australia in certain parts of the world.
Similarly, more recent detections of BSE-infected animals in places like Brazil and Ireland had had nothing like the reaction that the original episodes did in Europe, North America and Japan.
Asked to nominate the people who had left the strongest impression on him during his career, he identified the three industry body chairmen – firstly Dick Austen, during the AMLC era, then followed by David Crombie as MLA's foundation chairman, and more recently, Don Heatley.
"I just know the sort of hours and dedication that those men put in. It was enormous. Combine that energy with the skills they each possessed, and they collectively made an enormous difference," he said.
Peter's considerable intellectual and proprietary industry knowledge built up over the past three decades will not be lost to industry following his retirement, however, as he hopes to maintain  connections with agriculture and red meat in particular.
"I'm hopeful that I can continue to be involved a little, in an advisory and consultancy capacity," he said. "But equally, I think there are learnings from the red meat industry that could be usefully transported across to other sectors of agriculture."
On behalf of the industry, Peter, we say thank you for your enduring commitment to our industry, and salute you for a job exceptionally well done.
Readers can add a comment about Peter Barnard's contribution to industry affairs using the comment facility below, or for more personal communication, can contact him via [email protected]