Sheep Central publishes occasional lists of appointments, departures or achievements occurring across the red meat supply chain, both private sector and government. Details for submissions for future listings are provided at the bottom of this article….
RMAC begins search for new CEO
AMPC elects new directors
Ruralco hands Dillon permanent CEO job
New addition to Northern Cooperative Meat Co board
Qld pasture pioneer calls time
Young Australian farmers tackle climate change in Paris.
RMAC begins search for new CEO
The Red Meat Advisory Council has begun a recruitment process to appoint a new chief executive officer, following a decision by current CEO Angus Hobson to finish up at the end of this year to concentrate on his family's grazing enterprise near Jindabyne in NSW.
Mr Hobson has served as RMAC's CEO since late 2010. Since that time has instigated substantial growth in the level and professionalism of the Council's profile and policy portfolio, and in the formalisation of RMAC's advisory role with Government.
"Of all of Angus' achievements during his time at RMAC, the most notable has been his leadership in developing the overarching plan for the red meat and livestock industry's future direction, the Meat Industry Strategic Plan" RMAC chairman Ross Keane said. Click here to view a more details statement issued by RMAC.
Mr Hobson was recently announced as one of seven regional committee chairs for the new Southern Australia Meat Research Council. He will step down from his RMAC duties in January. Recruitment for his successor has started, with an ad appearing this week and next on Beef Central, and a listing on our Jobs Central recruitment page.
Ruralco hands Dillon permanent CEO job

Ruralco has appointed Travis Dillon as chief executive after he spent the past six months leading the agribusiness on a temporary basis. Mr Dillon, who stepped up when John Maher left the company suddenly in May, has also been appointed managing director following what the company says was an extensive search.
"With his extensive knowledge of the sector, operational capabilities and strong leadership skills, Travis is well placed to lead Ruralco through its next phase of development," Ruralco chairman Richard England said. Mr Dillon, who will relocate from Adelaide to Sydney, will receive fixed remuneration before bonuses of $750,000 from the start of his term on November 16.
AMPC elects new directors
The Australian Meat Processor Corporation has elected two new directors following recent meetings. AMPC is the Rural Research and Development Corporation that supports the red meat processing industry throughout Australia providing research, development and extension services that improve the sustainability and efficiency of the sector.
New directors appointed this year are Sanger Australia's recently-appointed chief executive, James Campbell (NSW), and Dean Goode from Kilcoy Pastoral Co (Qld). The two new directors replace Australian Country Choice's
David Foote, who has served a four year term, and Thomas Foods International's Brian James, who has served seven terms on the board.
Returning AMPC directors include Stephen Kelly, NH Foods (chairman) Gary Hardwick (Hardwick's Meatworks); John Berry (JBS); Simon Stahl (NCMC); and Tom Maguire (Teys Australia).
Current special qualification directors Guy Fitzhardinge (former chairman of the Beef CRC) and Peter Noble (until recently, GM Scott) will be considered again for two positions at AMPC's upcoming AGM, together with 36 other candidates.
New addition to Northern Cooperative Meat Co board
Following the co-op's recent annual general meeting, experienced Northern Rivers stud and commercial cattleman Rob Sinnamon has joined the board of the Northern Cooperative Meat Co, operators of the Casino meatworks in northern NSW.
Mr Sinnamon and wife Lorraine manage the Myer family's 14,000ha Yulgilbar Santa Gertrudis cattle operation at nearby Clarence River. The Yulgilbar Santa Stud incorporates 600 breeders, while the commercial herd of more than 2000 breeders is focused on turning off 1000 grass-finished export steers each year. Total cattle numbers are 5000 head.
Mr Sinnamon succeeds retiring NCMC director John Jackson, who was thanked by NCMC chairman John Seccombe during the recent AGM for his dedication and valuable processing and broader industry knowledge during his three years on the Board.
Qld pasture pioneer calls time
Internationally recognised Department of Agriculture and Fisheries pasture agronomist Dr Richard Silcock has spent half a century using his considerable skills to help build Queensland's sheep and beef industries. Dr Silcock retired in September and was honoured for his many contributions.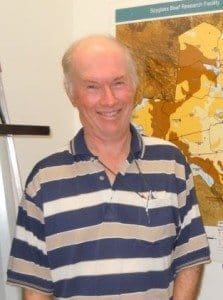 His distinguished career in pasture science started at the Charleville Pastoral Laboratory in 1969. He's witnessed many changes to the organisation, but has managed to stay focussed on conducting relevant, high quality science that has delivered improved management of Queensland's extensive grazing land.
One of his legacies and greatest contributions is the QPastures database, information on the many pasture and forage plants collected and evaluated in the state over the past 117 years. With the recent renewed interest in improved pastures and their management, QPastures will continue to assist the beef cattle industry for years to come. Dr Silcock is widely acknowledged as a pioneer in developing an understanding of the ecological principles underpinning pasture establishment, growth and management in both native and improved pastures. He is recognised internationally as an expert on Australia's rangelands systems, vegetation dynamics, grazing land management and native and improved pastures for extensive grazing systems.
Young Australian farmers tackle climate change in Paris
The next generation of Australian farmers is stepping up to the challenge of climate change by taking their concerns straight to Paris. 2015 Young Farmer of the Year Anika Molesworth and NSW Farmers Association Young Farmer Council chair Josh Gilbert will travel to the UN Climate Convention in Paris later this month to ensure Australia's agricultural community has a voice at the negotiating table.
The entrepreneurial duo has launched a crowd funding campaign to support the trip, which will not only include the Convention and 11th Conference of Youth in Paris, but will also enable them to travel to learn from pioneering farmers in Europe already adapting by moving away from fossil fuels and embracing renewables.
Anika and Josh hope their initiative will put pressure on the Australian government to show more leadership on the issue of climate change, and raise awareness of the enormous challenges faced by Australian farmers and their communities.
"My family's sheep farm is located in Broken Hill, where temperature extremes and droughts are having devastating impacts on production," Anika said. "It is both heartbreaking to see our land become drier and hotter each year with global warming, and infuriating that climate change issues are not being addressed in the serious and urgent matter that is required," she said.
Similarly, Josh Gilbert was inspired to act after years of family hardship on their cattle property in Nabiac. "I remember sitting at the dining table with my Great Grandmother who used to assure my Grandfather, Dad and I that the tough weather conditions were just a cycle. After several years of relying on this argument, there came a time when we all had to accept that the climate was changing."
Representing those responsible for managing 60pc of Australian land (graziers), Josh and Anika are on the frontlines of climate change impacts and see it as their duty to find solutions farmers can implement back home.
"Anika and I come to Paris with fresh eyes and a fierce desire to create change," Josh said. "We are the first generation to really understand the impacts of climate change and the last generation able to do something about it. We know that today farming is a responsibility not a right and we must be part of the climate change solution."
Josh and Anika will depart for Paris in late November, returning mid December. To support their campaign, visit www.startsomegood.com/youngfarmers