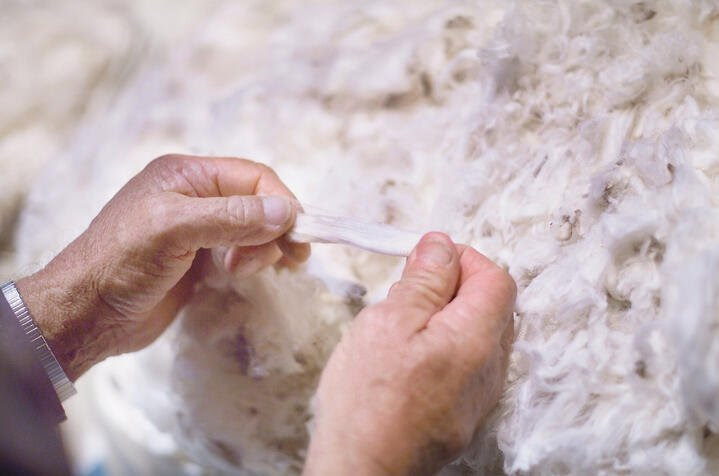 ONLINE wool sales boomed this week with the AuctionsPlus offer board selling 1468 bales up to Thursday.
Most of the bales were sold on Tuesday (645 bales) and Wednesday (436 bales).
AuctionsPlus' Michael McManus said the physical auction market continued its upward trajectory, with the AWEX Eastern Market Indicator rising 99 cents to 1036c/kg clean, or US739c/kg.
He said the top-priced lot was a 15.9 micron Merino weaner fleece line that made 1245c/kg greasy, or 1671c/kg clean. The lot had an average staple length of 88mm and a vegetable matter content of 0.4pc. It was branded The Gums and offered by Australian Wool Network.
The 15 micron fleece lines sold to 1245c/kg greays, or 1671c/kg clean, and the 16 micron wool made to 1210c/kg greasy, or 1673c/kg clean.
The 17 micron fleece wool made to 1145c/kg clean, or 1589c/kg clean, and the 18 micron fleece sold 1000c/kg greasy, or 2395c/kg clean.
The 19 micron wool sold up to 900c/kg greasy, or 1210c/kg clean. The 21 micron fleece sold to 800c/kg greasy, or 1083c/kg clean, and the 22 micron wool made to 660c/kg greasy, or 1044c/kg clean.
Merino pieces sold to a top of 1110c/kg greasy, or 1746c/kg clean, and Merino bellies made to 1110c/kg greasy, or 1642c/kg clean.