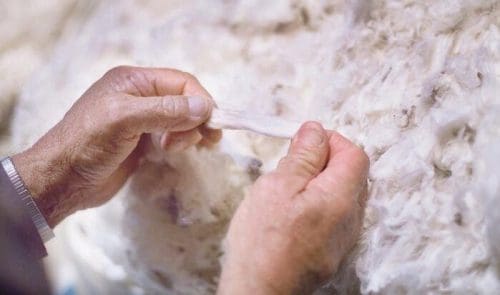 ONLINE wool sales declined in Australia last week as physical auction prices slipped back.
AuctionsPlus' Michael McManus said the online offer board sold 105 bales last week as the benchmark AWEX Eastern Market Indicator lost 40 cents to close at 996c/kg clean, or US709c/kg.
Mr McManus said Merino wool sold to a top of 1320c/kg greasy online for line of 16.5 Merino weaner fleece. The lot had an average staple length of 74mm and had a vegetable matter content of 0.1 percent.
Merino pieces sold to a top of 690c/kg greasy and Merino locks made to 560c/kg greasy.
Mr McManus said the Chinese market continues to be the main source of demand for Australian wool, as the other major players such as Europe and the United States continue to battle through COVID-19 lockdowns and slow economic recovery.
He said the Australian Wool Testing Authority last week released key statistics showing that compared to September 2019, last month the total lots offered increased by 2.8pc, the bale offering rose 7.1pc by weight.
"The AWTA findings show that September was a big month with all reported categories increasing from last year.
"The progressive total for the first three months of the new financial year compared to last is trending down when compared to the same period, illustrating the inconsistency in supply which is due to the volatile market," he said.
Mr McManus said bale volume will continue to be the main market factor going forward and its predicted that in the next few weeks the national weekly offering will rise above 30,000 bales, "which will no doubt cast a shadow over the previous rising market".