SHEEP and lambs sold dearer in several categories on AuctionsPlus last week as listings dropped 16 percent to 45,371 head and clearance rates increased.
New season lambs are starting to make their way into the market, with 9731 head offered last week, with all but one lot managing to sell, AuctionsPlus said.
Lamb listings were firm at 24,439 head, resulting in four-of-the six categories recording a price increase. Crossbred lambs registered the highest offering for the week, at 8846 head, up almost 3,000 head from last week. The increased supply resulted in the average price falling $4, to $156/head – while overall demand was solid for the larger supply achieving a 95pc clearance rate.
Merino ewe lambs registered the biggest price increase for the week, up $39 to average $222/head for the 2362 head offered – with a clearance rate of 82pc.
Merino wether lambs were the only other category to record a drop in price, falling $1 to average $142/head, with a clearance rate of 84pc.
Composite and other breed lambs continued their upward trend, recording a $21 price rise to average $235/head for the 2395 head offered. Shedding breed lambs also recorded positive sales, averaging $246, lifting $2/head on last week, with a clearance rate of 82pc.
The shedding lamb category's top-priced lot was a line of 60 Australian White future breeder ewe lambs that sold for $564/head. The ewe lambs at Junee in NSW were of Tattykeel blood and averaged 51.2kg liveweight.
The joined ewe offering dropped slightly this week, with 16,854 head listed. Although only three-out-of-seven indicative categories increased in price, the clearance rates remained healthy at 73%. SIL Merino ewes were well supplied with 8,037 head offered to average $240, down $4/head on last week.
Joined Merino ewe listings increased last week to 1471 head, up from 120 head last week. The category saw a $42 price increase, to average $171/head.
Scanned in-lamb shedding breed ewes fell $160 this week, to average $374/head. Despite the large price reduction, the category still resulted in a robust clearance rate of 100pc, with the top price being returned for a line of 36 Australian White SIL ewes selling for $480/head.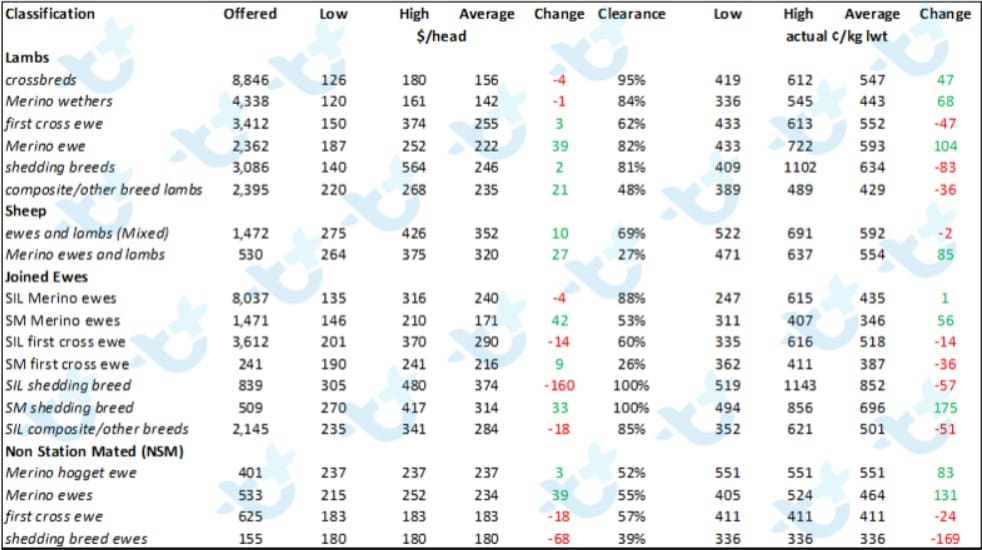 NOTE: Prices as at 5pm, Thursday 15th July 2021