AVERAGE prices improved for first cross ewe lambs, scanned shedding breed and composite ewes on AuctionsPlus last week.
Prices in most other categories generally firm or lower as the commercial sheep and lamb listings lifted to 37,483 head, up by 16 percent on the previous week.
The larger offering contributed to a lower clearance of 56 percent, while value over reserve fell by $1 to average $12, AuctionsPlus said.
Lamb prices remained relatively stable; however, clearance rates were back from the previous week's strong results.
There were some more mixed results for the sheep market with clearances ranging from 3pc to 100pc.
Just over half (54pc) of the 5015 crossbred lambs offered were sold with an average price of $86 – up $1. At Vasey in Victoria, 720 mixed sex August/September 2022 drop first cross lambs weighing 35kg sold for $66, or 191c/kg lwt to a buyer in Sanderston, South Australia.
The Merino wether lamb offering jumped 29pc to 2870 head, and 90pc were sold with the average price down by $6 to $56. At Cunnamulla in Queensland, 660 September/October 2022 drop lambs weighing 34kg made $55, or 163c/kg, with a buyer in Temora, New South Wales.
AuctionsPlus sold 73pc of the 6081 scanned in-lamb Merino ewes for an average price of $95, down $9. At Hillston in NSW, 253 3.5-4 year-old Merino ewes weighing 71kg sold for $140/head, or 197c/kg sold to a buyer in Goolgowi, NSW.
Buyers paid an average of $144 (up $10) for 72pc of the 2753 scanned in-lamb composite/other breed ewes offered. At Tarago in NSW, two even lines of 265 12 month-old SIL Primeline ewe lambs weighing 46kg sold for $160.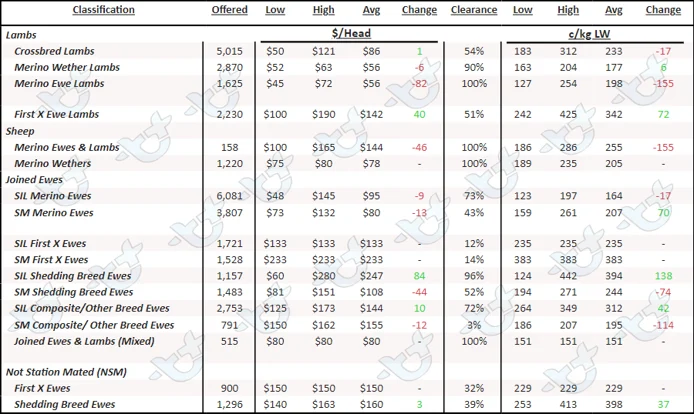 Source – AuctionsPlus.