NUMBERS eased last week through AuctionsPlus commercial sheep and lamb sales, with the 50,058 head offered down 27 percent on the previous week.
Results were mixed across the sales, with Merino and first cross categories back on last week, while other categories strengthened. With a 58pc clearance at the immediate close of sales on Tuesday, post-sale negotiations in the days following lifted clearance to 74pc by week's end.
The crossbred lamb category saw a drop in numbers, back 63pc on the previous week, with 5845 head offered. The 47pc clearance at the immediate closure of the sale lifted to 85pc by Friday, as prices remained steady on the previous week averaging $147/head.
From Nimmitabel, NSW, a line of 700 Poll Dorset/Border Leicester cross Merino mixed sex store lambs averaging 42kg returned the top price for the category at $175/head.
Registering the largest offering of the lamb category for the week at 6417 head, Merino wether lambs again took a step back, down $3 at $121/head. Post-sale negotiations lifted the clearance from 66pc at the immediate close of sale to 74pc by Friday. A line of 800 woolgrower wether lambs averaging 38kg from Merton, Victoria, returned $130/head.
Merino ewe lambs registered the biggest rise week-on-week for the lamb category up $32 at $235, with the 2376 head offering achieving a 54pc clearance.
Shedding breed lambs averaged $27 dearer, at $156/head with the sparse offering seeing selective buying – achieving a 68pc clearance. From Inverell, NSW, a line of 216 White Dorper wether lambs 39kg returned $156/head.
The breeding ewe market provided mixed results, with a range of clearance rates and price falls across populated lines – with the smaller offerings seeing prices average higher on last week.
SIL Merino ewes averaged $5 higher on the previous week at $240/head, with the 13,559 head achieving an 85pc clearance – up from 64pc at the immediate close of Tuesdays sales. Selling $61 above reserve was a line of 216 2-3 yea-old Merino ewes 55kg from Willaura, Victoria, which returned $236/head.
SIL first cross ewes dropped $52, averaging $280/head for the 6629 head. The clearance for the category was subdued post auction, achieving 40pc, with post sale negotiations in the days following lifting this to 52pc.
SIL Shedding breed ewes registered a 100pc clearance for the small offering of 386 head. Topping the category was two even lines of 27 Jun/Jul 21' drop SIL Australian White ewe lambs from Forbes, NSW, 51kg returning $720/head.
From Lameroo, SA, a line of 2-4 year old scanned empty Poll Merino ewes 70kg, returned $220/head to a buyer in Mildura, Victoria.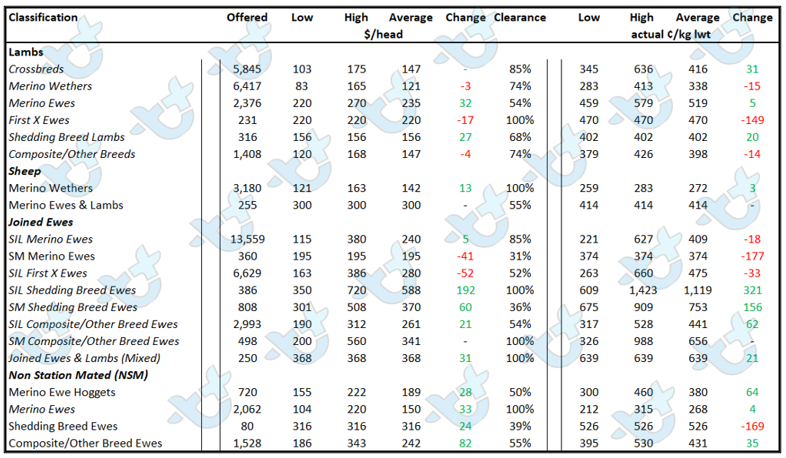 Prices as at 5pm, 9 June.
Source: AuctionsPlus