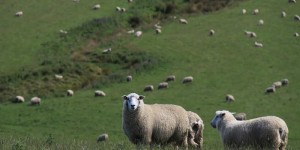 NEW Zealand lamb prices have remained relatively steady in January, underpinned by strong domestic and international demand.
The country's lamb prices have remained steady despite typically declining in the first few weeks of the New Year due to increased seasonal production, Meat & Livestock Australia said.
While NZ lamb (17.5kg cwt) prices trended 10c/kg dearer year-on-year throughout the Christmas period last year, at close to NZ$5.20/kg, and keeping in mind the drier conditions that were recorded throughout many major producing regions during the same time in 2015, NZ farm gate prices for slaughter types remained well below the five-year average value (NZ$5.80/kg).
The latest AgriHQ report said that the NZ lamb (17.5kg cwt) indicator sits currently at just over $5/kg, and with inventories expected to remain lower year-on-year for the season-to-date over the coming weeks, AgriHQ expected lamb farm gate prices to hold around this level in the lead up to the busy Easter trading period.
MLA said reassuring NZ average lamb prices this year has been strong import demand from China and parts of the Middle East in particular, while shipments to the US and EU have also contributed to stronger trade conditions of late. However, the AgriHQ report said that uncertainty around future US demand, an unfavourable exchange rate with the UK, and a seasonal lift in Australian lamb production are all expected to impact demand for NZ lamb over the coming weeks.
Looking forward, and highlighted in Beef + Lamb NZ new season outlook, NZ lamb production is forecast to decrease (1.6 percent) to 357,700 tonnes cwt for the 2016-17 season – as a result of fewer processed lambs and a rebuilding flock – while export lamb prices (assuming an average exchange rate of US$0.67) for the same period are expected to average NZ$4.85/kg.
Source: MLA.