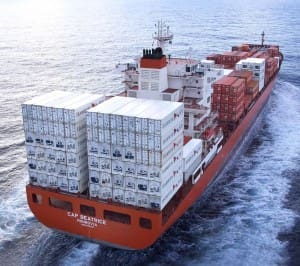 NEW Zealand lamb exports increase 15 percent in May this year, with big seasonal increases in shipments to China and the Netherlands.
Meat & Livestock Australia said in May, New Zealand lamb exports were just short of 34,400 tonnes – increasing 15 percent on the year prior according to Statistics NZ).
This brought the season-to-date (October to May) total to 235,000 tonnes – up 9pc on the corresponding period in the year before.
NZ lamb production for the eight months was fairly steady year-on-year, at 309,138 tonnes, despite NZ lamb slaughter declining 2pc over the same period, at just over 17.08 million head processed, MLA said.
Compared to last year, most of NZ's major lamb export destinations recorded significant growth for the season-to-date, with shipments to:
China increasing 23pc to 78,160 tonnes
the UK increasing 5pc to 48,925 tonnes
the US increasing 7pc to 13,852 tonnes
the Netherlands increasing 26pc to 12,521 tonnes
Germany holding firm on 12,893 tonnes
As reported by AgriHQ, lower sheep meat inventories in China have resulted in a steady increase in demand for NZ lamb. Moreover, the willingness of Chinese importers to secure product at higher prices has reportedly stimulated demand in other markets, such as Japan.
MLA said the Brexit vote has created a level of uncertainty in the NZ lamb industry, as the UK and wider EU are major export markets for NZ lamb. AgriHQ has reported that trade access is expected to remain relatively unchanged in the short term, with the impact dependent on potential renegotiation of trade agreements – both those between NZ and the UK, and those between the UK and other countries.
NZ mutton exports in May totalled 6421 tonnes – increasing 51pc on the year prior. For the season-to-date (October to May), mutton shipments reached just over 67,400 tonnes – up 6pc year-on-year.
Source: MLA.