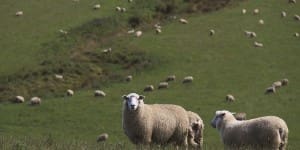 New Zealand's sheep flock has dropped to its lowest level since the mid-1930s, but the country's farmers are producing more with that reduced flock.
Dry conditions, ewe culling and continued land use change in favour of dairy cattle has led to New Zealand's sheep numbers dropping to 29.8 million – the lowest flock total since the mid-1930s.
Beef+Lamb New Zealand's Economic Service annual survey has shown the country's sheep numbers fell 3.2 percent in 2013-2014.
However, B+LNZ Economic Service chief economist Andrew Burtt said that despite the historically low flock number, New Zealand sheep farmers were now producing more with much less.
Breeding ewe numbers have declined 50 per cent, down 20,200 head,  since 1990-91, but total lamb production on a hot tonnage basis has only decreased 6.2pc to June 2014.
Mr Burtt said the table below showed the decline in the ewe flock since 1990-91, but by comparison lamb production has declined little.
"This is about productivity and responding to market signals, particularly since 1990-91, which is generally considered to be the time when the residual effects of removal of subsidies had dissipated meaning NZ farmers faced market forces.
"These changes have come from a range of improvements – better livestock management, more subdivision, better genetics, better feed management, better pasture species, irrigation in some cases, clear market/price signals about quality and timing of livestock slaughter, etc," he said.
"It's even more remarkable when one considers the pressures for land from competing uses, e.g. urban encroachment and dairying on better land; and forestry and conservation reserves on harder land, mean NZ dry stock farmers have been "squeezed" into hill country."
Mr Burtt said strong mutton prices, driven by rising demand from north Asia, encouraged a high level of cull ewe processing for the second year in a row.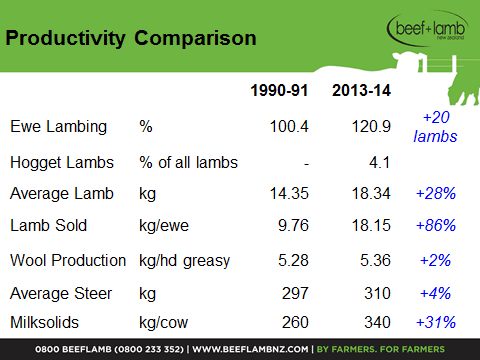 Breeding ewe numbers, at 19.96 million, were slightly down (-1.4pc) on the previous June, he said.
But the largest contributor to the overall decline was the South Island, reflecting the continued land use trend towards dairy and dairy support activities.
The survey found that ewe condition and feed supplies were positive at the 2014 mating, except in Northland and northern parts of the Waikato, where farmers experienced a second year of dry conditions.
However, on average across the country, scanning results are estimated to be higher than in 2013. And Mr Burtt said that given the favourable climatic conditions and overall adequate feed supplies, the national average ewe lambing percentage is forecast to lift by about 1.5pc from 120.9pc in 2013.
"With 20 million breeding ewes, each one percentage point change in lambing percentage equates to 200,000 lambs.
"However, spring lambing conditions will be a key factor determining the final lamb crop," he said.
For the first time since 2006-07, beef cattle numbers increased – to 3.76 million – reflecting good feed conditions and improved returns, which led farmers to hold on to older cattle.
"Breeding cows were in good condition at mating. With favourable feed supplies over the winter, and assuming good feed supplies continue into spring, the calving percentage is expected to be similar to last year," Mr Burtt said.
"The only exceptions are Northland and northern parts of the Waikato, where tight feed conditions in spring 2014 might impact on calf survival at calving."
The Economic Service estimated the dairy herd increased 0.7pc in the year to 30 June 2014, reflecting increasing numbers in the South Island (+2.6pc), offset by a slight decline in the North Island (-0.5pc).