NEW South Wales shearing contractor Steven Mudford has set a new world record of 373 Merino wethers shorn in an eight hour day.
The record was one of the longer-standing records on the books of the World Sheep Shearing Records Society until it was broken at the Parkdale Merino Stud shed on Saturday.
Shearing at his family's property at near Dubbo, NSW, the shearer shore 373 Merino wethers in eight hours to beat the previous eight-hours Merino wethers record of 356 shorn set in Queensland by Dave Grant almost 11 years ago, on October 20, 2007.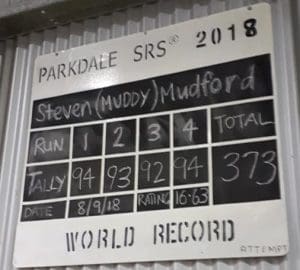 Watched by a team of official judges, Mudford was always well ahead of the pace, shearing successive two-hour runs of 94, 93, 92 and 94, finishing in a shower of champagne as he marked the first successful World shearing record in Australia since New Zealand shearer Stacey Te Huia shore a nine-hour tally of 530 merino ewes in February 2015.
Mudford was already a holder of a three-stand Merino ewes record shorn with fellow Australians Bob White and Beau Guelfi in April 2014.
Sources: Doug Laing and Heiniger Shearing.