NEW South Wales poet Penny Lane has won one of Australia's richest poetry competitions, The Cloncurry Poetry Prize, with a poem honouring her husband's great-great grandmother.
Her poem, Remembering Mary, won her the $10,000 first prize and was written about her husband's great-great grandmother Mary Bassett Lane.
The competition results were announced by Cloncurry Shire Council mayor Greg Campbell on the banks of Chinaman Creek Dam at Cloncurry, with poet enthusiasts and locals gathering to celebrate. This year's theme was Outback Heroes.
Of the top five poems, three honour and acknowledge the role that the women of the land have played in the dramas of outback life. Joining Ms Lane in the top five was:
Runner-up, Tom McIlveen with his poem Heroes of Yesterday
3rd place, David Campbell with his poem Unsung Heroes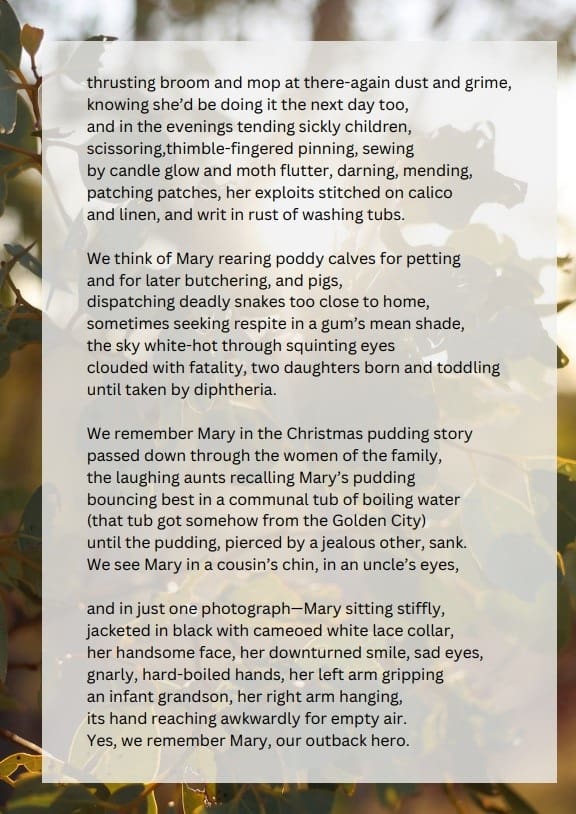 Highly commended, Bronwyn Blake with her poem The Women of the Outback
Commended, Barry Desailly with his poem Outback Legend of the Sky
Cloncurry Mayor Greg Campbell said Australia's cultural signature, and particularly that in the Outback, was inked by the muses of poets.
"There are few that don't recognise the names Dorothea Mackellar, Banjo Paterson, Henry Lawson, Oodgeroo Noonuccal and even famed modern poet, Rupert McCall, and their spine-tingling odes to Australia's 'sweeping plains, ragged mountain ranges, droughts and flooding rains.'
"It's fitting therefore, that one of the nation's richest poetry competitions is staged in one of the nation's most beautiful outback towns – Cloncurry," he said.
Winning poet Penny Lane said she was stirred to respond to the theme 'Outback Heroes' when she read of the competition in her local newspaper, the Port Stephens Examiner.
"I am particularly interested in exploring the experiences of women in Australia's history, and recording them in poetry, and the first image of an outback hero that came to my mind was of my husband's great-great grandmother, Mary Bassett Lane, who migrated to Queensland in 1866," she said.
"Three of my great loves are family, poetry and being in the outback, and I was able to combine the three in creating my poem Remembering Mary.
"I have a connection to Cloncurry," she said.
"I married into the Lane family, as did a young woman from nearby Marrabah in 1939.
"That woman's daughter is my cousin-in-law and the Lane family historian, Dale, who introduced me to Mary Bassett Lane. Remembering Mary is dedicated to Dale."
The judges said Remembering Mary portrays the strength of a woman of courage and resourcefulness. The outstanding free-verse poem paints vivid, pictorial images with 'Mary' brought to life through unusual word combinations, succinct phraseology and skilful use of language, they said, describing the verse as an evocative poem that leaves no doubt as to the stoic, enduring, no-nonsense character of its heroine, but also leaves readers with the sense of her sacrifice of self to survival.
The Top 10 poems from this year's competition can be found on the Cloncurry Shire Council website.