NEW South Wales grazing and cropping properties sold recently feature in Linda Rowley's weekly property review, plus holdings for sale in NSW, South Australia, Queensland and Western Australia.
 Southern NSW grazing and cropping makes $33m+
 Goondiwindi producer expands with NSW's Bundabulla
Southern NSW grazing and cropping land makes $33m+
A HIGHLY productive, breeding, finishing and cropping aggregation in southern New South Wales has been split up and sold for in excess of $33 million.
The 1708ha Argyle is situated near Galong, 15km south-east of Harden and 40km north-west of Yass, and features highly productive open undulating grazing and farming paddocks.
During the marketing campaign, Argyle was offered with a $19,000/ha to $20,000/ha ($8000/ac) price guide.
Angus McLaren from Miller & James was unable to disclose the sale price; however, he described it as a strong result, saying good agricultural assets are still making very good money.
"The Argyle aggregation is a high calibre property that was extremely well-maintained by owners Max and Roz Graham, who are retiring after around 60 years ownership."
The aggregation comprises two standalone properties:
 893ha Argyle – frontage to the Rocky Ponds Creek. Mostly granite-based brown loams. Improvements include a six-stand shearing shed, all steel sheep and cattle yards, several machinery sheds, two bulk grain storage sheds and 320t grain silos. Watered by an extensive system of dams and creeks, two fully equipped bores and a Golden Fields Water connection.
Argyle was purchased by Steve Phillips, Yarrawonga Merino stud, Harden.
 815ha Green Gables – more than 95 percent arable. Improvements include a shearing shed, sheep and cattle yards, several sheds and 300t seed silos. Watered by dams, a semi- permanent creek, two equipped bores and a Golden Fields water connection. Green Gables was sold to neighbour Angus Metcalfe.
Goondiwindi producer expands with NSW's Bundabulla

HIGHLY regarded, soft sweet heavy carrying country on the Bokhara River in New South Wales' far north-west has sold at auction for $5.075m bare.
The 8935ha Bundabulla is an original soldier settlement lease block on one title, 50km north of Brewarrina.
It was offered for sale by Garrie and Rita Turnbull after five years of ownership and sold to a Goondiwindi sheep and cattle producer for expansion.
David Russell from Nutrien Russell Property and Livestock described the outcome as a good result following nine inspections and four registered and active bidders on the day.
The property is situated in a 400mm rainfall area, and is generally flat open plains with highly fertile, heavy carrying grey and black soils.
Low-lying areas grow Mitchell and Coolah grasses, saltbush, bluebush, copper and jelly burrs, as well as a huge body of clover and herbages in season.
Bundabulla is rated to carry 5539DSE or 0.62 DSE per hectare with the vendors running 3000 ewes, plus 160 Santa cows and followers.
Water is supplied by a cap and pipe bore that exclusively supplies Bundabulla, 5km of dual frontage to the Bokhara River that provides seasonal flows, the Yamba Creek floodout system and 14 dams. Improvements include a six-stand shearing shed and steel sheep and cattle yards.
Recent listings in NSW, South Australia, Queensland and Western Australia
 Western NSW grazing country
 $6m for versatile Narromine country
 Clemesha family lists south-west Qld aggregation
 Sheep grazing in South Australia
 WA Wheatbelt aggregation
 Fencing is sorted on Amaroo WA
Well-regarded western NSW grazing country for sale
LOCALS are showing good interest in a large mixed grazing and farming operation in New South Wales' north-west to be auctioned on July 27.
The 12,322ha Dungalear South is 32km north of Walgett and 49km south of Lightning Ridge.
It once formed part of the larger, historic Dungalear Station (capable of shearing 100,000 sheep) and comprises both freehold country and a western lands lease.
The 10,283ha western grazing country is typical of the Walgett district and well regarded. It is timbered with coolibah, myall and belah. It has been conservatively running 3500 ewes and followers.
More than 970 hectares are arable grey and black soils that grow barley and wheat.
Water is secured from dams and the Dungalear and Bairnkine bores. Improvements include a shearing shed, steel yards and a hay shed.
Moree Real Estate and Kelly's Property Sales have been appointed to sell Dungalear South.
$6m expected for versatile Narromine country
LYNNWOOD is in tightly held grazing and cropping country in New South Wales' central-west and is anticipated to make close to $6m or $6550/ha.
After three years ownership, the Nyngan-based Cleaver family has decided to consolidate its assets after purchasing additional country closer to home.
The 913ha Lynnwood is 32km from Narromine on the edge of the Backwater region, and close to the Dubbo livestock selling centre and Narromine grain receivals.
It is one of the last remaining properties in the district cleared for farming, having been previously operated as a cell grazing, backgrounding and finishing enterprise.
Around 535ha of Lynnwood are arable, with the fertile soft red to heavy chocolate soils currently sown to wheat (included in the sale).
The balance is well-grassed grazing country carrying a large body of feed suitable for sheep or cattle. The property is rated to carry 1DSE per acre.
The sale of Lynnwood is being handled by Ashley McGilchrist at Nutrien Harcourts Warren who said there has been 27mm of beneficial rain over the past five days.
"There has been good inquiry from locals, as well as producers from Victoria and southern and eastern parts of New South Wales seeking scale and affordable country."
In the last six months, the vendors have erected around 5km of new fencing.
Lynnwood sits above one of the region's largest aquifers, meaning it has irrigation potential. Water is also supplied by a bore, seven tanks and troughs.
Clemesha family lists south-west Queensland aggregation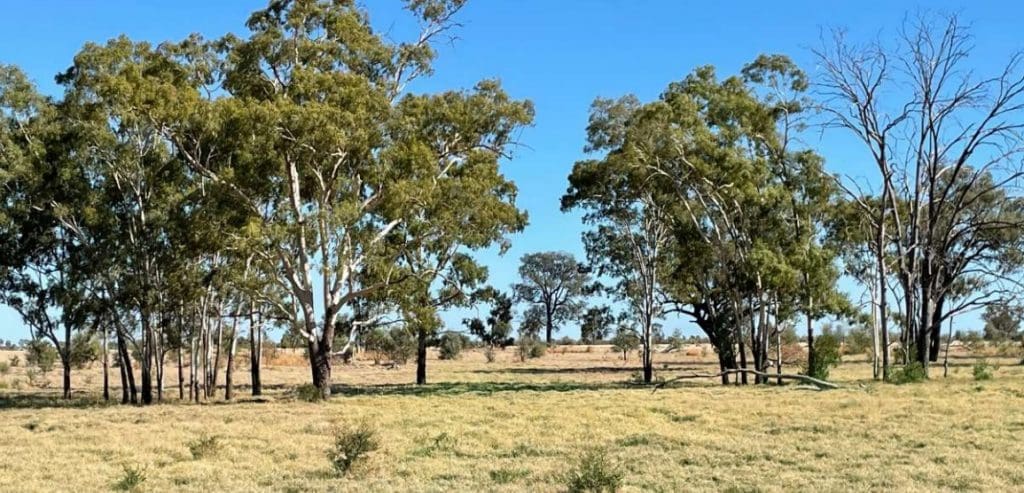 AFTER almost 100 years of ownership, the Clemesha family is selling its blue-chip grazing aggregation in south-west Queensland.
Weonia and Sunset Valley span 25,650ha and are located 20km west of Bollon, halfway between Cunnamulla and St George.
The country offers a mix of open buffel grass paddocks with strong stands of low mulga.
The Paterson watercourse provides seasonal waterholes and small areas of flooding in an area that receives 450mm of annual average rainfall.
The Mooroobikin artesian bore supplies water to Weonia via 45 troughs and 36 tanks, while the Charlton artesian bore supplies water to Sunset Valley via 41 troughs and 30 tanks.
Weonia and Sunset Valley will be auctioned on August 4. The sale is being handled by Nick Dundson and Andrew Wardle from Nutrien Harcourts GDL.
Entry level sheep grazing in South Australia
ENTRY level players and producers from South Australia and the eastern states are showing interest in the Sandland family's Woodlands in South Australia's mid-north.
The 1196ha are located 16km from Orroroo, 26km from Peterborough and 49km from Jamestown.
The country is mostly gently undulating with red clay and limestone loams growing native clovers, barrel clover, spear grass, bindi, wards weed and grasses. Around 200ha of flat plains have clean loamy soils which are suited to cropping.
Woodlands is situated in a 309mm annual rainfall region, and relies on bore water and rain water tanks. Improvements include a three bedroom home, a two-stand shearing shed, sheep yards and several sheds.
Jeff Oakley from Nutrien Harcourts is handling the sale of Woodlands that is being offered via expressions of interest closing on August 9.
$24.4m-plus expected for Wagabawering Spring
MORE than $24.4 million is anticipated for Western Australia's Wagabawering Spring, listed after four generations and more than 100 years of single-family ownership.
The country was taken up in 1909 by Edmund Jackson after arriving from York in the United Kingdom and since then has been aggregated by family members. It is now being listed by the Hill family to enable retirement.
Over time, Wagabawering Spring has transformed from a mixed enterprise focussed on wool production to cropping. For the past 10 years, it has been continually cropped employing modern practices.
The aggregation spans close to 4000ha, that comprise four non-contiguous farms close to Yealering in WA's wheatbelt region.
 1216ha Wagabawering Spring, 16km from Yealering, $8.5m+
 1164ha Geetabin, 30km from Corrigin, $6.5m+
 1118ha Osmaston, 5km south-east of Yealering, $6.5m+
 425ha Karradene, 9km south-west of Yealering, $2.9m+
They are being offered as a whole or individually via an offers to purchase campaign closing on October 25.
The aggregation features undulating country with mostly medium soils.
Independent mapping has determined 82pc of the property (3210ha) is suitable for cropping.
The 2023 cropping program includes 949ha of wheat, 881ha of barley, 928ha of canola and 457ha of lupins. Over the past five seasons, the vendors have averaged 2.75t/ha of barley, 2.64t/ha of wheat, 1.4t/ha of lupins and 1.1t/ha of canola. Grain is delivered to several CBH facilities including Bulyee, Yealering, Brookton, Wickepin and Corrigin.
Steve Wright from Nutrien Harcourts Narrogin said Wagabawering Spring has a robust fertiliser history.
"Impressive input rates and a regular soil testing program (completed at depth 10, 20 and 30cm) have delivered some healthy PH (ca) results across all properties."
Scheme water is connected to some of the properties supported by soaks, dams and bores.
The balance of the country has natural timbers, salt bush grazing, shade, fence lines and waterways. Fencing is in generally good condition with some new fencing to be completed prior to settlement.
Wagabawering Spring is also capable of running sheep. Improvements including a shearing shed and yards, three homes, 20 sheds and 20 silos.
Fencing and yards are sorted on Amaroo, WA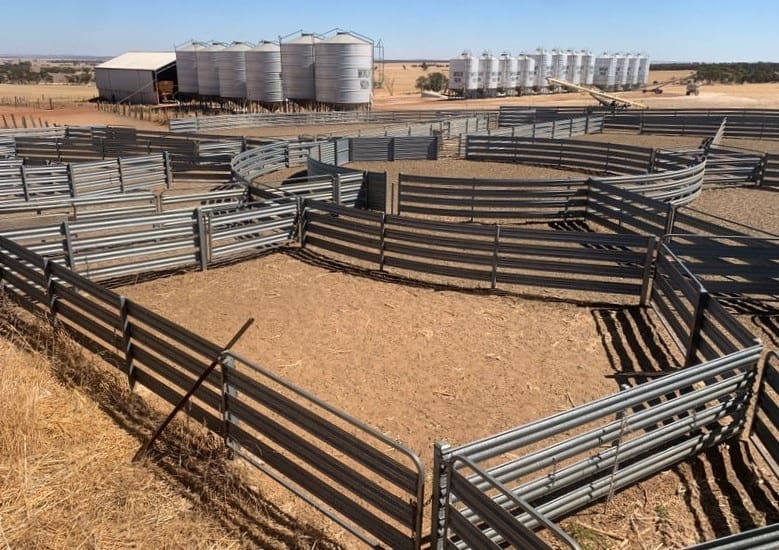 MORE than $20.5 million is anticipated for the quality, turnkey mixed cropping and grazing operation Amaroo in Western Australia.
The 9910ha property is being listed for the first time in almost 100 years. It is situated 25km east of Kulin in WA's eastern wheatbelt region and 290km from the port of Kwinana.
It was originally settled in 1927 by John Hodgson who had been farming in the Yealering district since 1908. Today, descendants Geoffrey and Cathy Hodgson have decided it is time to retire.
Amaroo, which means 'beautiful country', features undulating country with granite outcrops and medium to heavier loams.
The property has been independently mapped with 69 percent or 6866ha available for cropping. The 2023 cropping program includes 2532ha of wheat, 620ha of barley and 180ha of oats.
The balance comprises natural timber areas and salt bush grazing that can run around 6000 sheep.
Over the past 20 years, the Hodgsons have erected around 100km of new fencing, with the property fenced into 88 main paddocks. Improvements include five homes, a shearing shed and several sets of steel yards, numerous sheds  and 29 silos.
Amaroo is watered by 38 dams and three are equipped with solar pumps. Scheme water is connected and an additional supply is available from a government catchment.
The sale of Amaroo is being handled by Steve Wright from Nutrien Harcourts with the offers to purchase campaign closing on October 18.